Annual Research Symposium
Friday April 21, 2023 in the Graham Center Ballrooms
Each year the Medical and Graduate Students & Residents Research Symposium presents medical research in various fields.
Join us in viewing poster and oral presentations by students from the Herbert Wertheim College of Medicine and affiliated programs (including Nursing, PA, MA, MS, Ph.D. students, residents, and alumni).
Program Overview
Time
Activity
Location

7:30am - 8:30am

Registration/Check-in

GC Ballrooms

8:30am - 8:45am

Welcome Remarks
Juan Cendan, MD
Dean and Vice President for Health Affairs
FIU Herbert Wertheim College of Medicine

GC Ballrooms

8:45am - 10:00am

Oral Presentations I

GC Ballrooms

10:00am - 10:30am

Break

10:30am - 11:45am

Oral Presentations II

GC Ballrooms

12:00pm - 1:30pm

Open Poster Session*

GC Ballrooms

1:30pm - 2:45pm

Oral Presentations III

GC Ballrooms

2:45pm - 3:00pm

Break

3:00pm - 4:00pm

AΩA Speaker – Carolyn Runowicz, MD
Professor, Obstetrics & Gynecology
FIU Herbert Wertheim College of Medicine

GC Ballrooms

4:00pm - 4:30pm

Break (Closing Remarks)

4:30pm - 5:00pm

Awards Ceremony

GC Ballrooms
*Posters will be available to view in the Graham Center Ballrooms with presenters standing with their posters on display.
**Awards will be presented by HWCOM Office of Student Affairs.
AOA Speaker Spotlight
Carolyn D. Runowicz, MD, is a tenured professor of obstetrics and gynecology at the FIU Herbert Wertheim College of Medicine. A nationally and internationally recognized leader in women's health and gynecologic cancer, her research has focused on clinical trials in gynecologic cancer and cancer prevention. She has authored more than 200 scientific articles and five books.
Dr. Runowicz has served in leadership roles in major cancer organizations, including the Board of Directors of the American Society of Clinical Oncology, The Society of Gynecologic Oncologists (president), the American Cancer Society (president), the American Gynecological and Obstetrical Foundation Board (vice president), and the National Cancer Advisory Board (appointed by President George W. Bush).
She is a reviewer for several medical journals and sits on several scientific advisory boards and expert review panels, including the National Cancer Institute and the Ovarian Cancer Research Foundation.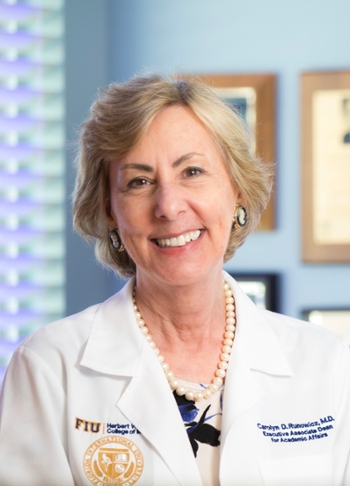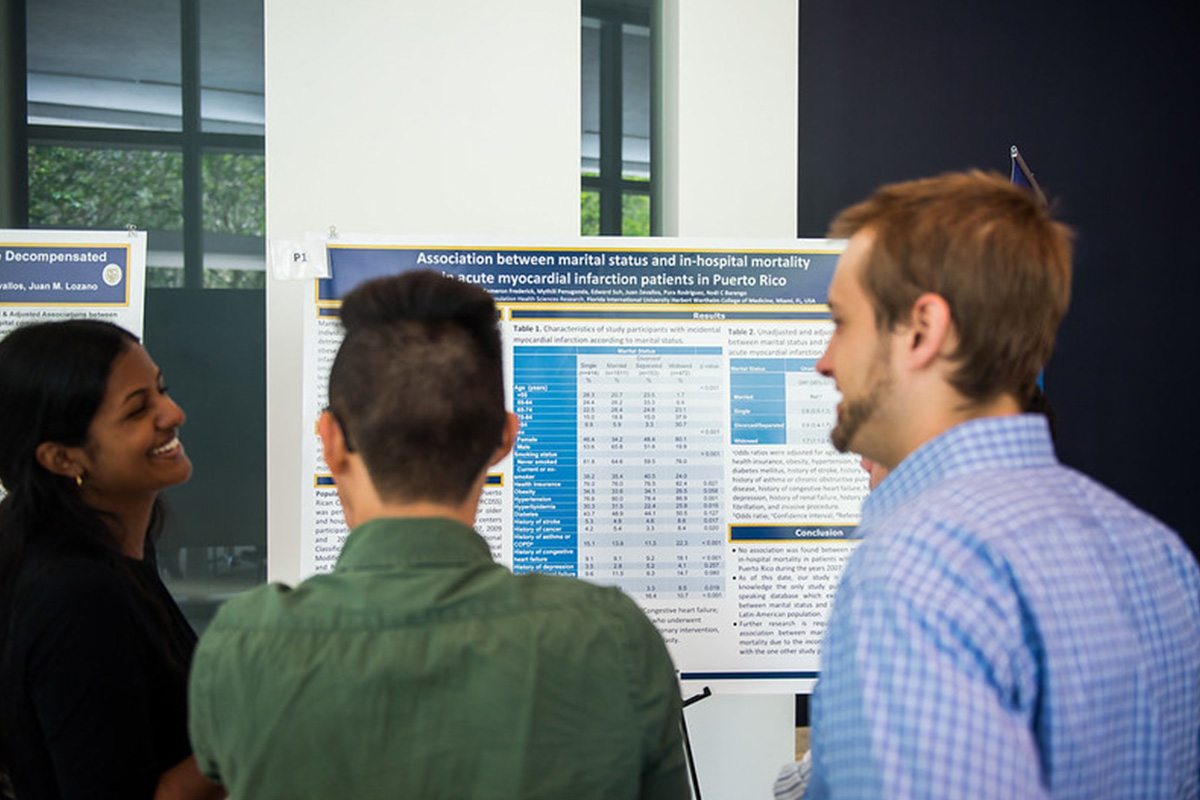 Abstracts Selected For Presentation
All abstracts selected for presentation at this year's symposium will soon be available for reading online at FIU Digital Commons
8th Annual Research Symposium Winners
Winner for Best Poster Presentation

Title: "Development and Implementation of an Evidence-based COVID-19 Remote Assessment Tool by Medical Students"
By Alexa Denton, Jorge Diaz, Cecilia Nosti, Luis Ortiz, Jessie Limonta, Aliasger Ezzi, Shahm Raslan, Miranda Ricart, Frederick Anderson, MD and Andres Rodriguez, MD - Herbert Wertheim College of Medicine, Florida International University

Title: "Illicit Substance Use Disparities among Lesbian, Gay, and Bisexual High School Students in the U.S. in 2017"
By Juan Oves Jr., Jessica Fernandez, Roberto Gonzalez, Pura Rodriguez de la Vega, MPH, Grettel Castro, MPH, and Noel Barengo, MD - Herbert Wertheim College of Medicine, Florida International University

Winner for Best Oral Presentation

Title: "Retrospective Analysis of the Association Between Race and Stage at Diagnosis of Thyroid Cancer Using Multinomial Logistic Regression"
By Cecilia Nosti, Aleeza Ali, Rameen Walters, and Juan M. Lozano, MD, MSc - Herbert Wertheim College of Medicine, Florida International University