Applying for Aid
If you are interested in applying for financial aid (e.g., HWCOM scholarships, federal student loans, and the HWCOM graduate need grant), you must complete the online Free Application for Federal Student Aid (FAFSA). The 2022-2023 application has been available.
The HWCOM at FIU school code for the FAFSA application is: 009635
First-time applicants must create a Federal Student Aid (FSA) ID username and password. Your FSA ID allows you to access your personal information on U.S. Department of Education websites (e.g., https://fafsa.ed.gov/). The FSA ID has the same legal status as a written signature and is used to electronically sign legally binding documents.
You may also utilize the IRS Data Retrieval Tool to complete the FAFSA. The tool is highly recommended for faster and more accurate processing of your financial aid. You do not need to include parental financial information in the FAFSA. Additional documents should not be submitted unless requested.

Reporting Changes or Special Circumstances to a FAFSA form
Corrections
After you submit your FAFSA but before you receive your award notification, you can correct any errors directly through the FAFSA form. See how to make changes to my FAFSA form.
Once you have received your award notification (through your FIU email or MyFIU) DO NOT make any changes to your FAFSA without speaking with an HWCOM Financial Aid advisor. At this point, corrections to your FAFSA will not be automatically reviewed without submitting a FAFSA Correction Form indicating what the correction is and the reason you initiated it. To request the form, please contact pamedfin@fiu.edu. Please note, that the correction may generate a request for additional information before an award is revised, if applicable.
Professional Judgment
A financial aid administrator may exercise professional judgment to assist students who have extenuating circumstances which warrant a reevaluation of their eligibility for financial aid. These may include but are not limited to:
Divorce or separation of the student
Death of parent or spouse
Extraordinary medical expenses paid by student, spouse, or parent not covered by insurance
Dependent care costs

: statement on provider letterhead detailing incurred/anticipated expenses, - 50% of dependent care expenses allowed, 100% will be considered on a case-by-case basis
MD students only:
Residency Interview Expenses (please refer to the policy for further details)
Some transportation expenses for M3 and M4 students that are unforeseen (car repair, etc)
A request for professional judgment form must be completed and submitted along with all documents required for your extenuating circumstance.
To request professional judgment, find the form under CanvasMed modules for Financial Aid Forms, or contact our office.
FAFSA Verification
What is Verification?
Verification is a process used to confirm that the data reported on your FAFSA is accurate. You will be asked to provide documentation to support the information you reported on the FAFSA.
If you are selected for verification, you will be required to submit documentation such as Federal Tax Transcripts, W2s, and a verification worksheet by the deadline presented. Financial aid will NOT disburse to your account until your documentation is submitted and reviewed.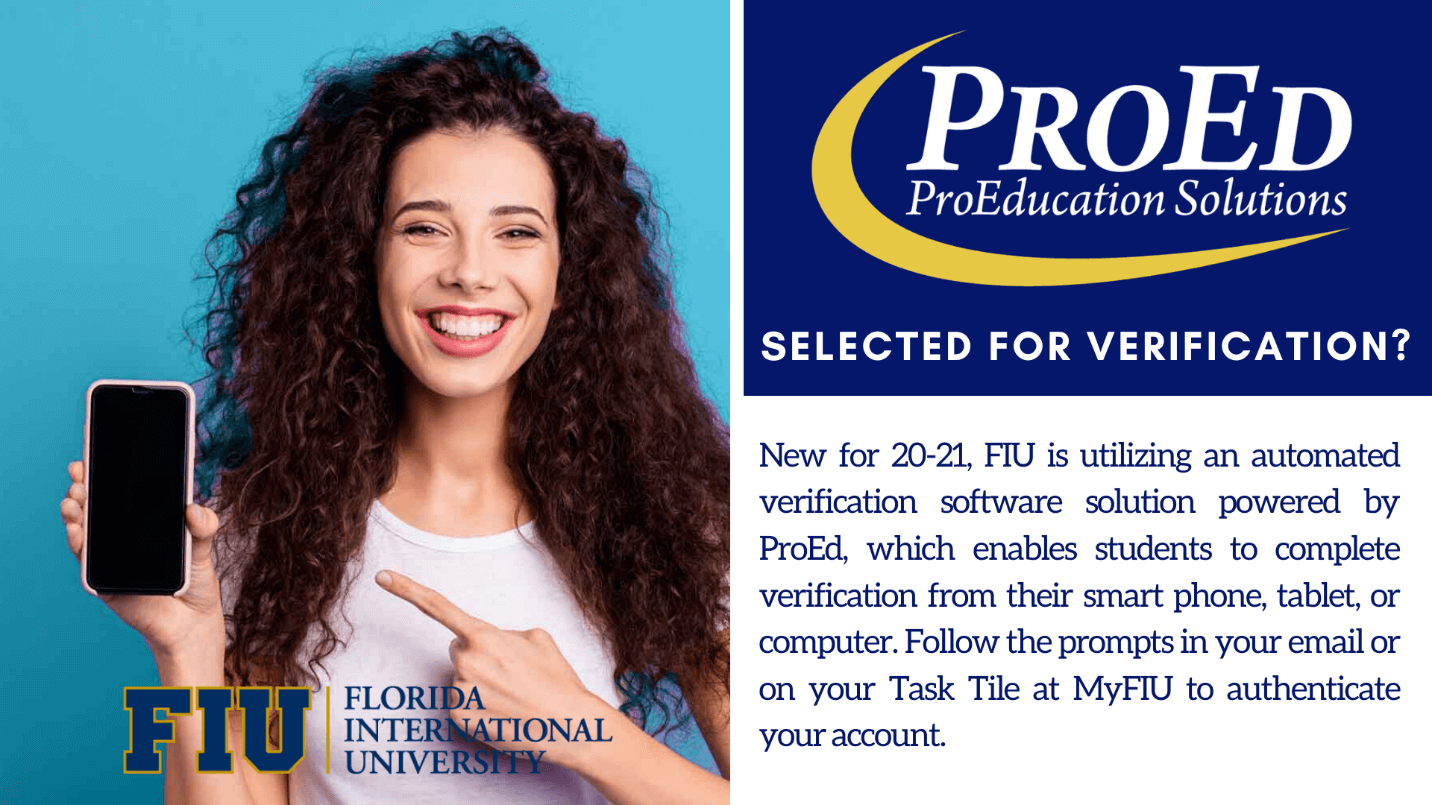 Why Was I Selected?
Your FAFSA may be selected for verification at random, or because you supplied incomplete or inconsistent data on your application. Verification is a federal regulation and ensures that eligible students receive all the aid for which they qualify. If you were selected, you will get a notification on MyFIU and in your student email.
What Do I Need to Do for 2023-2024?
The required documents will be listed on your ProEd Student Dashboard. You can find the link to the FIU ProEd Student Portal under your Task Tile on MyFIU, and in the email, you receive from the Financial Aid Office.
If you have any questions, please call 305-921-9335.
Tips
To expedite the process we encourage the following:
Don't wait until the deadline to submit your documents. The faster you submit your verification documentation, the faster we will disburse your aid.
Read the instructions carefully and submit all required documents upfront. Incomplete files cause significant delays for you and other students, as we must dedicate more resources to following up with you and requesting additional documents.
Provide accurate information. Corrections take more time to process, and providing accurate information upfront will speed up the verification process. If possible, use the IRS Data Retrieval Tool on FAFSA to import your financial information directly from the IRS.
Check your MyFIU and FIU email. Sometimes we ask for more documentation to ensure the accuracy of your financial aid application information. Check your FIU email and To-Do List on MyFIU frequently. The faster you respond, the faster we will disburse your aid.