Psychiatry and Behavioral Health
The Department of Psychiatry and Behavioral Health (PBH) was established in the fall of 2008 as part of the new FIU Herbert Wertheim College of Medicine. PBH collaborates with hospitals and other organizations throughout South Florida to provide training and education, innovative research, and superior clinical services.
Vision, mission & values
PBH seeks the pursuit of emotional, behavioral and physical health through quality education, superior health care, and the development and dissemination of science based innovation.
Promote independent and lifelong learning
Provide exemplary, evidence based patient services through the application of medical knowledge to patient care
Foster academic quality and provide education of the highest standard
Seek the advancement of research
Maintain honesty and integrity
Seek excellence in everything we do
Contact
Department of Psychiatry and Behavioral Health
11200 SW 8th Street, AHC1-348 Miami, FL 33199
Tel: 305-348-4147
Fax: 305-348-4331
psychiatryinfo@fiu.edu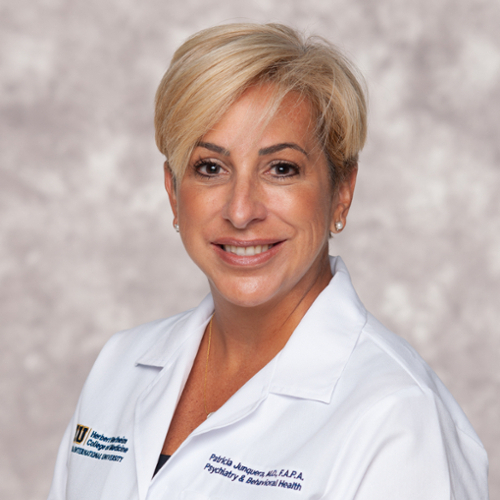 Message from the Chair
Welcome to the Department of Psychiatry & Behavioral Health. This promises to be a busy and exciting year as we focus on expanding our clinical services, educational programs, research, and partnerships with our community.

The Treatment Resistant Depression Program now includes Transcranial Magnetic Stimulation (rTMS) and SPRAVATO services. Several exciting research initiatives are ongoing, including innovative interventions for early neurocognitive changes, the use of rTMS for treatment-resistant depression, and the integration of behavioral health in primary care and mental health in older people across cultures.

We continue to expand the Department of Health Behavioral Health Integration program by partnering with local pediatricians to offer psychiatric consultation to the child and adolescents in the community with behavioral health needs. And we look forward to highlighting our faculty and staff's hard work and accomplishments toward addressing mental health in our community.

Patricia Junquera, MD
Interim Chair, Director of Multidisciplinary Education
Associate Professor
Clinical
PBH has a diverse range of clinical programs. Services are delivered in multidisciplinary, patient centric efficient manner which meets the needs of the community. Clinical programs are located at the following sites:
Affiliated hospitals & organizations
AGAPE Network
Bay Pines VA Healthcare System
Camillus House & Health
Citrus Health Network
Fort Lauderdale Hospital
Memorial Regional Hospital and Medical Center
Miami VA Healthcare System
Nicklaus Children's Hospital
Smith Community Mental Health
South Florida Evaluation and Treatment Center
South Florida State Hospital
The Key Clubhouse of South Florida
Education and training
PBH faculty are actively involved in the teaching of multiple learners. Our medical students are exposed to our faculty teaching across all years in the curriculum. From active participation in courses in the 1st-year to the 4th-year FIU medical students benefit from the breadth of our faculty expertise. FIU psychiatry clerkship and elective students rotate through our 16 clinical sites.
PBH offers 4th-year psychiatry elective rotations for our International Visiting Medical Students program as well as provides clinical training for Master of Physician Assistant Studies students. Our department faculty and staff therapists provide individualized training and clinical supervision throughout our clinical sites.
The Citrus Health Network-FIU psychiatry residency program serves as a model for outpatient- and community-based training as the first psychiatry residency program sponsored by a Federally Qualified Health Center. Residents actively participate in clinical quality improvement through their rotations in psychiatry and primary care at Citrus Health Network and medicine and neurology at Mount Sinai Medical Center. The Department's faculty participate across all years of training.
Research
PBH clinical faculty and staff are committed to the diverse communities they provide services for. We aim to contribute in solving public health problems like substance use disorders, suicide and child and adolescent disorders. We pursue research that addresses social determinants of health and their effect on the well-being and functioning of people with severe mental illness. We develop educational interventions to enhance the communication between patients and their healthcare providers. We involve trainees at all levels in the design, implementation and dissemination of research.
Secondary faculty

Jonathan Comer, PhD
Associate Professor

Raul Gonzalez, Jr, PhD
Associate Professor

Angela Laird, PhD
Associate Professor

William Pelham, Jr, PhD
Distinguished University Professor

Jeremy Pettit, PhD
Professor

William Vega, PhD
Distinguished Professor


Adjunct faculty

Margaret Harper Sibley, PhD
Associate Professor

James Waxmonsky, MD
Adjunct Professor

Daniel Castellanos, M.D.
Professor

Community-based faculty

Mary-Ann Abraham, M.D.
Assistant Professor

Siramene Abraham, M.D.
Assistant Professor
 
Gil Abramovici, M.D.
Assistant Professor

Jadiyer O. Acosta, M.D.
Assistant Professor
 
Maria Alfonso, MBA, CHCQM
Instructor
 
Rosa Amurrio, M.D.
Assistant Professor
 
Xenia Aponte, M.D.
Assistant Professor
 
Rebecca Arana, M.D.
Assistant Professor
 
Sergio Balcazar, M.D.
Assistant Professor
 
Jacqueline Barrett, M.D.
Assistant Professor
 
Aramys Barzaga, M.D.
Assistant Professor
 
Victoria Baskin, M.D.
Assistant Professor
 
Michelle Benitez Cabrera, M.D.
Assistant Professor
 
Madiley Broz, Psy.D.
Assistant Professor

Carissa Cabán-Aleman, M.D.
Assistant Professor
 
Carmen Cantero, LCSW
Instructor

Norma Campos, M.D.
Assistant Professor
 
Regina Maria Carney, M.D.
Assistant Professor

Mariel L. Cataldi, M.D.
Instructor
 
Susan Elaine Chalfin, Ph.D.
Assistant Professor
 
Aminata Cisse, M.D.
Assistant Professor
 
Maria Collado, M.D.
Assistant Professor
 
Raul Corredor, M.D.
Assistant Professor

Jose Cruz, M.D.
Assistant Professor

Elie Crystal, DO
Assistant Professor
 
John D'Andrea, DO
Assistant Professor

Akiva M. Daum, M.D.
Assistant Professor

Zachary Demko, M.D.
Instructor
 
Jeevan Diptee-Rodrigues, M.D.
Assistant Professor
 
Richard M. Dreize, M.D.
Assistant Professor

Spencer Eth, M.D.
Adjunct Professor
 
Leslie Annette Garrad, Ph.D.
Assistant Professor
 
Jose Manuel Gonzalez, M.D.
Assistant Professor
 
Alina Gonzalez-Mayo, M.D.
Assistant Professor
 
Ernesto M. Grenier, M.D.
Assistant Professor

Berta Guerra, M.D.
Assistant Professor

Victor Guzman, M.D.
Assistant Professor
 
Richard Hamilton, Ph.D.
Associate Professor

Michael Hann, M.D.
Adjunct Assistant Professor
 
Ciomara Lynn Hernandez, M.D.
Assistant Professor
 
Sean Horan, M.D.
Assistant Professor

Elizabeth Hoy, M.D.
Assistant Professor
 
Hugh Humphery, M.D.
Assistant Professor
 
Emil Ibrahim, M.D.
Assistant Professor
 
Michael Inesta, M.D.
Assistant Professor
 
James Jordan, M.D.
Assistant Professor

Aleksander Kaipov, MD
Assistant Professor
 
Debra Frances Kirsch, M.D.
Assistant Professor
 
Maha Lahoud-Bladykas, M.D.
Assistant Professor
 
Rossana Lopez, M.D.
Assistant Professor
 
Julio C Machado, Jr., M.D.
Assistant Professor

Rosa Martinez-Casuso, M.D.
Assistant Professor
 
Dhizarah Matus De La Parra-Pellot, M.D.
Assistant Professor
 
Karina McCoy, M.D.
Assistant Professor
 
Kathleen "Molly" McShane, M.D.
Assistant Professor
 
Zina Meriden, M.D.
Assistant Professor
 
Militza Mizray, M.D.
Assistant Professor
 
Jules G. Molina, M.D.
Assistant Professor

Angela Mooss, Ph.D.
Assistant Professor
 
Olga E. Navarro-Rodriguez, M.D.
Assistant Professor
 
Hung Nguyen, M.D.
Assistant Professor

Kristal Nicht, M.D.
Assistant Professor

Mohammad Asim Nisar, M.D.
Assistant Professor

Ana M. Ojeda, Ph.D., M.D.
Assistant Professor

Juan Diego Oms, M.D.
Assistant Professor
 
Americo Padilla, M.D.
Assistant Professor
 
Shlomo Pascal, M.D.
Assistant Professor
 
Anna Maria Patino-Fernandez, Ph.D.
Associate Professor
 
Arlene L. Pena-Gonzalez, M.D.
Assistant Professor

Juandalyn Peters, M.D.
Assistant Professor 

Neda Picuric, DO
Assistant Professor

Steven Proctor, Ph.D.
Associate Professor
 
Francisco Quintana, Ph.D.
Assistant Professor
 
Ana Rivas-Vazquez, Ph.D.
Assistant Professor
 
Jorge Enrique Rivera, M.D.
Assistant Professor  

Maria Rodil, M.D.
Assistant Professor
 
David B. Rooney, M.D.
Assistant Professor

Michael Rosenthal, M.D.
Adjunct Instructor

Carlos Salgado, M.D.
Assistant Professor
 
Michael Sanfilipo, M.D.
Associate Professor
 
Jada Santos, Psy.D.
Assistant Professor
 
Indu Senapati, M.D.
Assistant Professor
 
Silvia Silva-Duluc, M.D.
Assistant Professor

Sachin Singh, DO
Assistant Professor
 
Barbara Sparacino, M.D.
Assistant Professor

Saneya H. Tawfik, PhD
Associate Professor

Melvin J. Thomas, M.D.
Instructor
 
David Tobolowsky, M.D.
Associate Professor
 
Yadira Torres, Psy.D.
Assistant Professor
 
Melina Visser, Psy.D.
Assistant Professor
 
James Waxmonsky, M.D.
Adjunct Professor

Kristi Wintermeyer, M.D.
Instructor

Peysaf W. Worthalter, M.D.
Assistant Professor

Tamara Zec, M.D.
Assistant Professor