Program Sites
In partnership with local affiliates, the Miami Veterans Affairs Healthcare System and Jackson Memorial Hospital, we hope to further GME at FIU HWCOM with our inaugural Primary Care Internal Medicine Residency Program.
Primary Site: 
Miami VA Healthcare System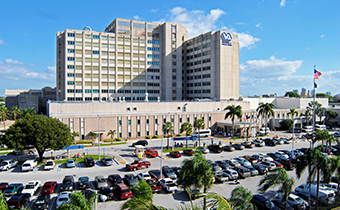 The Miami VA Healthcare System serves Veterans in three South Florida counties:  Miami-Dade, Broward and Monroe, with an estimated Veteran population of 149,704. Their parent facility, opened in 1968, is the Bruce W. Carter Department of Veterans Affairs Medical Center that is located on 26.3 acres in downtown Miami.
The Miami VA Healthcare System is an accredited comprehensive medical provider, providing general medical, surgical, inpatient and outpatient mental health services. The Miami VA Healthcare System includes an AIDS/HIV center, a prosthetic treatment center, spinal cord injury rehabilitative center, and Geriatric Research, Education, and Clinical Center (GRECC). The Miami VA Healthcare System is recognized as a Center of Excellence in Spinal Cord Injury Research, Substance Abuse Treatment and is a recognized Chest Pain Center.
In addition to serving South Florida, the Miami VA is the tertiary referral facility for the West Palm Beach VA Medical Center and provides open-heart surgery and other specialty services to other VA facilities in Florida and the country.
The Miami VA Healthcare System operates 372 hospital beds, including a four-story community living center attached to the main facility. The Miami VA is also responsible for two major satellite Outpatient Clinics located in Broward County and Key West, five Community Based Outpatient Clinics located in Homestead, Key Largo, Pembroke Pines, Hollywood and Deerfield Beach.
Visit the Miami VA Healthcare System website for onboarding information.
Participating Site: Jackson Memorial Hospital
Visit the Jackson Memorial Hospital website.