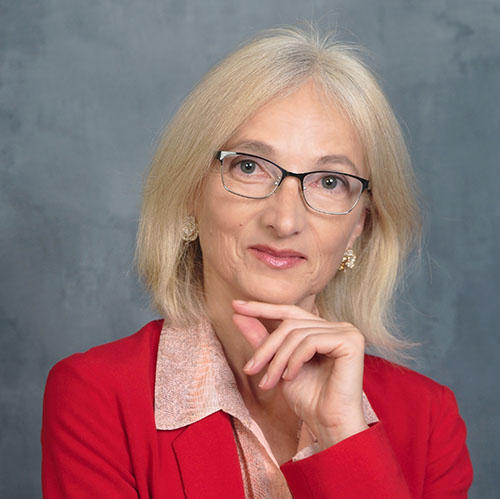 Georgeta Vaidean, M.D., MPH, Ph.D.
Assistant Professor
Translational Medicine; Division of Medical and Population Health Sciences Education and Research
---
Office: AHC1 338
Phone: 305-348-9630
Email: gvaidean@fiu.edu
Dr. Georgeta Vaidean teaches epidemiology and evidence-based medicine and mentors medical students in research methods within the research scholarship course.
The focus of Vaidean's career has been cardiovascular prevention and evidence-based medicine. She started her career by leading a preventive cardiology office and a community-based cardiovascular prevention program in Cluj-Napoca, Romania.
She has held academic appointments at several institutions, teaching medical and pharmacy students, mentoring MPH and Ph.D. students, conducting cardiovascular epidemiology studies, and designing clinical research studies. In addition, Vaidean has experience overseeing clinical trials management in clinical research settings and delivering patient counseling for behavioral changes and lifestyle medicine. She maintains an active publication record, including peer-reviewed articles and several book chapters on preventive cardiology.
Education
Ph.D., Cardiovascular Epidemiology, University of North Carolina, Chapel Hill, NC
MPH, Health Promotion and Health Education, University of South Carolina, Columbia, SC
M.D. University of Medicine, Cluj-Napoca, Romania
Research
Cardiovascular epidemiology, behavioral risk factors, biomarkers, repolarization indices
Cardiovascular disease in the young, risk factors profile and risk reduction interventions
Women's cardiovascular health
Preventive cardiology through lifestyle interventions
Selected Publications
Juul F, Vaidean G, Lin Y, Deierlein AL, Parekh N. Ultra-Processed Foods and Incident Cardiovascular Disease in the Framingham Offspring Study. J Am Coll Cardiol. 2021;77(12):1520-1531.  

Juul F, Lin Y, Deierlein AL, Vaidean G, Parekh N. Trends in food consumption by degree of processing and diet quality over 17 years: results from the Framingham Offspring Study. Br J Nutr. 2021;126(12):1861-1871.   

Garshick MS, Vaidean G, Vani A, Underberg JA, Newman JD, Berger JS, Fisher EA, Gianos E. Cardiovascular Risk Factor Control and Lifestyle Factors in Young to Middle-Aged Adults with Newly Diagnosed Obstructive Coronary Artery Disease. Cardiology. 2019;142(2):83-90.  

Vaidean G, Manczuk M, Vansal SS, Griffith J. The cholesterol-lowering effect of statins is potentiated by whole grains intake. The Polish Norwegian Study (PONS). Eur J Intern Med. 2018;50:47-51

Vaidean G, Manczuk M, Magnani JW. Atrial electrocardiography in obesity and hypertension: Clinical insights from the Polish-Norwegian Study (PONS). Obesity (Silver Spring). 2016;24(12):2608-2614.