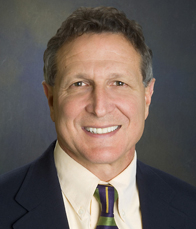 Robert Sackstein, M.D., Ph.D.
Senior Vice President for Global Medical Affairs, and Professor
Translational Medicine
---
Email: sackstein@fiu.edu
Robert Sackstein, M.D., Ph.D., is a world-renowned bone marrow transplant physician and biomedical researcher.
He was born in Havana, Cuba, and immigrated to Miami, FL, where he attended Miami public schools. He received his undergraduate degree (in Biology) from Harvard College, Summa cum Laude, and his M.D. and Ph.D. (in Immunology) degrees from Harvard Medical School, where he also received the James Tolbert Shipley Prize for outstanding research. He then completed internal medicine training and fellowships in immunology and hematology at the University of Miami, and received the Young Investigator Award for Excellence in the Field of Hematology from the International Society for Experimental Hematology.
Sackstein is an authority in stem cell-based "regenerative" medicine, immunology, and glycobiology, and his research efforts have defined how cells in blood flow migrate to target tissues. In particular, he is widely recognized for developing a platform technology known as "glycosyltransferase-programmed stereosubstitution" (GPS) for steering the trafficking of intravenously administered cells directly to sites of tissue injury or cancer, a necessary first step in achieving the promise of regenerative therapeutics and of adoptive cell immunotherapy.
Before coming to FIU, he served as a Bone Marrow Transplant Physician at the Massachusetts General Hospital, the Brigham and Women's Hospital, and the Dana-Farber Cancer Institute, and held dual-appointment Professorships (in the fields of Medicine and Dermatology) at the Harvard Medical School. He served as the Director of the Program of Excellence in Glycosciences at Harvard Medical School, and the Co-director of the Harvard Center for Glycoscience. In addition to his appointments at FIU,  Sackstein is an Emeritus Professor at Harvard Medical School, he is on the International Scientific Advisory Board of the Wallenberg Center for Regenerative Medicine (University of Lund, Sweden), is the Chairperson of the Advisory Board for the Spanish National Network for Regenerative Medicine, and is a member of the Scientific Advisory Boards of the Jose Carreras Institute and the Bellvitge Institute for Biomedical Research (IDIBELL), each located in Barcelona, Spain.