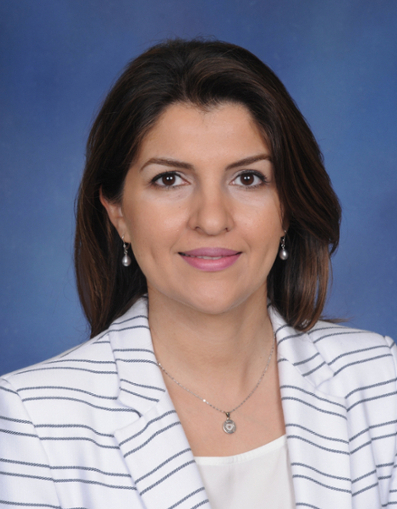 Sanaz Kashan, M.D., FACP, FAAHPM
Associate Professor
Translational Medicine, Division of Internal Medicine
---
Email: skashan@fiu.edu
Languages spoken: English
Areas of Interest: Geriatrics, Palliative Medicine, End-of-Life Care, Bioethics
Dr. Sanaz Kashan teaches medical students at all stages of their training in pharmacology, cardiovascular and respiratory systems, gastrointestinal, renal systems, palliative medicine, and geriatrics. She also has an active role in developing the hospice and palliative care curriculum.
Kashan has had major administrative jobs at HCA Florida Aventura Hospital in Aventura, Florida. She is the founding program director for its Hospice and Palliative Medicine Fellowship and the Transitional Year Residency program director.  
She is active in many medical organizations and serves on multiple committees within the American College of Physicians, American Geriatrics Society, and American Academy of Hospice and Palliative Medicine.
Research Interest
Kashan's main career interests and research efforts have been education, end-of-life care, advanced care planning, cultural factors in patient decision-making, and pharmacology. She is also particularly interested in enhancing the quality of health care through medical education and inter-professional teamwork to improve health outcomes.  
Education
Fellowship, Hospice and Palliative Care Medicine, Wayne State University, Detroit, Michigan  
Fellowship, Geriatric Medicine, Hurley Medical Center/Michigan State University, Flint, Michigan  
Residency, Internal Medicine, Hurley Medical Center/Michigan State University, Flint, Michigan  
Internship,  Newark Beth Israel Medical Center/RWJ Barnabas Health, New Jersey  
M.D., Shahid Beheshti University of Medical Sciences, Tehran, Iran    
Selected publications
Minor S, Samuels M, Milanez M, Kashan S, Mora J. Facilitating the Advance Care Planning Conversation with Patients: An Interactive Virtual 1.5 Hour Session. Southern Medical Journal. 2021
Nguyen B, Athauda G, Kashan SB, Weiler T, Toonkel RL. Osteoporosis: a small-group case-based learning activity.

2021;17:11176.

https://doi.org/10.15766/mep_2374-8265.11176

  

Minor S, Samuels M, Milanez M, Kashan S, Mora J. Using Five Wishes to Facilitate the Advance Care Planning Conversation with Patients. Icollaborative, AAMC. August 2020.
Baskir E, Athauda G, Zeiarati GN, Kashan SB, Camps-Romero E, Gillis M. Active Learning to Promote Early and Effective Physician Interaction with Pharmaceutical Industry Marketing Practices. Medical Science Educator, April 2020. https://doi.org/10.1007/s40670-020-00943-y 

Ferrer L

, 

Falconi G

, 

Priyadarshni S

, 

Perez R

,

Smithson S

, 

Kashan S, Curry B. Multicenter Palliative Care Intervention Analysis in Heart Failure Patients: Crossing the Chasm. Journal of the American College of Cardiology, March 2020.

DOI:

1016/S0735-1097(20)30841-X