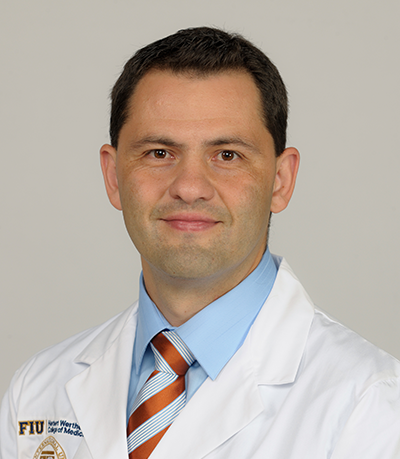 Jorge Camilo Mora, M.D.
Associate Dean for Faculty Affairs; Strand Leader for Professional Development; Director of Geriatric Medical Education; Director of Clinical Nutrition; Professor
Department of Translational Medicine; Division of Internal Medicine
---
Office: AHC2 456A
Phone: 305-348-0685
Email: jcmora@fiu.edu
Specialty: Family Medicine, Geriatric Medicine, and Public Health
Languages Spoken: English and Spanish
Areas of Interest: Aging (Exercise, Cognitive Issues), Nutrition, and Integrative Medicine
Dr. Jorge Mora is board-certified in family medicine and geriatrics. In his role as associate dean for Faculty Affairs, he oversees faculty appointments, promotions, and tenure.
Mora joined FIU in September 2009 as a founding faculty member of the College of Medicine. Before that, he worked at Broward Health Medical Center and the Veterans Administration Medical Center in West Palm Beach, Florida.
While working at the University of Texas, he served as program manager for the National Institutes of Health-sponsored Community Programs for Clinical Research in AIDS at the Houston AIDS Research Team. The program included four clinical centers with over 3,000 individuals living with HIV/AIDS.
Current Research
Florida Registry for Aging Studies. National Institute on Aging, 1R24AG067951-01. ($2,077,626), Co-Investigator, 08,2020 to 04/2023.
Florida Registry for Aging Studies. National Institute on Aging, 1R24AG067951-01. ($959,365), Co-Investigator, 2020.
Joan Peven Smith and Harry B. Smith Endowment, supports educational activities within the Professional Development Strand at the Herbert Wertheim College of Medicine that further medical students' understanding of patient and caregiver experiences with health conditions and illnesses, 2019 ($100,000).
Piloting diet and exercise interventions in older Hispanics with diabetes". Funded by Wertheim Endowed Innovation Fund, 2018 ($50,000.00), Co-Investigator.
Education
Fellowship, Geriatrics, Cleveland Clinic, Weston, FL (2013)
Residency, Family Medicine, Tallahassee Memorial Hospital/Florida State University, Tallahassee FL (2007)
MPH, Harvard School of Public Health, Boston MA (2000)
M.D., National University of Colombia, Bogotá, Colombia (1994)
Awards
FIU Faculty Convocation Award for Excellence in Teaching, Florida International University, Miami, FL, 2021
Top Scholar Award, Florida International University, 2021
Mid-Career Clinician Educator of the Year Award, American Geriatrics Society, 2021
Harris Professionalism Award, Alpha Omega Alpha Honor Medical Society, 2019.
Florida Academy Family Physicians Exemplary Part-Time Educator Award, 2014
Susan U. Wager Resident Teacher Award for Demonstrated Interest, Ability and Commitment to Family Medicine Education, Tallahassee Memorial Hospital Family Medicine Residency Program, 2007
Areas of Expertise
Medical education
Cognitive impairment and dementia
Nutrition
Complementary and Integrative Medicine (CIM)
Polypharmacy
Selected publications
Mora JC, Valencia WM. Exercise for Older Adults. Reichel's Care of the Elderly 8th edition, Cambridge University Press 2022.
Minor S, Samuels M, Kashan S, Milanez M, Mora JC. Facilitating the Advance Care Planning Conversation with Patients: An Interactive Virtual 1.5-Hour Session. South Med J. 2022 May;115(5):290-293. doi: 10.14423/SMJ.0000000000001385. PMID: 35504607.
Mora JC, Galindez, A. Foot Bulla. Cleveland Clinic Journal of Medicine Jan 2022, 89 (1) 10-12; DOI: 10.3949/ccjm.89a.21051
Vieira ER, Cavalcanti FAdC, Civitella F, Hollifield M, Caceres S, Carreno J, Gaillard T, Huffman FG, Mora JC, Queiroga MR. Effects of Exercise and Diet on Body Composition and Physical Function in Older Hispanics with Type 2 Diabetes. International Journal of Environmental Research and Public Health. 2021; 18(15):8019. https://doi.org/10.3390/ijerph18158019.
Minor, S. E., Samuels, M., Milanez, M. N., Kashan, S. B., & Mora, J. C. (2021). Using Five Wishes to Facilitate the Advance Care Planning Conversation with Patients. AAMC iCollaborative: Interpersonal and Communication Skills Resources.