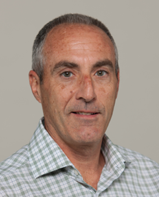 Frank Vincent Lefevre, M.D.
Assistant Professor
Translational Medicine; Division of Internal Medicine
---
Office: AHC 463
Phone: 305-919-4193
Email: flefevre@fiu.edu
Frank Vincent Lefevre, M.D., has worked in academic general internal medicine for over twenty years. He has extensive clinical experience in hospital medicine, primary care internal medicine, and evidence-based medicine (EBM). Lefevre is the course director for the P2 Cardiopulmonary Course and for the P3 Course Core Concepts in Medicine (Osler Friday). He also taught and developed the curriculum for EBM in P2 and P3. He helped to create the P2 EBM lectures in the organ system course, and has extensively revised the EBM portion of Osler Friday course. In addition to medical education and clinical medicine, he has also worked with the health insurance industry, developing evidence-based medical policy.
Education
M.D., University of Connecticut School of Medicine, Connecticut 1982-1986
Publications
Lefevre F, Goodman SN, Garber A, Piper M, 2011. Pharmacogenetic testing for warfarin dosing still awaits validation (letter).  J Amer Coll Cardiol, 57:756-757.
Li B, Lefevre F, Chelimsky, et al, 2008. North American Society for Pediatric Gastroenterology, Hepatology, and nutrition consensus statement on the diagnosis and management of cyclic vomiting syndrome.  Journal Pediatr Gastroenterol Nutr, 47:379-393.
Kripalani S, Lefevre F, Phillips C, Williams M, Basaviah P, Baker D, 2007. Deficits in Communication and Information Transfer Between Hospital-Based and Primary Care Physicians: Implications for Patient Safety and Continuity of Care.  JAMA,297:831-841
Waters, TM, Lefevre, F, Budetti, PP, Medical School Attended as a Predictor of Medical Malpractice Claims.   Quality and Safety in Health Care, 12:330-336.
Lefevre FL, Woolger J,     Surgery in the patient with Neurologic disease.   Medical Clin North Am, 87(1):257-271.