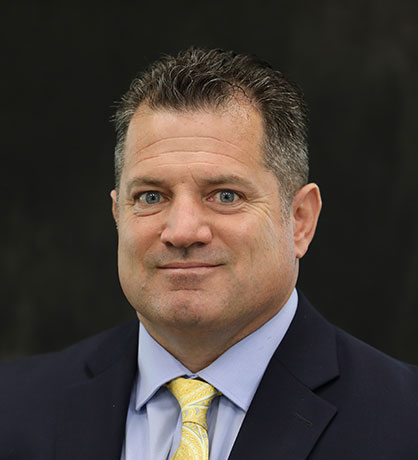 Charles J. Dimitroff, Ph.D.
Director, Translational Glycobiology Institute at FIU, and Professor, with Tenure
Translational Medicine
---
Office: AHC4-434
Phone: 305-348-9069
Email: cdimitroff@fiu.edu
Specialty: Cancer Biology, Immunology, Vascular Biology, Glycobiology
Languages spoken: English
Areas of Interest: Cancer Biology, Immunology, Vascular Biology, Glycobiology
Charles Dimitroff, Ph.D., is a global leader in the study of sugars, known as glycobiology. His research focuses on understanding how complex sugars or 'glycans' regulate immune and cancer cell functions to develop new approaches to boost the immune system, fight diseases, and treat cancer progression. The NIH has funded Dimitroff's research for over two decades. And his efforts have helped identify the nature and impact of glycans on inflammation and cancer while operating an internationally-renown translational glycobiology program.
Research Interests
Dimitroff studies the nature of lectin–carbohydrate interactions and their impact on inflammation and cancer. He conducts both  in vitro and  in vivo experiments designed to characterize the identity and function of lectins and their carbohydrate-binding ligands on leukocytes and cancer cells.
He has a unique knowledge base on the glycobiological (glycome) mechanisms relating to tumor biology, metastasis, and adaptive immunity. And he is highly skilled in performing pre-clinical investigations on how glycome-related molecules contribute to the pathogenesis of inflammation and cancer.
Education
Ph.D., Cancer Pharmacology, State University of New York at Buffalo, Molecular Therapeutics, Roswell Park Cancer Institute Graduate Division
M.S., Tumor Biology, State University of New York at Buffalo, Roswell Park Cancer Institute Graduate Division
B.A., Political Science, Columbia College, Columbia University 
Awards
NIH (NCI) National Research Service Award
2002    The Society for Investigative Dermatology, Albert M. Kligman Fellowship Award
2003    The Society for Investigative Dermatology, Albert M. Kligman Fellowship Award
2005    American Cancer Society Research Scholar Award
2011    Junior Mentor Award, Harvard Medical School
2013    BWH Center for Faculty Development & Diversity, Faculty Mentoring Leadership
2014    BWH Center for Faculty Development & Diversity, Community Service Award
2017    Innovation Recognition Award by Partners Healthcare
2022    Recognition in Mentoring, FIU MARC U*STAR and Transdisciplinary Biomolecular and Biomedical Sciences Program
Selected Publications
Geddes Sweeney J, Liang J, Aristotelis A, Giovannone N, Kang S, Mondala T, Head SR, King SL, Tani Y, Brackett D, Dell A, Murphy GF, Haslam SM, Widlund HR and Dimitroff CJ. Loss of GCNT2/I-branched glycans enhances melanoma growth and survival. Nature Communications, 2018; 9(1):3368.
Giovannone N, Liang J, Aristotelis A, Geddes-Sweeney J, King SL, Pochebit SM, Neil Bhattacharyya N., Dell A, Widlund HR, Haslam SM and Dimitroff CJ. Galectin-9 suppresses B cell receptor signaling and is regulated by I-branching of N-glycans. Nature Communications, 2018; 9(1):3287.
Giovannone N, Antonopoulos A, Liang J, Geddes Sweeney J, Kudelka MR, King, SL, Lee GS, Cummings RD, Dell A, Barthel SR, Widlund HR, Haslam SM, Dimitroff CJ. Human B cell differentiation is characterized by progressive remodeling of O-linked glycans. Frontiers in Immunology, 2018; 9:2857.
Mendoza M, Li D, Ballesteros A, Blois SM, Abernathy K, Dimitroff CJ, Zmuda J, Panico M, Dell A, Vasta GR, Haslam SM, Dveksler G. Glycan characterization of pregnancy-specific glycoprotein 1 and its identification as a Galectin-1 ligand. Glycobiology, 2020;30(11):895-909.
Chakraborty A, Staudinger C, King SL, Clemente Erickson F, Lau LS, Bernasconi A, Luscinskas FW, Perlyn C, and Dimitroff CJ. Galectin-9 bridges human B cell – vascular endothelial cells while programming regulatory pathways. J. Autoimmunity, 2020 117:102575.
Mendoza M, Li D, Ballesteros A, Blois SM, Abernathy K, Dimitroff CJ, Zmuda J, Panico M, Dell A, Vasta GR, Haslam SM, Dveksler G. Glycan characterization of pregnancy-specific glycoprotein 1 and its identification as a Galectin-1 ligand. Glycobiology , 2020;30(11):895-909.
Chakraborty A, Staudinger C, King SL, Clemente Erickson F, Lau LS, Bernasconi A, Luscinskas FW, Perlyn C, Dimitroff CJ. Galectin-9 bridges human B cell – vascular endothelial cells while programming regulatory pathways. Journal of Autoimmunity , 2020 117:102575.
Perez M, Chakraborty A, Lau LS, Mohammed NBB, Dimitroff CJ. Melanoma-associated glycosyltransferase GCNT2 as an emerging biomarker and therapeutic target. British Journal of Dermatology , 2021, 185(2):294-301.
Chakraborty A, Mohammed NBB, Bernasconi A, Dimitroff CJ. Analysis of galectin-binding receptors on B cells. Methods in Molecular Biology , 2022, 2442:565-580.
Schatton T, Itoh Y, Martins C, Rasbach E, Singh P, Silva M, Mucciarone K, Heppt MV, Geddes Sweeney J, Stewart K, Brandenburg A, Liang J, Dimitroff CJ, Mihm Jr. MC, Landsberg J, Schlapbach C, Lian CG, Murphy GF, Kupper TS, Ramsey MR, Barthel SR. Inhibition of melanoma cell-intrinsic Tim-3 stimulates MAPK-dependent tumorigenesis. Cancer Research , 2022, 82(20):3774-3784.
Chakraborty A, Perez M, Carroll JD, Antonopoulos A, Dell A, Ortega L, Mohammed NBB, Wells M, Staudinger C, Griswold A, Chandler KB, Marrero C, Jimenez R, Tani Y, Wilmott JS, Thompson JF, Wang W, Sackstein R, Scolyer RA, Murphy GF, Haslam SM, and Dimitroff CJ. Hypoxia controls the glycome signature and a novel galectin-8 – ligand axis to promote pro-tumorigenic properties of metastatic melanoma. Journal of Investigative Dermatology , 2022 Sept 26 doi: 10.1016/j.jid.2022.07.033.
Mohammed NBB, Antonopoulos A, Anne Dell A, Haslam SM, Dimitroff CJ. The pleiotropic role of galectin-3 in melanoma progression: Unravelling the enigma. Advances in Cancer Research , In press