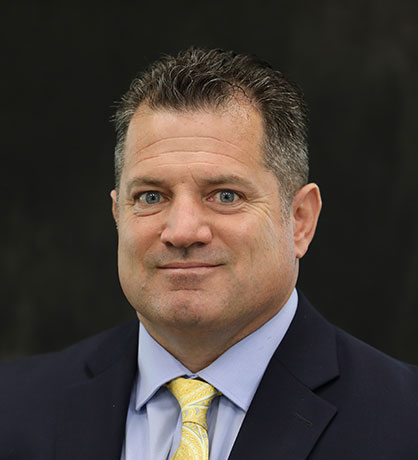 Charles J. Dimitroff, Ph.D.
Director, Translational Glycobiology Institute at FIU; Professor, with Tenure
Translational Medicine
---
Office: AHC2 678
Phone: 305-348-9069
Email: cdimitroff@fiu.edu
Charles Dimitroff, Ph.D., is a global leader in the study of sugars, known as glycobiology, and is highly motivated to translate glycobiological findings to help cure diseases and improve the overall health of humans. His research focuses on understanding how complex sugars or 'glycans' regulate immune and cancer cell functions with the goal of developing new approaches to boost the immune system to fight diseases and to treat cancer progression. As a principal investigator for over 26 years, his efforts have helped identify the nature and impact of glycans on inflammation and cancer, while operating one of the most reputable translational glycobiology programs in the US. 
Education
Ph.D., Cancer Pharmacology, State University of New York at Buffalo, Molecular Therapeutics, Roswell Park Cancer Institute Graduate Division
M.S., Tumor Biology, State University of New York at Buffalo, Roswell Park Cancer Institute Graduate Division
B.A., Political Science, Columbia College, Columbia University
Area of Interest/Specialization
Dimitroff has studied the nature of lectin – carbohydrate interactions and their impact in inflammation and cancer for the last 26 years. He has an expertise in glycobiology studies relating to tumor biology and adaptive immunity and is qualified to perform pre-clinical research investigating how glycome-related molecules contribute to the pathogenesis of inflammation and cancer. He conducts both in vitro and in vivo experiments designed to characterize the identity and function of lectins and their carbohydrate-binding ligands on leukocytes and cancer cells.
Selected Publications
Geddes Sweeney J, Liang J, Aristotelis A, Giovannone N, Kang S, Mondala T, Head SR, King SL, Tani Y, Brackett D, Dell A, Murphy GF, Haslam SM, Widlund HR and Dimitroff CJ. Loss of GCNT2/I-branched glycans enhances melanoma growth and survival. Nature Communications, 2018; 9(1):3368.
Giovannone N, Liang J, Aristotelis A, Geddes-Sweeney J, King SL, Pochebit SM, Neil Bhattacharyya N., Dell A, Widlund HR, Haslam SM and Dimitroff CJ. Galectin-9 suppresses B cell receptor signaling and is regulated by I-branching of N-glycans. Nature Communications, 2018; 9(1):3287.
Giovannone N, Antonopoulos A, Liang J, Geddes Sweeney J, Kudelka MR, King, SL, Lee GS, Cummings RD, Dell A, Barthel SR, Widlund HR, Haslam SM, Dimitroff CJ. Human B cell differentiation is characterized by progressive remodeling of O-linked glycans. Frontiers in Immunology, 2018; 9:2857.
Mendoza M, Li D, Ballesteros A, Blois SM, Abernathy K, Dimitroff CJ, Zmuda J, Panico M, Dell A, Vasta GR, Haslam SM, Dveksler G. Glycan characterization of pregnancy-specific glycoprotein 1 and its identification as a Galectin-1 ligand. Glycobiology, 2020;30(11):895-909.
Chakraborty A, Staudinger C, King SL, Clemente Erickson F, Lau LS, Bernasconi A, Luscinskas FW, Perlyn C, and Dimitroff CJ. Galectin-9 bridges human B cell – vascular endothelial cells while programming regulatory pathways. J. Autoimmunity, 2020 117:102575.