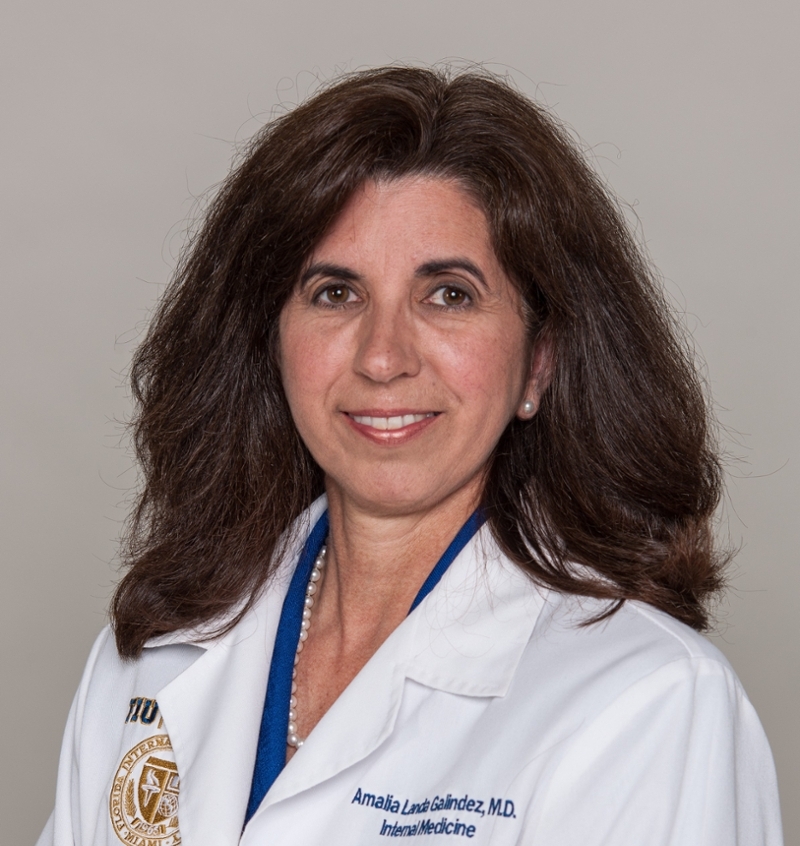 Amalia M. Landa-Galindez, M.D., FACP
Interim Chair of the Department of Translational Medicine; Associate Professor and Chief of the Division of Internal Medicine
---
Office: AHC2 592
Phone: 305-348-2180
Email: alandaga@fiu.edu
Areas of Interest: Primary Disease Prevention, Women's Health Cardiovascular and Rheumatologic Disorders
Dr. Amalia Landa-Galindez plays an active role in recruiting faculty, organization of clerkship sites, and student educational activities. She leads the development and assessment of the internal medicine curriculum. And serves as a faculty advisor for students pursuing a residency in internal medicine. Landa-Galindez is the course director for the musculoskeletal systems second-year course at HWCOM. In 2017, she received the HWCOM Excellence in Medical School Teaching Award.  
Landa-Galindez serves on national committees, including the American College of Physicians Capstone Review Board, the Alliance for Academic Internal Medicine Medical Education Research Committee, and the Association of American Medical Colleges Council of Faculty and Academic Societies.   
She has a clinical practice at the FIU Health Faculty Group Practice and is affiliated with the Baptist Health South Florida hospital system. 
Research Interests
Integration of ethics training, genetics education and evidence-based medicine during the clinical years of medical student education, assessment of Entrustable Professional Activities (EPAs) during clerkships, osteoporosis risk assessment, and the management and evaluation of outcomes post COVID-19 infection. 
Selected Publications
Landa-Galindez, Amalia, "Other Neurological Disorders: Multiple Sclerosis; Myasthenia Gravis; Lambert-Eaton Myasthenic Syndrome; Guillan-Barre Syndrome; Amyotrophic Lateral Sclerosis".  IM Essentials- A Medical Knowledge Self-Assessment Program (MKSAP) for Students, Text. American College of Physicians/ Clerkship Directors in Internal Medicine, January 2015.  ISBN 1938921097.
Landa-Galindez A, Gillis M, Armas M, Mintzer M, Cuellar M, "I felt appalled and torn by my duty" Empathy and Moral Distress Training in the Medicine Clerkship. AAMC SGEA Annual Meeting (2016), Austin, TX. April 14-16.
Landa-Galindez A, Cuellar M, Weiler T, Rebooting Medical School Genetics Education: Interactive Learning Strategies for the Internal Medicine Clerkship. AAMC SGEA (Southern Group on Educational Affairs) Annual Meeting (2016), Austin, TX. April 14-16, 2016. 
Camacho R, Garrido D, Lai A, Landa-Galindez A, "Carcinoid Syndrome: An Uncommon Diagnosis Masquerading as Common Complaints." ACP 2017 FL Chapter Annual Scientific Meeting, September 2017, Palm Beach, Florida.
Weiler T, Chakravarty T, Landa-Galindez A, "Hoofbeats, Horses and Genetic Red Flags." Medical Teacher, Volume 41, Issue 7, 2019, pp 847-848. Published online Jan 11, 2019.
Bronander K editor, Blatt A assoc editor, Landa-Galindez A case editor, "Internal Medicine 02: 60-year-old woman with chest pain". Aquifer Internal Medicine Course, March 2019, https://flawerheim-md.meduapp.com/documents/101.
Kola R, Landa-Galindez A, "Herpes Zoster: Case Review and Discussion". FMSRJ (The Florida Medical Student Research Journal) Volume 4, Issue 1, April 2019, pp 47-50.