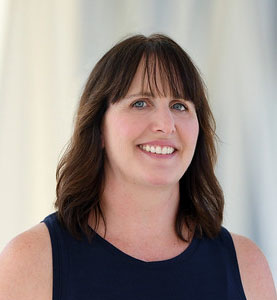 Karen Abbott, Ph.D.
Associate Director, Translational Glycobiology Institute at FIU; and Associate Professor
Translational Medicine
---
Office: AHC4 333
Phone: 305-348-9132
Email: kabbott@fiu.edu
Karen Abbott, Ph.D., has been a leader in the field of glyco-proteomics and biomarker discovery for over 14 years. As an associate professor within the Department of Translational Medicine, she works with TGIF director Charles Dimitroff to build collaborative translational glycoscience that fosters an environment supportive of mentoring the next generation of scientists and promoting research excellence.
Education
Ph.D. in Biochemistry from The University of Georgia, 2004
Active Grants
Agency: Alliance of Glycobiologists, National Cancer Institute (NCI)
Role: Principal Investigator (PI)
Project Period: 04/01/2018 - 03/31/2023
This project applies the most advanced technologies toward the goal of identifying glycoprotein and glycan markers that can detect ovarian cancer early.
Agency: Innovative Molecular Analysis Technologies (NCI)
Role: Principal Investigator (PI)
Project Period: 10/01/2018 - 9/31/2021
The goal of this project is to develop a novel method to target glycoprotein receptors with cancer-specific glycans for degradation to analyze global changes in signaling outcomes.
Selected Publications
Murali P, Johnson BP, Lu Z, Climer L, Scott, DA, Foulquier F, Oprea-Ilies G, Lupashin V, Drake RR, and Abbott KL (2020) Novel Role for the Golgi Membrane Protein TMEM165  in Control of Migration and Invasion for Breast Carcinoma. 2020; 11: 2747-2762. Retrieved from https://www.oncotarget.com/article/27668/ (Cover Oncotarget) [PMID 32733646]
Generation of a Fully Human scFv that binds Tumor-Specific Glycoforms. Lu Z, Kamat K, Johnson BP, Yin CC, Scholler N, Abbott KL. Sci Rep. 2019 Mar 25;9(1):5101. doi: 10.1038/s41598-019-41567-6. PMID: 30911061
Allam H, Johnson BP, Zhang, Lu Z, Cannon MJ, Abbott KL (2017) The glycosylatransferase GnT-III activates Notch signaling and drives stem cell expansion to promote the growth and invasion of ovarian cancer. J. Biol. Chem. 292 (39):16351-59.[PMID 28842505]
Allam H, Aoki K, McDonald JF, MacIntosh SG, Tiemeyer M, Abbott KL *(2015) "Glycomic analysis of membrane glycoproteins with bisecting glycosylation from ovarian cancer tissues reveal novel structures and functions." J Proteome Res. 14(1):434-46.[PMID 25437919] [PMC 4286206]
Guo H, Abbott KL.*( 2015)"Functional impact of tumor-specific N-linked glycan changes in breast and ovarian cancers". Adv. Cancer Res. 126:281-303[PMID 25727151]