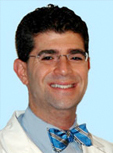 Chad Adam Perlyn, M.D.
Chief of the Division of Plastic Surgery; Associate Professor
Surgery
---
Phone: 305-278-5951
Email: cperlyn@fiu.edu
Dr. Chad Perlyn is an attending plastic surgeon at Miami Children's Hospital, an Assistant Professor of Surgery at the Florida International University College of Medicine as well as Chief of the Division of Plastic Surgery at FIU.  As a pediatric plastic surgeon, his practice is dedicated solely to caring for children and young adults with congenital or acquired anomalies and injuries. His particular interests are in craniofacial surgery, vascular anomalies, and pigmented lesions of the skin.
After receiving his undergraduate degree in English literature from Northwestern University, Perlyn attended medical school at the University of Miami where he graduated with honors. He then completed his general surgery and plastic surgery at Washington University/Barnes Hospital in Saint Louis, one of the country's oldest and most established plastic surgery training programs. During his residency, Perlyn was the recipient of an American College of Surgeons Fellowship, allowing him to spend three years at the University of Oxford in England completing a doctorate degree in craniofacial molecular biology. While at Oxford, Perlyn studied why children are born with particular facial birth defects, and as a result of his efforts, he received several national and international awards. He has published numerous scientific papers and articles and lectured in several countries. Following the completion of his plastic surgery training, Perlyn went on to study craniofacial and pediatric plastic surgery as a fellow under the tutelage of Jeffrey Marsh.