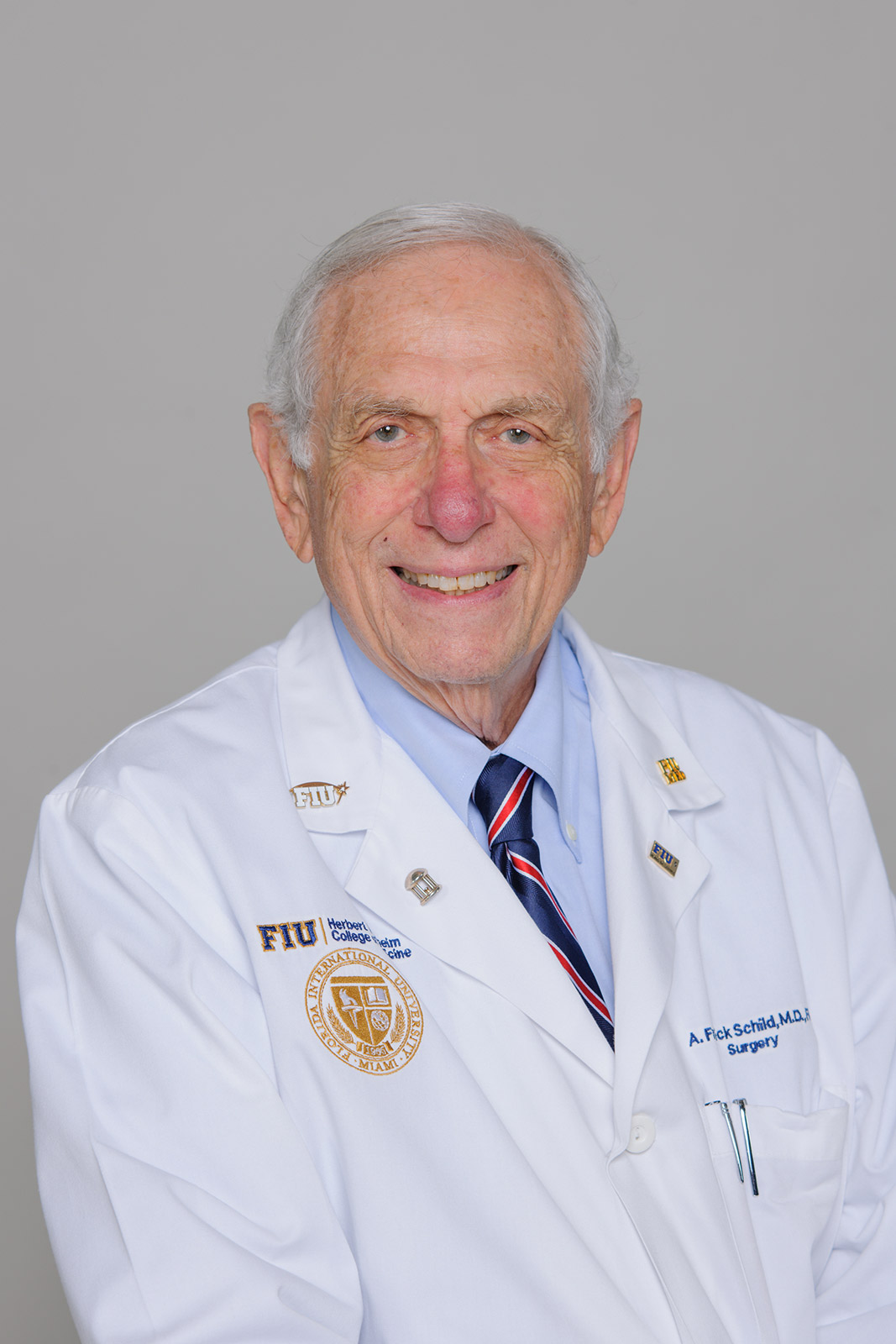 Frederick Arnold Schild, MD
Dr. A. Frederick Schild attended undergraduate school at the University of North Carolina, Chapel Hill where he was Phi Beta Kappa. He received his MD degree from the Medical University of South Carolina, Charleston. Dr. Schild completed a rotating internship at L.A. County Hospital in Los Angeles before doing his surgical residency at the University of Miami/Jackson Memorial Hospital. He served as Chief resident in 1962/1963. After completion of his residency, Dr. Schild served two years in the U.S. Army on
active duty; he served thirteen months in Korea as a surgeon at the 11th Evac Hospital in Pusan, Korea.
In 1971, Dr. Schild and 4 other surgeons founded the Surgical Group of Miami, which is still in existence today. In 1992, he joined the full-time faculty of the University of Miami School of Medicine as Professor of Surgery and ran The Vascular Access Surgery for Dialysis Program.
During his years in practice Dr. Schild served as President of many organizations including the Dade County Medical Association, the Florida Medical Association, the Florida Chapter of the American College of Surgeons, And the American Society of General Surgeons. He also served as the Founding President of the Vascular Access Society of the Americas. He has been an active member of the Society of Clinical Vascular Surgery, the Society Of Vascular Surgery, the Florida Vascular Society, the American College Surgeons, the South Florida Society for Vascular Surgery, the Southern Surgical Association and the Southeastern Surgical Congress.
In 1995, Dr. Schild was honored by being asked to give the commencement address to the graduating class of the University of Miami School of Medicine. During his time at the University of Miami School of Medicine, Dr. Schild also received numerous teaching awards. In 2008, he was honored with the Distinguished Alumnus Award from his alma mater, the Medical University of South Carolina.
He has published many articles in peer reviewed, medical and surgical journals and has given presentations all over the United States, Europe, Asia, South Africa, Australia, New Zealand, and Turkey. Over the years, he has published close to 100 articles and three book chapters.
Dr. Schild serves as Professor of Surgery at HWCOM and devotes time to his research, teaching, and speaking.