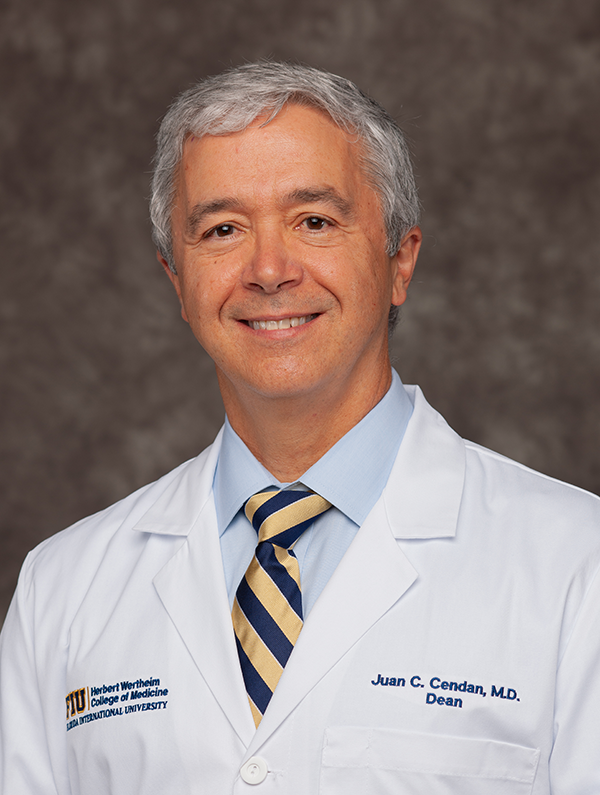 Juan C. Cendan, M.D.
Interim Dean of HWCOM; and Professor of Surgery
Dean's Office; Surgery
---
Phone: 305-348-2400
Email: jcendan@fiu.edu
Areas of Interest: Medical and surgical procedural simulation and education
Juan Cendan, M.D., is a general surgeon and medical educator. Prior to his current role, he served as Vice Dean and Executive Associate Dean for Student Affairs.
Dr. Cendan's interests overlap in the area of simulation and instructional design. He has received national and foundation grants to support the scholarship and development of several platforms and has published broadly. He recently received the AAMC Thomas Hale Award for Investigators.
Before joining FIU, Dr. Cendan served as Assistant Dean for Simulation, Chairman of the Department of Medical Education, and vice-President for Academic Health Science Integration at UCF's college of medicine from 2010-2021. 
Education
General Surgery, University of Florida, 1997
M.D., University of Florida, 1991
B.S., Biomedical Engineering, Tulane and Queen Mary University (London)
 

Areas of Specialization
Functional development of infrastructure and governance to strengthen medical education through collaboration with university leadership, medical faculty, and community partners.

 

Effective quality improvement of medical school programs and student performance.

 

Innovative scholarship in medical education.

 
Academic Leadership Experience
Provost Chair, Associate Dean in Residence, Provost's Office, UCF. Year-long embedded role in the Provost's office organized around the successful creation of an Academic Health Sciences Center infrastructure for UCF. Served as program manager for this year-long effort culminating in a new academic structure including three colleges, and almost 15,000 students. 2017-2018.

 

Assistant Vice-President of Academic Health Science Center (AHSC) for Mission Integration, University of Central Florida (UCF). Aligned AHSC programs through service on Education, Clinical, Research, and Population Health Councils. 2018-2020.

 

Co-Chair, Undergraduate Medical Education Working Group, Council of Florida Medical School Deans. Created the 10-college wide consortium to support and leverage the needs and resources of Florida's UME programs. Current participation includes all Florida medical deans and the UME representatives for each program. 2019-present.

 

National LCME committee accreditation team-member for assessment and recommendation on four College of Medicine site visits. 2014-2019.

 

Chairman, Department of Medical Education, UCF. Managed the operations of a large, diverse department of MDs, PhDs, and librarians responsible for the delivery of the preclinical MD program curriculum. While chair, successfully mentored and achieved promotion for all 15 faculty who sought promotion and tenure. 2014-15 (vice-Chair), 2015-2021 (Chair).

 

Assistant Dean for Simulation and Clinical Skills and Medical Director of Standardized Patient programs. Managed the personnel and infrastructure and research related to simulation and standardized patient programs at two colleges of medicine. 2010-2015 (UCF), 2008-2010 (UF).

 

Founding Faculty at UCF COM. I was a member and actively contributed to all relevant College of Medicine committees at UCF including those responsible for E&G and PGDE budgets (state allocations, hiring strategy, growth), management and expansion of the clinical enterprise, development of a graduate medical education program, development and assessment of curricular and accreditation infrastructure. 2010-2021.

 

Innovation portfolio: Received extramural funding for approximately 15 years from NIH, NSF, and foundations. One of our early programs has been commercialized; the spin-off company was purchased by Elsevier Corp. last year. Developed Flagship, a Cureus online PubMed-searchable journal providing a scholarship platform for Florida's medical colleges. Supervised a range of research initiatives within my department ranging from community-based health care delivery research to basic science "bench" research in polyamines. My publications can be found online at Publons.
Clinical practice: Board Certified by the American Board of Surgeons, special interest in complex laparoscopic techniques and endocrine surgery including laparoscopic adrenalectomy. Co-founded the minimally invasive surgery program at the University of Florida and served as the founding chair of the American College of Surgeons Committee on Diversity Issues.

 
Publications
For up-to-date publications and grant history, visit Dr. Cendan's ORCID page.