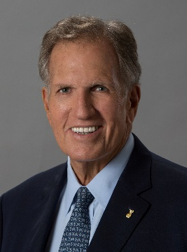 Barry T. Katzen. M.D.
Chair, Department of Interventional Radiology and Professor
Radiation Oncology
---
Office: AHC2 675
Phone: 305-348-9280
Email: BarryK@baptisthealth.net
Barry T. Katzen, M.D., has distinguished himself internationally as a leader in the development of interventional radiology and raising the discipline to certification status with the American Board of Medical Specialists.
Katzen was among a handful of radiologists who began developing and refining minimally invasive treatments.  He performed the first renal angioplasty in the United States and was a member of the investigative team that led to the approval of the first intravascular stent. He has continued a career long interest in innovation, contributing to the development of endografts, carotid and peripheral stents, and others.
Katzen founded Miami Cardiac & Vascular Institute (MCVI) in 1987 with a first-of-its-kind multi-disciplinary approach where cardiovascular specialists work together in a unique multidisciplinary infrastructure now modeled throughout the world. He has been the principal site investigator for numerous landmark trials.
Katzen was awarded Fellowship in American College of Radiology, American College of Cardiology and Society of Interventional Radiology, as well as honorary memberships in the Chinese Society of Interventional Radiology, the Asia Pacific Society of Cardiovascular and Interventional Radiology, and the German Society of Vascular Surgery. The recipient of numerous awards, Katzen was awarded the Gold Medal of the Society of Interventional Radiology in 2002 and was the first American to be presented with the Gold Medal award from the Cardiovascular and Interventional Radiological Society of Europe (CIRSE) in 2006. In 2007, he received Career Achievement Award presented at the Transcatheter Therapeutics Conference (TCT) for pioneering live case education and his worldwide leadership in endovascular medicine. In 2011, he was presented the Julius H. Jacobson II M.D. Award for Physician Excellence by the Vascular Disease Foundation.
Katzen has authored two textbooks, numerous book chapters, and more than 200 peer-reviewed articles in scientific journals. He is the founding editor of two journals in the field:  Techniques in Vascular and Interventional Radiology and is a chief medical editor of Endovascular Today. Katzen graduated from the University of Miami, School of Medicine in 1970 where he was subsequently entered in the Alumni Hall of Fame, did residency in diagnostic radiology at the New York Hospital/Cornell, with fellowships in cardiovascular radiology at St. Vincent's Hospital Medical Center and University of Rome.