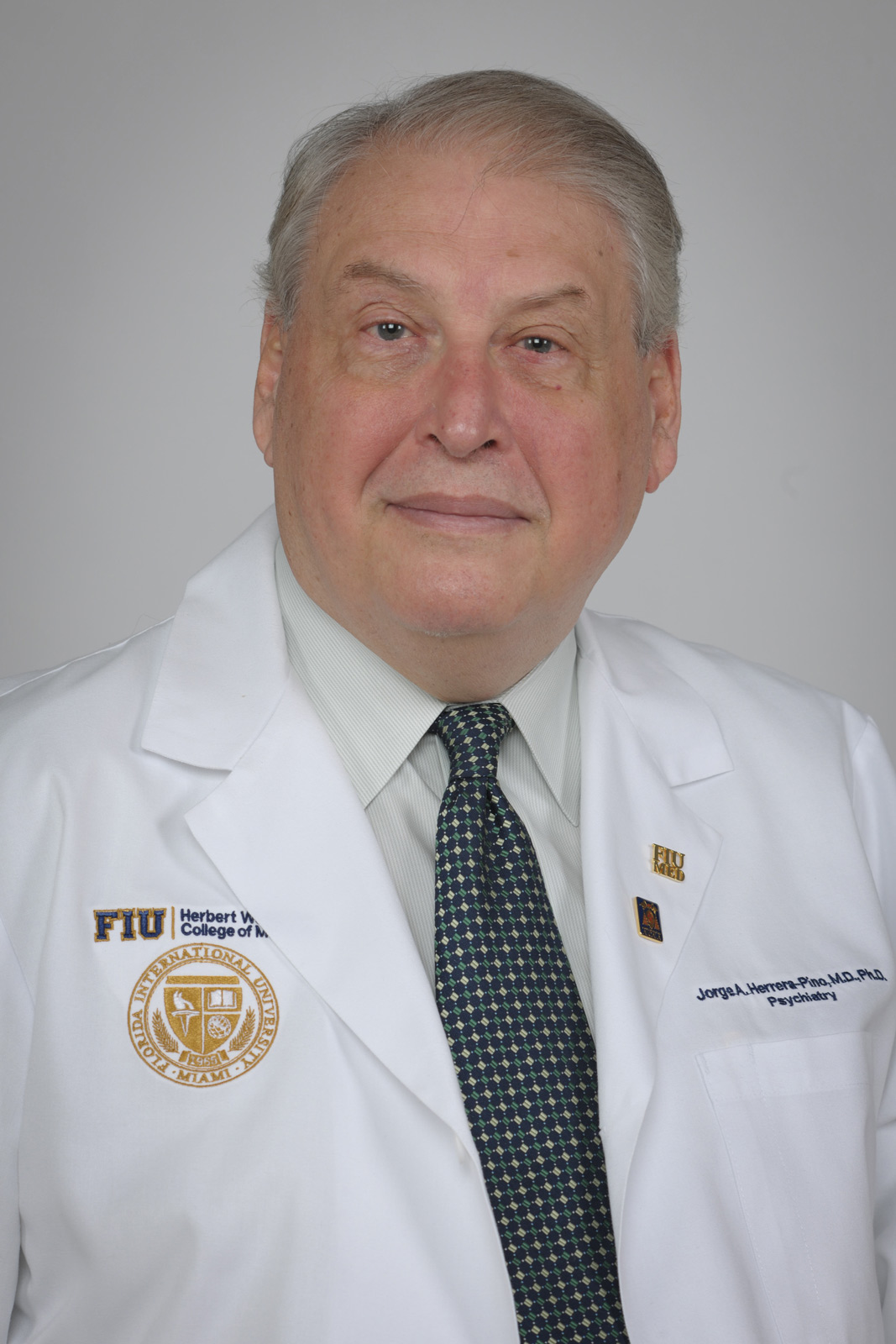 Jorge A. Herrera Pino, M.D., Ph.D.
Professor
Psychiatry and Behavioral Health
---
Office: AHC1 348
Phone: 305-445-3222
Email: jorherre@fiu.edu
Jorge Herrera-Pino, M.D., Ph.D., is a founding faculty member. He helped design and teaches the Professional Behavior 1 & 2 courses.
Herrera-Pino has a long-standing international career in academics. He has served as a professor of medical psychology at the University of Alcala in Madrid, Spain, and as the first chancellor of Albizu University in Miami.
In addition to FIU, Herrera-Pino holds faculty appointments at the Pontificia Universidad Católica Madre y Maestra in the Dominican Republic, and the Universidad del Norte in Colombia. Since 2013, he has also served as a consulting neuropsychologist for the Capital Case Unit of the Office of the United States Attorney General.
Research
Herrera-Pino's research interest is focused on brain-behavior relationships, including the aging process, cerebrovascular accidents, traumatic brain injury, and attention deficit hyperactivity disorder. The emphasis of his work is directed toward Hispanic, Spanish-speaking patients.
Education
Doctor of Medicine, Universidad de Alcalá, Madrid, Spain
Post-Doctoral Fellowship in Clinical and Pediatric Neuropsychology, Universidad de Alcala, Madrid, Spain
Doctor of Philosophy (PhD), Clinical and Educational Neuropsychology, Wayne State University, Detroit, Michigan
Specialist in Arts, School Psychology, Eastern Michigan University
Master of Education, Educational Psychology, University of Miami
Bachelor of Arts, Psychology, University of Miami
Publications
Mesa-Gamarra, K., Pineda-Paternina, M., Castillo, E., Camargo, L., Pabón, A., Herrera-Pino, J.A., Caldichoury, N., Flores, Y., & López, N. (2022). Acute thalamic ischemic stroke in an older patient newly vaccinated with COVID-19 vaccine based on adenoviral vectors. Innovations in Clinical Neuroscience, 19 (4-6), 11-13.

Mendoza-Ruvalcaba, N.M., Gutiérrez-Herrera, R., López, C., Soto-Añari, M., Ramos-Henderson, M., Cárdenas-Valverde, J.C., Camargo, L., Caldichoury, N., Herrera-Pino, J.A., Calizaya-López, J., Castellanos, C., García, C., Porto, M.F., Hesse, H., & López, N. (2022). Impact of quarantine due to COVID-19 Pandemic on health and lifestyle conditions in older adults from Centro American countries. PLoS ONE 17(5): e0264087.

Herrera Pino, J.A.  & Castellanos, C.E. (2020). The relationship between intelligence and executive functions in Hispanic patients with mild traumatic brain injury. Psychology, 11, 137- 145

Herrera Pino, J.A. & Maceira Gago, A.D. (Eds.) (2016). Manual for the neuropsychological interpretation of the WAIS: Including the different editions of the WAIS: WAIS, WAIS-R, WAIS-III, WAIS-IV. Saarbrücken (GER): Editorial Académica Española.

López Velásquez, N.D., Coronado López, J., Herrera-Pino, J., Soto-Añari, M., Ferrel-Ortega, R. (2016). The effect of learning morphology on visual-spatial processing in Chilean university students. Interamerican Journal of Psychology, 50 (3), 441-448.