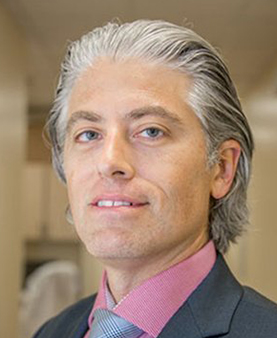 Emery M. Salom, M.D.
Clerkship Director, OB/GYN; and Associate Professor
Obstetrics and Gynecology
---
Phone: 305-348-0570
Email: emsalom@fiu.edu
Dr. Emery Salom is an associate professor of gynecologic oncology and clerkship director for obstetrics and gynecology. As clerkship director, he is responsible for the educational experience of third- and fourth-year medical students in obstetrics and gynecology. Salom also is the on-site residency director of obstetrics and gynecology at Community Health of South Florida, Inc., in Miami. 

Salom is board certified in obstetrics and gynecology, gynecologic oncology, urogynecology (female pelvic medicine and reconstructive surgery), and general gynecology.
 
He has authored five book chapters, 37 peer-reviewed journal articles, and over 100 abstract and oral presentations at national and international scientific meetings. He has performed over 3,500 advanced robotic, laparoscopic and radical surgeries and is one of the first surgeons to perform single-incision robotic hysterectomy. Salom is a preceptor in advanced robotic surgery with da Vinci surgical system and Olympus Corporation of the Americas teaching gynecologic oncology and advanced pelvic reconstruction involving radical tumor resection, pelvic and para-aortic lymphadenectomy, advanced endometriosis, ureteral and bowel injury, pelvic organ prolapse, urinary incontinence, and vesicovaginal and rectovaginal fistulas.