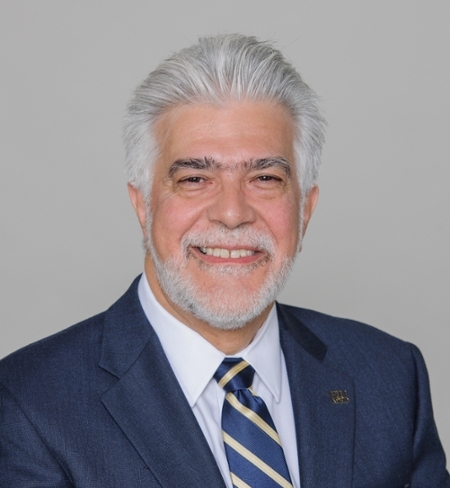 Juan Gabriel Ruiz Pelaez, M.D.
Professor
Translational Medicine; Division of Medical and Population Health Sciences Education and Research
---
Phone: 305-348-7640
Email: jruizpel@fiu.edu
Juan G. Ruiz, M.D., is a pediatrician and clinical epidemiologist. He teaches Clinical Epidemiology, and mentors and coaches curricular research carried out by medical students.
His main research interest is in Kangaroo Mother Care (appropriate care for preterm infants). In 1994 he and his research colleagues started Fundación Canguro in Bogotá, an NGO devoted to research, teaching, training, and direct medical care related to Kangaroo Mother Care for premature infants. The foundation conducts large clinical trials on KMC and actively disseminates the technique in low and middle-income countries in Latin America, South East Asia, India, Africa, and Eastern Europe.  He has published more than 80 articles in peer-reviewed journals, 12 books, and 13 chapters of books.
Before joining FIU he was professor of Pediatrics and Clinical Epidemiology at Javeriana University in Bogota, Colombia, where he was chair of the Clinical Epidemiology and Biostatistics Unit (1996-1999) and the Department of Pediatrics (1999 2002), and the first recipient (2015) of Javeriana's Biannual Award for Lifetime Achievements in Health Sciences Research. 
Education
Clinical Economics training, University of Pennsylvania PA, 1996
Master in Medical Sciences (Clinical Epidemiology) University of Newcastle, Newcastle, NSW, Australia, 1990
Pediatrics Javeriana University, Bogota, Colombia 1984
M.D. Javeriana University, Bogota, Colombia 1980
Selected Recent Publications
Charpak N, Ruiz-Pelaez JG. Improving survival of infants with low birthweight cared for outside hospitals. Lancet 2019;394(10210):1688-90. doi: 10.1016/S0140-6736(19)32257-3 [published Online First: 2019/10/09]
Patel N, Anees M, Kola R, et al. Association between Knowledge of Zika Transmission and Preventative Measures among Latinas of Childbearing Age in Farm-Working Communities in South Florida. Int J Environ Res Public Health 2019;16(7) doi: 10.3390/ijerph16071257 [published Online First: 2019/04/12]
Guenther T, Moxon S, Valsangkar B, Wetzel G, Ruiz J, Kerber K, et al. Consensus-based approach to develop a measurement framework and identify a core set of indicators to track implementation and progress towards effective coverage of facility-based Kangaroo Mother Care. J Glob Health. 2017;7(2):020801.
Ruiz-Peláez JG, Charpak N, Castillo M, Bernal A, Rios J, Trujillo T, et al. Latin American Clinical Epidemiology Network Series - Paper 4: Economic evaluation of Kangaroo Mother Care: cost utility analysis of results from a randomized controlled trial conducted in Bogota. J Clin Epidemiol. 2017;86:91-100.
Charpak N, Ruiz-Peláez JG. Latin American Clinical Epidemiology Network Series - Paper 9: The Kangaroo Mother Care Method: from scientific evidence generated in Colombia to worldwide practice. J Clin Epidemiol. 2017;86:125-8.