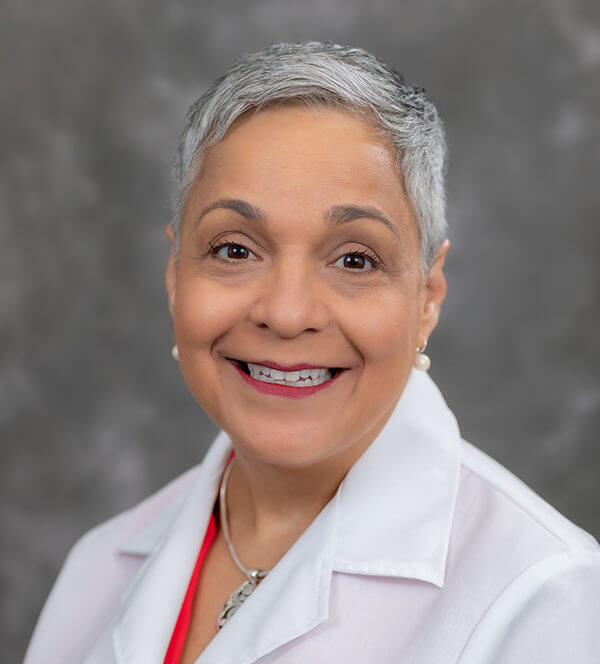 Brenda Diaz, DMSc, MS, PA-C
Academic Director and Associate Professor
Master in Physician Assistant Program
---
Office: AHC4 259
Phone: 305-348-9033
Email: brediaz@fiu.edu
Brenda Diaz DMSc, MS, PA-C, is the academic director for the Master of Physician Assistant Studies (MPAS) program. She oversees the implementation and effectiveness of the MPAS curriculum, ensuring successful student achievement of the program learning outcomes.
For over 30 years she has served migrant farm workers and their families as a physician assistant in Family Medicine and Pediatrics. She is an advocate for rural health policy and community health initiatives geared toward improving health outcomes in medically underserved populations. 
She has over 12 years of experience in academia having served as academic director, founding chair, and program director of physician assistant programs in the southeast. 
Diaz has a great passion for teaching and has educated many physician assistants as a clinical preceptor and professor in Family Medicine. In her teaching, she refines her student's clinical skills, emphasizes the role of culture and humanity in the practice of medicine, and impresses the importance of community health advocacy.
Education
DMSc (Doctor of Medical Science-Medical Education Concentration), University of Lynchburg, Lynchburg, VA
MS (Master of Science in Advanced Physician Assistant Studies-Education and Leadership) A.T. Still University, Mesa, AZ 
BS (Bachelor of Biomedical Science-Physician Assistant) City University of New York School of Medicine, New York, NY
Areas of expertise
Faculty development
Programmatic assessment
Accreditation