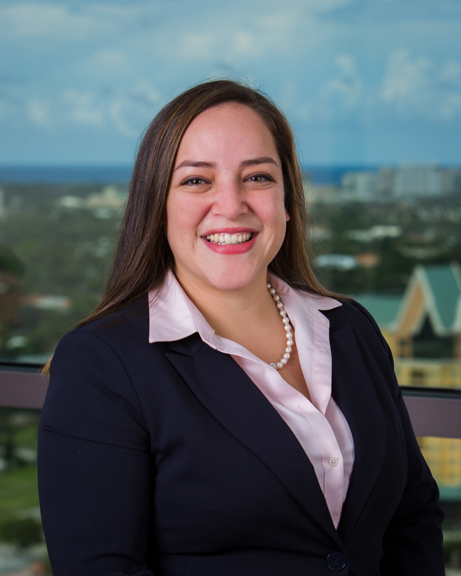 Jessica Campusano
Instructional Designer
Instructional Design & Training
---
Office: AHC2 565
Phone: 305-348-5450
Email: jegirald@fiu.edu
Jessica Campusano is an instructional designer responsible for supporting the technology training needs of HWCOM through the development and design of resources and workshops, contributing to curriculum enhancement projects, and providing leadership and guidance on the effective use of technology to support learning. She also supports the university's accessibility initiative by developing faculty and staff's capacity to use technology to create more accessible content. 
Campusano is a former technology trainer for a top Florida law firm where she designed, developed, and delivered instructor-led, virtual, and online training on legal and office productivity software and cybersecurity to 600 employees in 8 offices. Prior to a career in learning and development, Campusano led marketing and strategic communication efforts for 250 attorneys, assisting with the firm's rebranding, website launch, graphic design, social media, and website content. She also previously designed and developed online and print strategic communication for adult education programs at the University of Miami's Division of Continuing Education.
Jessica is an FIU alum and is currently pursuing a master's in education, with a specialization in adult learning.
Education
B.S., Communications,  Florida International University
Selected publications and conferences 
Giraldo, J., Lemus-Martinez, S., Campusano, G. (2022). "Leveraging Instructional Technology to Design Diverse Learning Experiences Through Collaborative Stakeholder Engagement," Instructional Design Exemplars in eHealth and mHealth Education Interventions, IGI-Global. pp. 238-253.
Gadson, A., Vazquez, T., Giraldo, J., Stevens, M. (2021). "An Interactive Web-Based Teaching Session on Skin of Color," Directors of Clinical Skills Education Annual Meeting, poster presentation and winners in "Course Curriculum Development."
Giraldo, J., Lemus-Martinez, S., Coronel-Cuoto, G. (2021). "Promoting Professionalism through Patient Safety Awareness: A Digital Escape Room Interactive Learning Experience for Undergraduate Medical Students," Academy for Professionalism in Health Care Virtual Conference.