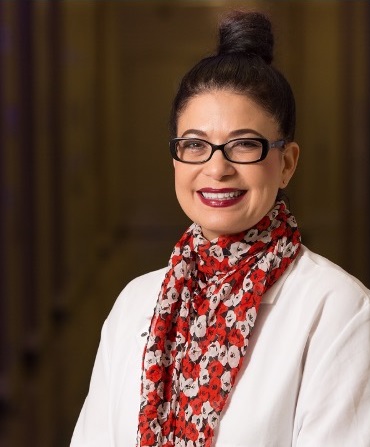 Nazira El-Hage, Ph.D.
Associate Professor; Co-director, Ph.D. in Biomedical Sciences Program
Immunology & Nano-Medicine
---
Office: AHC 419E
Phone: 305-348-0674
Email: nelhage@fiu.edu
Nazira El-Hage, Ph.D., is an associate professor, with tenure. She is an NIH-funded researcher focusing on the underlying mechanisms of HIV-induced pathology in the central nervous system in the context of opioid drug abuse. She has a keen interest in the autophagy pathway and in understanding how this pathway contributes to the neurological disorder associated with HIV and how opioid exacerbates the disorder in HIV-infected glial cells. The National Institutes of Health (NIH) National Institute on Drug Abuse has funded El-Hage's research since 2009. She has also received funding from the Florida Department of Health to study the neurological effects of the Zika virus on brain cells and embryonic development, focusing on the autophagy pathway.
Before joining FIU, El-Hage was an assistant professor in the Department of Pharmacology and Toxicology at Virginia Commonwealth University.
Education
Ph.D., University of Kentucky, Lexington, KY, 2002
M.S., University of Kentucky, Lexington, KY
B.S., University of Kentucky, Lexington, KY
Research
El-Hage's research focuses on the following:
Understanding the mechanisms underlying the brain as an HIV reservoir and which cell types harbor the replication-competent virus.
The impact of repeated exposure to opioid drug abuse system on HIV latency and reservoir persistence in the central nervous system.
The role of autophagy in the interlinked epidemics between HIV/NeuroAIDS and substance abuse in the central nervous system.
The development of nanotechnology drug delivery system targeting HIV-1 latency in the brain and drug-abusing individuals.
Publications
Zhao Y, Haney MJ, Fallon JK, Rodriguez M, Swain CJ, Arzt CJ, Smith PC, Loop MS, Harrison EB, El-Hage N, Batrakova EV (2022). Using Extracellular Vesicles Released by GDNF-Transfected Macrophages for Therapy of Parkinson's Disease. Cell. PMID: 35741061.
Branscome H, Khatkar P, Al Sharif S, Yin D, Jacob S, Cowen M, Kim Y, Erickson J, Brantner CA, El-Hage N, Liotta LA, Kashanchi F (2022). Retroviral infection of human neurospheres and use of stem Cell EVs to repair cellular damage. Nature Sci Rep. PMID: 35132117.
Lapierre J, Karuppan MKM, Perry M, Rodriguez M, and El-Hage N (2021). Different Roles of Beclin1 in the Interaction Between Glia and Neurons after Exposure to Morphine and the HIV- Trans-Activator of Transcription (Tat) Protein. J Neuroimmune Pharmacol. PMID: 34741242.
Klionsky DJ, Among many authors El-Hage N (2021). Guidelines for the use and interpretation of assays for monitoring autophagy (4th edition). Autophagy. PMID: 33634751.
Rodriguez M, Soler Y, Muthu Karuppan MK, Zhao Y, Batrakova EV, and El-Hage N (2021). Targeting Beclin1 as an Adjunctive Therapy against HIV Using Mannosylated Polyethylenimine Nanoparticles. Pharmaceutics. PMID: 33561939.
Pinto DO, Al Sharif S, Mensah G, Cowen M, Khatkar P, Erickson J, Branscome H, Lattanze T, DeMarino C, Alem F, Magni R, Zhou W, Alais S, Dutartre H, El-Hage N, Mahieux R, Liotta LA, and Kashanchi F (2021). Extracellular vesicles from HTLV-1 infected cells modulate target cells and viral spread. Retrovirology. PMID: 33622348.
Rodriguez M, Soler Y, Perry M, Reynolds J, and El-Hage N (2020). Impact of Severe Acute Respiratory Syndrome Coronavirus 2 (SARS-CoV-2) in the Nervous System: Implications of COVID-19 in Neurodegeneration. Frontiers in Neurology. PMID: 33304309.
Karuppan MKM, Ojha CR, Rodriguez M, Lapierre J, Aman MJ, Kashanchi F, Toborek M, Nair M, and El-Hage N (2020). Reduced-Beclin1-Expressing Mice Infected with Zika-R103451 and Viral-Associated Pathology during Pregnancy. Viruses. PMID: 32498399.
Kumar S, El-Hage N, and Batrakova E (2020). Extracellular Vesicles in HIV, Drug Abuse, and Drug Delivery. J Neuroimmune Pharmacol. PMID: 32696265.
Haney JM, Zhao Y, Fay J, Duhyeong H, Wang M, Wang H, Li Z, Lee YZ, Karuppan MKM, El-Hage N, Kabanov AV, and Batrakova EV (2020). Genetically modified macrophages accomplish targeted gene delivery to the inflamed brain in transgenic Parkin Q311X(A) mice: importance of administration routes. Nature Scientific Reports. PMID: 32678262.