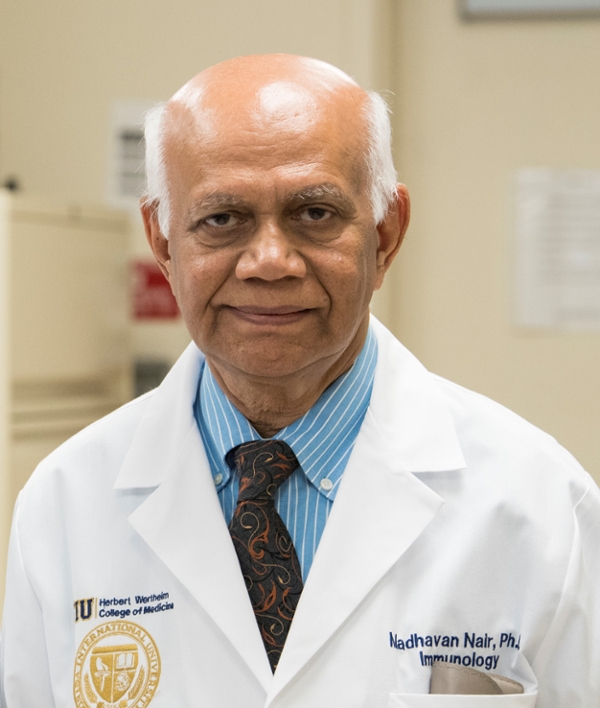 Madhavan P. Nair, Ph.D.
Distinguished Professor and Chair, Department of Immunology and NanoMedicine; Director, Institute of NeuroImmune Pharmacology; Associate Dean of Bio-Medical Research, Associate Vice President for NanoMedicine
Immunology and Nano-Medicine
---
Office: AHC1 418A
Phone: 305-348-1493
Email: nairm@fiu.edu
Lab: AHC1 306, 307, 308, 311, 312
Madhavan Nair received his Ph.D. from Tata Memorial Cancer Center, Bombay University, India in Cancer Immunology and trained at Memorial Sloan Kettering Cancer Center, New York City. He then joined the faculty of the Department of Pediatrics at University of Michigan, Ann Arbor, and subsequently worked at the Department of Medicine and Microbiology at SUNY, Buffalo, NY as a Tenured Professor and Director of Research in Allergy and Immunology. He is a certified Clinical Nutrition Specialist (CNS), Fellow of American College of Nutrition (FACN) and Fellow of American Academy of Allergy, Asthma and Immunology (FAAAI).
Nair and his colleagues discovered the suppressor factor in cancer serum (1978) and first reported that intravenous drug users manifest low natural killer cell activity (1986) and morphine induces apoptosis of normal lymphocytes (1997). In 1988, Dr Nair reported for the first time (PNAS) that HIV recombinant purified gene products possess significant biological activities. His original discovery that cocaine increases the sensitivity to HIV infection by increasing the HIV co-receptors and methamphetamine exacerbates the HIV replication in dendritic cells had a profound effect on the role of these drugs on HIV disease progression. His recent research mainly involves the role of different drugs of abuses such as alcohol, morphine, cocaine and methamphetamine on neuro-AIDS and therapeutic approach to control Neuro-AIDS by specific drug targeting to brain using nanotechnology.
Nair is the first FIU researcher to earn a prestigious MERIT Award from the National Institutes of Health recognizing outstanding competence and productivity in research (2008-2018). Nair is also the recipient of University of Michigan Distinguished Research Scientist Award (1990), Exceptional Research Scholar Award from State University of New York (2005), Excellence in Faculty Scholarship Award from FIU (2008) and Presidential Leadership Operational Excellence Award from FIU in 2009.
Nair has published more than 100 papers as first and/or senior author, mentored more than 50 undergraduate, graduate, postdoctoral fellows, high school and minority students, served in various committees, organized various national and international conferences, chaired number of scientific sessions and served in various NIH study sections committees as chair/ member since 1980. His research is currently supported with four major NIH grants.
Recent Publications:
Manickam P, Vashist A, Madhu S, Sadasivam M, Sakthivel A, Kaushik A, Nair M. 

Gold nanocubes embedded biocompatible hybrid hydrogels for electrochemical detection of H2O2. 

Bioelectrochemistry

. 

2020 Feb;

131

:107373

. 

doi: 10.1016/j.bioelechem.2019.107373. 

Epub 2019 Sep 7. 

PubMed PMID: 31525638

.

Atluri VSR, Tiwari S, Rodriguez M, Kaushik A, Yndart A, Kolishetti N, Yatham M, Nair M. 

Inhibition of Amyloid-Beta Production, Associated Neuroinflammation, and Histone Deacetylase 2-Mediated Epigenetic Modifications Prevent Neuropathology in Alzheimer's Disease in vitro

Front Aging Neurosci

. 

2019;

11

:342

. 

doi: 10.3389/fnagi.2019.00342. 

eCollection 2019. 

PubMed PMID: 32009938

; PubMed Central PMCID: PMC6974446

.

Devadoss D, Long C, Langley RJ, Manevski M, Nair M, Campos MA, Borchert G, Rahman I, Chand HS. 

Long Noncoding Transcriptome in Chronic Obstructive Pulmonary Disease. 

Am J Respir Cell Mol Biol

. 

2019 Dec;

61

(6)

:678-688

. 

doi: 10.1165/rcmb.2019-0184TR. 

PubMed PMID: 31486667

; PubMed Central PMCID: PMC6890411

.
Active Grant:
Role: Principal Investigator
Agency: NIH/NIDA: Nano-delivery of methanandamide across BBB to block cannabinoid induced effects in HIV-1 infection.
Grant Number: 1R01DA040537-01
Project Period: 06/01/2015 -05/31/2020
Agency: NIH/NIDA: Nanotechnology Based Gene Editing to Eradicate HIV-1 Brain Reservoir in Drug Addiction.               
Grant Number: 1R01DA041749
Project Period: 08/01/16 -05/31/2021
Agency: Therapeutic role of Withaferin A and CRID3 in the prevention of AD. A novel nanotechnology approach.
Grant Number: 8AZ04- Florida Dept. of Health, Florida State
Project Period: 02/01/2017 -01/31/2022
Agency: Therapeutic role of Withaferin A and Cocaine and Tat induced neurocognitive impairment.
Grant Number: 1R01DA047911-01
Project Period: 09/01/18 -8/31/2023
Selected Patents:
Madhavan Nair, Zainulabedin M. Saiyed, Nimisha H. Gandhi. Plant derived formulation for treatment of HIV.  2016. US 9,238,051-B2.

Translational application: Discovery of a plant derived product to cure HIV

Sakhrat Khizroev, Nair M.P.N.,Methods for non-invasive brain stimulation. 2016.US9,272,158 B2

Translational application: Discovery and development of Magneto-Electric nanoparticles for non-invasive CNS therapeutics delivery

Kaushik, A., Nair, M.P.N.  Materials and Methods for the Delivery of a Nanocarrier to the Brain. U.S. patent US 15,481,689. 2017:

Translational application: Nanoparticles for specific delivery of drugs to treat brain disorders