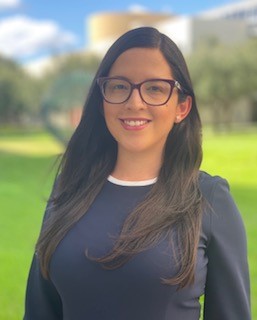 Myosotys Rodriguez Martinez, Ph.D.
Assistant Professor
Immunology and Nano-Medicine
---
Office: AHC1 417B
Phone: 305-348-7656
Email: myrodrig@fiu.edu
Myosotys Rodriguez is an Assistant Professor in the Department of Immunology and Nano-Medicine at FIU HWCOM. Her doctoral research involved examining the effects of opioid dependence treatment in HIV immunopathology in the peripheral immune system and the central nervous system (CNS).
Rodriguez joined FIU in 2015 to pursue postdoctoral training under the mentorship of Nazira El-Hage. As a postdoctoral fellow, her training was focused on demonstrating that autophagy is an essential mechanism through which HIV replication is mediated in the CNS. Specifically, how imbalances in autophagy alter HIV and opiates-induced astroglia metabolic dysfunctions.
Education
Ph.D., Cellular and Molecular Biology, Universidad Central del Caribe School of Medicine, Puerto Rico
Research Areas
Investigating whether targeting autophagy lessen the metabolic dysfunctions induced by HIV within the brain in the presence of antiretroviral therapy
The use of nanotherapy to attenuate HIV and neuroinflammation
Selected Publications
Rodriguez M, Lapierre J, Ojha CR, Muthu Karuppan M, Kashanchi F, El-Hage N

 

(2019). Morphine counteracts the antiviral effect of antiretroviral drugs and causes upregulation of p62/SQSTM1 and histone modifying enzymes in HIV-infected astrocytes. Journal NeuroVirology. PMID: 30746609
Rodriguez M, Lapierre J, Ojha CR, Estrada-Bueno H, Dever SM, Gewirtz DA, Kashanchi F and El-Hage N

 

(2017). Importance of autophagy in mediating HIV and morphine-induced metabolic dysfunction and inflammation in human astrocytes. Viruses. PMID: 28788100.
Rodriguez M, Lapierre J, Ojha CR, Kaushik A, Batrakova E, Kashanchi F, Dever SM, Nair M and El-Hage N

 

(2017). Intranasal drug delivery of small interfering RNA targeting Beclin1 encapsulated with polyethylenimine (PEI) in mouse brain to achieve HIV attenuation. Sci Rep. PMID: 28500326.
View the full list of publications.