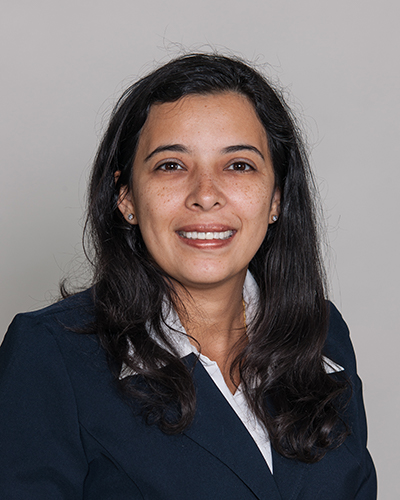 Marisela Agudelo, PhD
Assistant Professor
---
Office: AHC1 419-A
Phone: 305-348-6503; 305-348-4495
Email: magudelo@fiu.edu
Lab: AHC1 433
Dr. Agudelo earned her Ph.D. in Medical Sciences with emphasis in Immunology. Her graduate training was focused on studying cannabinoid-induced immune dysregulation under the mentorship of Dr. Thomas Klein in the Department of Medical Microbiology and Immunology. She joined FIU in 2009 to pursue a postdoctoral fellowship under the mentorship of Dr. Madhavan Nair, where she gained experience on the neuro-immunological mechanisms of substance abuse and HIV disease progression. In 2012, she competed successful for external funding and secured K99 project from the National Institute on Alcohol Abuse and Alcoholism (NIAAA) to study the epigenetic mechanisms underlying alcohol effects on human dendritic cells. She continued her academic career at FIU and secured funding for the R00 phase of the project. Dr. Agudelo's lab team is currently composed of a postdoctoral fellow and undergraduate research assistant. In addition, her lab provides training to students and service to colleagues on the immunological applications of single cell imaging flow cytometry, which has the capability of integrating flow cytometry and microscopy. Dr. Agudelo's laboratory serves for the training and mentoring of students from different career levels and diverse backgrounds. She is a strong supporter of several programs for underrepresented minorities at FIU including the MARC U*STAR, QBIC, RISE, McNair, and FSTAR. Currently, work in her laboratory is funded by NIAAA, Department of Immunology and Nano-Medicine, Herbert Wertheim College of Medicine, Office of Research and Economic Development at FIU, and pilot funds from Dr. Wertheim and Nicole Family Foundation. 
Education
B.S. Microbiology (2003); University of South Florida.
Ph.D., Medical Sciences/Immunology (2009); Morsani College of Medicine, University of South Florida.
Postdoctoral Fellow and Research Associate (2013), Immunology; Herbert Wertheim College of Medicine, Florida International University.
Recent Publications (selected out of 35):
Castillo-Chabeco, B., Napuri, J., Figueroa, G., Parira, T., Agudelo M. (2018). Ethanol-induced modulation of GPR55 expression in human monocyte derived dendritic cells is associated with H4K12 acetylation. PMID:29957399. (Impact factor: 2.006)
Parira T, Figueroa G, Granado S, Napuri J, Castillo-Chabeco B, Nair, M, Agudelo, M.  (2018) Trichostatin A Shows Transient Protection from Chronic Alcohol-Induced Reactive Oxygen Species (ROS) Production in Human Monocyte-Derived Dendritic Cells. J Alcohol Drug Depend 6:316. PMID: 30596124. (Impact factor: 1.52)
Parira, T., Figueroa, G., Laverde, A., Casteleiro G., Gomez Hernandez M.E., Fernandez-Lima, F., and Agudelo, M. (2017) Novel detection of post-translational modifications in human monocyte-derived dendritic cells after chronic alcohol exposure: Role of inflammation regulator H4K12ac. Sci Rep. 7(1):11236. PMID: 28894190. (Impact factor: 4.122)
Parira, T., Laverde, A., and Agudelo, M. (2017). Epigenetic cross-over between alcohol and cannabinergic pathways: focus on histone modification and DNA methylation. of Alcoholism & Drug Dependence 5(2). PMID: 28730160. (Impact factor: 1.52)
Agudelo, , Figueroa, G., Parira, T., Yndart, A., Muñoz, K., Atluri, V., Samikkannu, T., Nair, M.P. (2016). Profile of Class I Histone Deacetylases (HDAC) by Human Dendritic Cells after Alcohol Consumption and in vitro Alcohol Treatment and their Implication in Oxidative Stress: Role of HDAC Inhibitors Trichostatin A and Mocetinostat. PLOS One. PMID: 27249803. (Impact factor: 2.766)
Agudelo, , Figueroa, G., Yndart, A., Casteleiro, G., Muñoz, K., Samikkannu, T., Atluri, V., Nair, M.P. (2015). Alcohol and Cannabinoids Differentially Affect HIV Infection and Function of Human Monocyte-Derived Dendritic Cells (MDDC). Frontiers: Microbiology. 6:1452. PMID: 26733986. (Impact factor: 4.076)