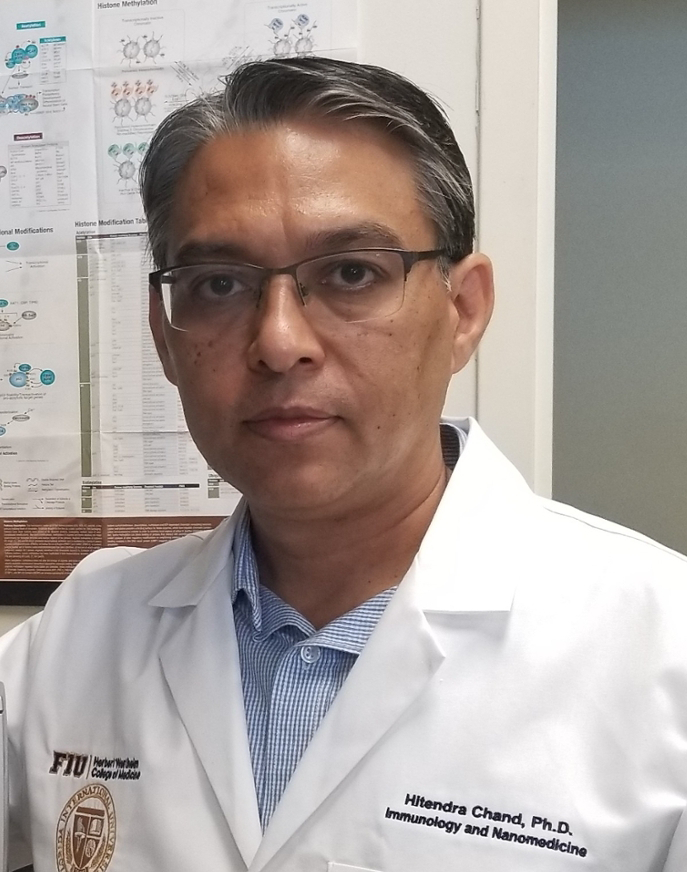 Hitendra S. Chand, Ph.D.
Associate Professor
Immunology and Nano-Medicine
---
Office: AHC1 418C
Phone: 305-348-1472
Email: hchand@fiu.edu
Lab: AHC1 424
Hitendra Chand, Ph.D., serves as an Associate Professor (tenure-track) and leads the Chand laboratory. The Chand lab at HWCOM specializes in characterizing innate immune responses to recurring environmental exposures - "the experiments of nature," and the pathophysiologies leading to debilitating diseases like allergic asthma and COPD which are exacerbated by viral infections such as HIV-1 and SARS-CoV-2. 
Prior to FIU, Chand conducted research in respiratory biology at the Lovelace Respiratory Research Institute in Albuquerque, NM. He investigated the pathophysiology following environmental exposures to tobacco smoke, allergens, and viruses, and the molecular mechanisms involved in the programmed cell death pathways and airway inflammatory responses.
During his postdoctoral training at the University of New Mexico Health Science Center, his research helped identify the role of proteinase inhibitors in blood coagulation biochemistry and in cancer biology. At the Center for Infectious Diseases and Immunology at UNM School of Medicine, Chand worked on biology-based studies to understand the immunobiology of allergic asthma and the pathogenesis of highly contagious respiratory infections requiring BSL4/ABSL4 containment.
Education
Ph.D., Biochemistry, University of Delhi. New Delhi, India
Research Areas
Innate immunity: The Chand lab's primary research involves understanding the mechanisms of pulmonary and systemic inflammation and tissue remodeling in respiratory and aging-associated diseases. His lab recently reported that airway epithelium preserves an 'innate memory' to help augment a rapid and "trained immune response" following the environmental exposures.
Gene-Environment interactions: The interplay of host genetic factors with the environmental toxicants and microbial pathogens are being studied within the following high-priority projects:
Coding and

 

Noncoding Transcripts in Inflammatory Responses
Mitochondrial Dynamics, Tobacco Products (E-Cigs),and Nanomedicine
Interaction of HIV, Tobacco Smoke, and Opioids at the Lung-Brain Axis
Understanding the Impact of COVID-19 on Innate Mucosal Immunity
Pathophysiology of HIV, COPD, and Alzheimer's Disease
Selected Publications 
Devadoss D#, Singh SP#, Acharya A, Do KC, Periyasamy P, Manevski M, Mishra N, Tellez C, Ramakrishnan S, Belinsky S, Byrareddy SN, Buch S,

 

Chand HS*, Sopori M*. HIV-1 Productively Infects and Integrates in Bronchial Epithelial Cells.

 

Front Cell Infect Microbiol.

 

2021 Feb 04; doi:10.3389/fcimb.2020.612360. PMID: 33614527 (#Equal contributions; *Corresponding authors)
Patel R, Acharya A,

 

Chand HS, Mohan M, and Byrareddy SN. HIV and SARS-CoV-2 Co-infection: A Systematic Review of the Literature and Challenges.

 

AIDS Res Hum Retroviruses.

 

2021 Feb 18. doi: 10.1089/AID.2020.0284. PMID: 33599163
Devadoss D, Daly G, Manevski M, Houserova D, Hussain SS, Baumlin N, Salathe M, Borchert G, Langley RJ,

 

Chand HS. A Long Noncoding RNA Antisense to ICAM-1 is Involved in Allergic Asthma Associated Hyperreactive Response of Airway Epithelial Cells.

 

Mucosal Immunol.

 

2020 Oct 29. doi: 10.1038/s41385-020-00352-9. Online ahead of print. PMID: 33122732
Muthu Karuppan MK, Devadoss D, Nair M,

 

Chand HS

 

and Lakshmana MK. SARS-CoV-2 infection in the central and peripheral nervous system-associated morbidities and their potential mechanism.

 

Mol Neurobiol.

 

2021 Jan 13. doi: 10.1007/s12035-020-02245-1. Online ahead of print. PMID: 33439437
Migaud M, Gandotra S,

 

Chand HS, Gillespie MN, Thannickal VJ, Langley RJ.  Antiviral Drug Efficacy and Clinical Outcomes in COVID-19.

 

Am J Resp Cell Mol Biol.

 

2020 Sep;63(3):396-398. doi: 10.1165/rcmb.2020-0206LE. PMID: 32574504
Active Grants
R21 AI152937 (NIAID, NIH),

 

A LncRNA in Pulmonary Mucosal Immunity and HIV-Associated Comorbidities; 09/03/20-08/31/22; Role: Principal Investigator
3R21 AI144374-02S1 (NIAID, NIH) "Effects of SARS-CoV-2 Proteins on Airway Mucous Response and Associated LncRNAs"; 05/27/20-04/30/22; Role: Principal Investigator
R01 CA241752 (NCI, NIH)

 

Targeting MUC5AC Mucin in Breast Cancer Brain Metastasis;

 

02/01/21-01/31/26; Role: Consultant
R21 AI144374 (NIAID, NIH),

 

Novel Long Noncoding RNAs in the Airway Mucous Response; 05/16/19-04/30/22; Role: Principal Investigator
R01 HL149898 (NHLBI, NIH),

 

Mechanisms of Defective Mitophagy and Cellular Senescence in HIV associated COPD;

 

07/15/19-06/30/23; Role: Co-Investigator
Patents
Hitendra S. Chand

 

and Madhavan Nair: Long noncoding RNAs in pulmonary airway inflammation. A US Utility Patent #10,851,376 (Dec 01, 2020)
Walter Kisiel and

 

Hitendra S. Chand: Human Kunitz-Type Inhibitor with Enhanced Antifibrinolytic Activity. A US Utility Patent #7,910,550.
Walter Kisiel,

 

Hitendra S. Chand,

 

and S. Paul Bajaj: Methods and Compositions for Plasmin Inhibition.  A US Utility Patent #7,585,842.
Walter Kisiel and

 

Hitendra S. Chand: Human Kunitz-Type Inhibitor with Enhanced Antifibrinolytic Activity. A US Utility Patent #7,432,238.