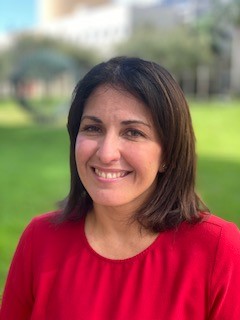 Adriana Yndart Arias
Lab Manager II
Immunology and Nano-Medicine
---
Office: AHC-1 307
Phone: 305-348-1490
Email: ayndarta@fiu.edu
Lab: AHC1 306,307,308,311, 312
As a manager for Dr. Nair's labs, Adriana Yndart Arias runs the labs by completing equipment/substance purchase orders for the department; in which she acts as a chemical, biosafety, and controlled substances officer. Aside from her administrative duties, she designs molecular-biology-related experiments to explore mechanisms and pathways related to neuro-HIV/AIDS pathogenesis, Alzheimer's disease, and the effects of substance abuse. Additionally, she conducts experiments on the production of nanoparticles and the biological characterization and efficacy of therapeutic nano-formulations in vitro and in vivo.
Technique Proficiencies: Cell culture, PBMCs isolation, and isolation of immune cells, RT PCR, ddPCR,  Western Blot, Toxicity assays, ELISAs, Flow cytometry, Immunostaining, microscopy, BBB in vitro model, etc. Capable to follow technique protocols.
Education
Dietetics and Nutrition, Master student (2018-Present), Florida International University, Florida
Bachelor of Science and Education in Microbiology (1999), University of Havana, Cuba
Selected Publications
Yndart A, Kaushik A, Atluri Venkata, Tiwari Sneham, Tomitaka Asahi, Gupta Purnima, Jayant Rahul Dev, Alvarez‑Carbonell David, Khalili Kamel, Nair Madhavan. Magnetically guided non-invasive CRISPR-Cas9/gRNA delivery across blood-brain barrier to eradicate latent HIV-1. Sci Rep. 2019 Mar 8;9(1):3928. doi: 10.1038/s41598-019-40222-4.
Yndart A, Kaushik A, Agudelo M, Raymond A, Atluri VS, Saxena SK, Nair M. Investigation of Neuropathogenesis in HIV-1 Clade B and C Infection Associated with IL-33 and ST2 Regulation. ACS Chem Neurosci. 2015 Sep 16;6(9):1600-12. doi: 10.1021/acschemneuro.5b00156. Epub 2015 Jul 15.
Tiwari S1, Atluri VSR1, Yndart Arias A1, Jayant RD1, Kaushik A1, Geiger J2, Nair MN1. Withaferin A Suppresses Beta Amyloid in APP Expressing Cells: Studies for Tat and Cocaine Associated Neurological Dysfunctions. Front Aging Neurosci. 2018 Sep 27;10: 291. doi: 10.3389/fnagi.2018.00291. eCollection 2018.
Patents
Madhavan Nair, Sneham Tiwari, Adriana Yndart Arias. Compositions and Methods for Treating HIV-Associated Neurocognitive disorders. Pub. No. US 1018/0256720 A1, Sep 13, 2018