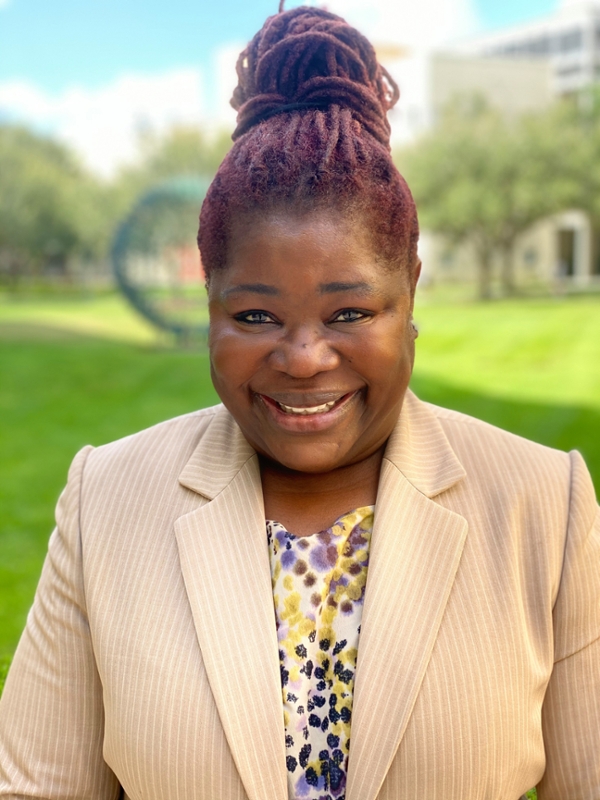 Andrea D. Raymond, Ph.D.
Associate Professor; and ODEICI Coordinator for Biomedical Sciences Career Development
Immunology and Nano-Medicine
---
Office: AHC1 446
Phone: 305-348-6430
Email: adraymon@fiu.edu
Lab: AHC1 425
 Andrea Raymond, Ph.D., joined HWCOM in 2012. Her research has focused on understanding the impact and role of extracellular vesicles (EVs) in the pathogenesis of neurotropic viruses specifically, Human Immunodeficiency Virus (HIV) and Zika Virus(ZIKV). EVs include microvesicles and exosomes both of which have been shown to modulate immune responses, to disrupt cellular functions, and to contain several oncological biomarkers critical for some cancer diagnostics.
Raymond's lab is among the first to demonstrate a potential role for exosomal EVs in HIV-associated neuropathogenesis. Her research group has shown in vitro that HIV-infected cells release EVs containing the HIV Nef protein and has demonstrated ex vivo the presence Nef-containing EVs in the serum of aviremic HIV-infected subjects. However, the functional role of these Nef-containing EVs in HIV neuropathogenesis is still unknown. Raymond seeks to understand how the content (and function) of brain cell-derived EVs vary upon HIV infection and/or opiate exposure. Ultimately, the Raymond lab research focuses on the identification of EV-based associated with biomarkers HIV neuropathogenesis and opiate addiction.    
Research 
Studying the initiation and regulation of anti-viral immunity
Understanding molecular mechanism HIV/AIDS and substance abuse, specifically opiates and cocaine
Investigating the role of HIV Negative factor(Nef) and Exosomal Extracellular Vesicles(xEVs) in HIV-associated neuropathology/neurocognitive impairment(NCI)
Identfying xEV-based biosignatures/biomarkers of NCI HIV-associated NCI and cancers.
Develop a personalized Nanomedicine approach to treat HIV neuropathology/AIDS associated  cancers using an  xEV-based nanotherapeutic.
Education
Postdoctoral Fellowship, Morehouse School of Medicine (2008-2011)
Postdoctoral Fellowship, University of Pennsylvania/Wistar Institute (2005-2008)
Ph.D., Temple University School of Medicine (2005)
M.S., New York University (1999)
B.S., Massachusetts Institute of Technology (1991)
Selected Publications
Tomitaka A, Arami H, Raymond A, Yndart A, Kaushik A, Jayant RD, Takemura Y, Cai Y, Toborek M, Nair M. Development of magneto-plasmonic nanoparticles for multimodal image-guided therapy to the brain. Nanoscale 2017 Jan 5; 9(2):764-773, PMID: 27976764
Huang Z, Tomitaka A, Raymond A, Nair M. Current application of CRISPR/Cas9 gene-editing technique to eradication of HIV/AIDS. Gene Therapy 2017 May 4 (Review), PMID: 28471431
Raymond AD, Diaz P, Chevelon S, Agudelo M, Yndart-Arias A, Ding H, Kaushik A, Jayant RD, Nikkhah-Moshaie R, Roy U, Pilakka-Kanthikeel S, Nair MP. Microglia-derived HIV Nef+ exosome impairment of the blood-brain barrier is treatable by nanomedicine-based delivery of Nef peptides. J Neurovirol. 2016 PMID: 26631079
Active Grants
National Institute of Health, National Institute on Drug Abuse(NIDA) –1-R01-DA04498-01 (Principal Investigator) 
Project Title: Role of extracellular vesicles in HIV neuropathogenesis and Opiate abuse.
Investigate in the context of cART and opiates, the impact of microglia-derived extracellular vesicles(EVs) on neurons in order to understand the mechanism(s) that underlie HIV-induced neurocognitive impairment/HAND during aviremia. Additionally, a cross-sectional study comparing cerebral spinal fluid(CSF) exNef in people living with HIV/AIDS (PLWHAs) on cART with a history/current opiate use to their degree of neurocognitive impairment/HAND will be performed. Findings from this proposal will demonstrate the role of EVs in the neuropathogenesis induced by the interplay of opiates and HIV in the CNS.