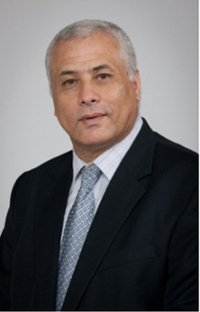 Zeidan Hammad
Associate Professor
Humanities, Health, and Society
---
Office: AHC2 554
Phone: 305-348-2449
Email: zhammad@fiu.edu
Zeidan Hammad, MD, joined Herbert Wertheim College of Medicine (HWCOM) in October 2011. Hammad is the co-course director of the Family Medicine Clerkship and instructs medical students in Geriatrics, Clinical Skills, and is a faculty facilitator for Core Concepts. He is a faculty who supervises the Green Family Foundation NeighborhoodHELP interprofessional household visits with medical, nursing, social work, and physician assistant students. He is also a faculty advisor for the HWCOM global health interest group, and an HWCOM academic advisor.
Previously, Hammad was a physician in the Emergency Department, Dallaa' Hospital, Lebanon. He then joined the Department of Internal Medicine and Nephrology, University Hospital of Tokoin-Lome Togo, West Africa. Before FIU, Dr. Hammad worked in CAC-Florida Medical Centers and the Baptist Urgent Care Centers of Miami.
Education
Family Medicine Residency, Hoboken University Medical Center
Residency, Nephrology, University of Medical Sciences of Camaguey, Camaguey, Cuba
MD, University of Medical Sciences of Camaguey, Camaguey, Cuba
Specialty
Awards
Poster Award Winner, New Jersey Academy of Family Physicians Research, 2006
Areas of interest
Medical Education
Community-based Medicine
Emergency Medicine
Selected publications
Hammad Z, Hernandez E, Tate S. Follow-up Care of Monoclonal Gammopathy of Undetermined Significance: A Guide for Primary Care Physicians. Journal of Family Medicine 2021-8(5):1261
Hammad, Z., Minor, S., & Abou-Jaoude, M. (2020). Improving Adherence through Telemedicine: Case Report from Miami, Florida. The Egyptian Family Medicine Journal.
Quiñones, J., & Hammad, Z. (2020). Social Determinants of Health and Chronic Kidney Disease. Cureus, 12(9), e10266.
Hammad, Z., Naranjo, M., & Naranjo, C. (2019). The importance of microalbuminuria screening in chronic kidney disease prevention. Florida Family Physician Journal, 68(2), 20–21.
Hammad, Z., & Huang, E. (2020). Improving Morbidity and Mortality Associated with Chronic Kidney Disease. Family Medicine Journal
Anderson, F. W.; Bose, N.; Hammad, Z. Precepting in the Community. Florida Family Physician 2014, 63 (1), 16–18.