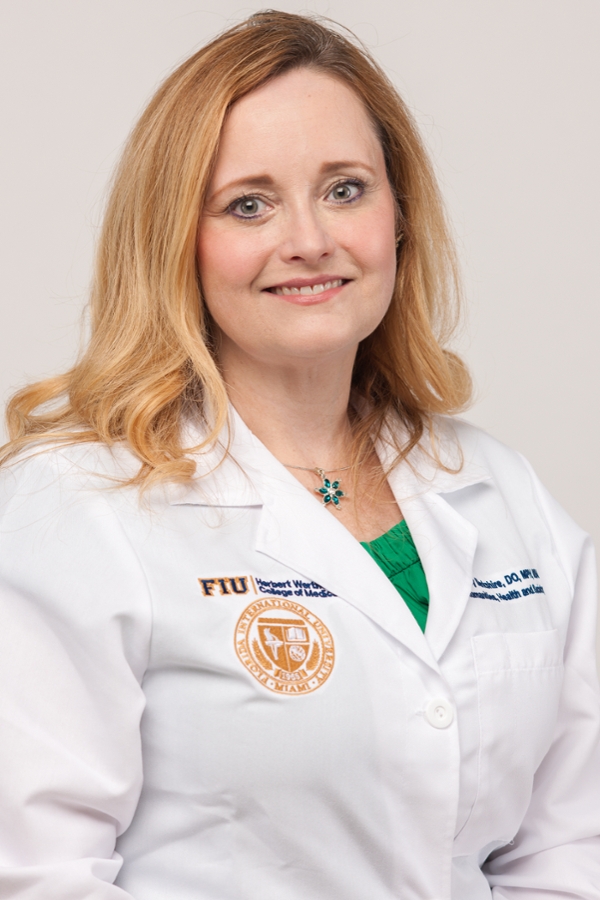 Tiffany Berkshire Iraheta
Tiffany Berkshire, DO, MPH, MBA is Assistant Professor in the Division of Family and Community Medicine in the Department of Humanities, Health, and Society. She joined Herbert Wertheim College of Medicine in 2018, where she teaches medical students at all levels, concentrating on clinical skills, facilitating case-based and problem-based learning, and the social factors involved in health. 
Berkshire participates in various courses, including Socio-economic and Cultural Aspects of Health, Systems-based Practice, Clinical Skills 1 & 2, Family Medicine Preceptorship, and Osler Fridays. She is faculty for Green Family Foundation Neighborhood Health Education Learning Program (NeighborhoodHELP) interprofessional household visits with medical, nursing, social work, and physician assistant students that take place in underserved communities throughout Miami-Dade County.
Berkshire is also an academic advisor for medical students. Her medical practice is at Jackson Health System Ambulatory Clinic, where she serves uninsured adult patients and models and supervises FIU medical students. After pursuing undergraduate work in Biology at Stetson University in DeLand, Florida, Berkshire attended medical school at the Philadelphia College of Osteopathic Medicine (PCOM).  She completed a Pediatric Tracking Osteopathic Internship in conjunction with PCOM, and then started her Internal Medicine-Pediatric residency at Albert Einstein Medical Center. In her second year, Berkshire transferred to the Internal Medicine-Pediatric residency at Jackson Health System, graduating in 2001. After residency, she had the opportunity to own a private practice, having completed her National Health Service Corps obligation to work in an underserved area in her own practice after residency. She was instrumental in creating Jackson Health System's first hospitalist program and then continued her hospitalist career at Memorial Health System in Broward County, Florida. She was one of the first internists to successfully pass the American Board of Internal Medicine Hospital Focused specialty examination in 2012.  After 11 years as an adult hospitalist, in 2012, Berkshire changed focus and began practicing Pediatric Emergency Medicine. She has also assisted in opening two additional dental practices and has experience working as an employed physician as well as an independent contractor.
Berkshire is Chair of the American Academy of Pediatrics Florida Chapter Disaster Preparedness Committee; she is fluent in Spanish and has traveled extensively in Central America.
Areas of Interest
Population Health
Business of Medicine
Global Children's Health
Disaster Preparedness and Response
Working with Underserved Population Groups