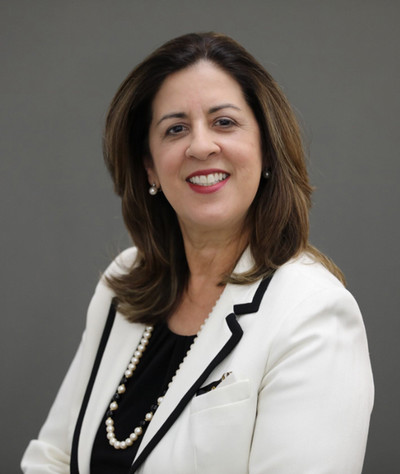 Lage, Onelia G
Chief of Faculty Development and Education and Professor, Department of Humanities, Health and Society and Director of the Pediatric and Adolescent Health for NEHLP
---
Office: AHC2 590
Phone: 305-348-4823
Email: olage@fiu.edu
Onelia G. Lage, MD, is Professor of Clinical Pediatrics and Assistant Strand Leader, Medicine and Society in the Department of Humanities, Health, and Society. She is board-certified in Adolescent Medicine, Director of Pediatric and Adolescent Health for Green Family Foundation Neighborhood Health Education Learning Program (NeighborhoodHELP™), Co-director of the Community Engaged Physician course series, and leads the department's faculty development program. She completed her residency training in Pediatrics at Metropolitan Hospital Center New York Medical College and a fellowship in Adolescent Medicine at the University of Miami Miller School of Medicine Jackson Memorial Hospital.
Dr. Lage is Principal Investigator for Accelerating Change in Medical Education Consortium, an American Medical Association project. A national initiative, Dr. Lage leads the project's efforts to evaluate and present the transformative strategies of NeighborhoodHELP™, including how the program integrates the social determinants of health and interprofessional practice in medical education and health care delivery. Since 2005 through 2015, Dr. Lage was appointed by three Governors to serve on the Florida Board of Medicine. In 2010, she was elected by her peers as board chair, the first Hispanic woman (only three women in the board's history to be selected as chair) and the first pediatrician to serve in the position. Dr. Lage has 27 years of academic experience, has held leadership positions in many national organizations, and has presented throughout the United States on the NeighborhoodHELP™ curriculum.
Dr. Lage was Director of Adolescent Medical Education and Community Health, Children's Medical Services Consultant and Team Physician/Child Protection Team at the University of Miami Miller School of Medicine. She has supervised and trained residents and students from US and Latin American/international schools, as well as faculty advisor for Latino student groups. She served as consultant physician for the Northwestern Senior High School clinic for ten years and Co-chaired the Miami-Dade County School Health Advisory Committee. She served on the board of the National Hispanic Medical Association. Dr. Lage's federally funded research has centered on minority adolescents and young adults, particularly pregnancy prevention in adolescents with chronic illnesses, such as asthma, diabetes, sickle cell, and HIV, as well as mental health issues in at-risk youth. She has presented research nationally and has multiple abstracts and publications. Dr. Lage's passion lies in helping young people achieve their ultimate potential in body, mind, and spirit and preparing the next generation of physicians with a strong emphasis on compassionate care, humility, and ethical and professional character.
Select Publications:
Greer PJ, Brown DR, Brewster LG, Lage OG, Esposito KF, Whisenant EB, Anderson FG, Castellanos NK, Stefano TA, Rock JA. Socially Accountable Medical Education: An Innovative Approach at Florida International University Herbert Wertheim College of Medicine. "Academic Medicine doi: 10.1097/ACM.0000000000001811. [Epub ahead of print]"
Martinez IL, Ilangovan K, Whisenant EB, Pedoussaut M, Lage OG. Breast health disparities: a primer for medical students. MedEdPORTAL Publications. 2016;12:10471. http://dx.doi.org/10.15766/mep_2374-8265.10471
Hernandez C, Herrera I, Lage OG, Natale-Pereira A, Rosas SE. Strategies for improving the Office of Minority Health. Ethn Dis. 2008 summer; 18(3):373-7.
Horigian V., Lage O., Szapocznik J. Cultural differences in Adolescent Drug Abuse, Adolescent Medicine Clinics, 2006.
Lage O., A Tribute to Precious: A REACH Study Patient, Journal of Adolescent Health, 29(3) (Supplement), 130-132, 2001.
Areas of Interest:
Interprofessional education
Social determinants of health
Compassionate care and empathy in medical education and clinical care
Mentoring minority and underrepresented students in Medicine and health care professions