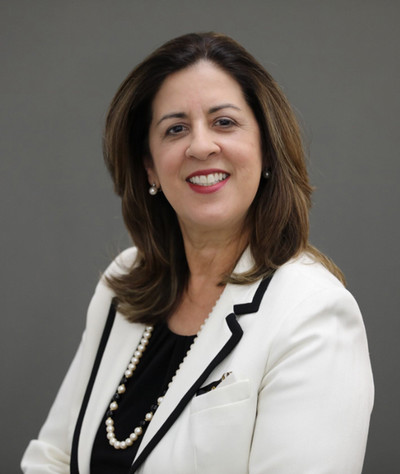 Onelia G. Lage, M.D.
Professor, Chief of Education and Faculty Development
Humanities, Health, and Society
---
Office: AHC2 590
Phone: 305-348-4823
Email: olage@fiu.edu
Specialty: Pediatrics and Adolescent Medicine
Certification: Adolescent Medicine
Languages Spoken: English, Spanish
Onelia G. Lage, M.D., is the director of pediatric and adolescent health for the Green Family Foundation Neighborhood Health Education Learning Program (NeighborhoodHELP). She is also the course director of the Community Engaged Physician course series and interim strand leader for the Medicine and Society Strand. She is the principal investigator for the Accelerating Change in Medical Education Consortium, a national initiative sponsored by the American Medical Association focused on evaluating interprofessional education. 
In 2010, Lage became the first Hispanic woman and pediatrician elected as board chair of the Florida Board of Medicine. Additionally, she was a board member from 2005-2015.
Education
Fellowship, Adolescent Medicine, University of Miami Miller School of Medicine/Jackson Memorial Hospital
Residency, Pediatrics, Metropolitan Hospital Center/New York Medical College
M.D., Universidad Central Del Este (Medicine), Dominican Republic
Research Areas
Innovation in medical education focused on interprofessional education, social determinants of health, and chronic disease prevention (AMA Accelerating Change in Medical Education Grant, Accelerating Change in Medical Education H & P 360 Implementation Grant, and Florida's State Opioid Response Project: Medical School Curriculum and Implementation Grant)
Adverse Childhood Experiences and mental health issues in children and adolescents enrolled in NeighborhoodHELP
Teaching ethics and compassionate care to medical students and other health professions students
Selected Publications
Garba NA, Anderson F, Schneider GW, Bisschops J, Bhoite P, Lage OG, Sackstein R, Brown DR. Caring for Vulnerable Communities in Miami Dade County during the COVID-19 Pandemic. J Health Care Poor Underserved. 2021;32(2):598-606. doi: 10.1353/hpu.2021.0088. PMID: 34120960 
Van Eck RN, Gullett HL, Lamb SM, Krouse HJ, Mazzurco LW, Lage OG, Lewis JH, Lomis KD. The power of interdependence: Linking health systems, communities, and health professions educational programs to better meet the needs of patients and populations. Med Teach. 2021 Jul;43(sup2):S32-S38. doi: 10.1080/0142159X.2021.1935834. PMID: 34291717.
Lewis JH, Lage OG, Grant BK, et al. Addressing the Social Determinants of Health in Undergraduate Medical Education Curricula: A Survey Report. Adv Med Educ Pract. 2020;11:369-377. Published 2020 May 22. doi:10.2147/AMEP.S243827 
Whisenant, E.B., Garba, N.A., Schneider, G.W., Camps-Romero, E., Lage, O.G., Pedoussaut, M., Brown, D.R. and Greer, P.J., Jr. (2020), The Community Engaged Physician: Teaching Social Accountability Through Interprofessional Teamwork and Service-Learning. New Directions for Teaching and Learning, 2020: 135-143. https://doi.org/10.1002/tl.20398
Greer PJ, Brown DR, Brewster LG, Lage OG, Esposito KF, Whisenant EB, Anderson FG, Castellanos NK, Stefano TA, Rock JA. Socially Accountable Medical Education: An Innovative Approach at Florida International University Herbert Wertheim College of Medicine. "Academic Medicine doi: 10.1097/ACM.0000000000001811. [Epub ahead of print]" https://pubmed.ncbi.nlm.nih.gov/28658020/