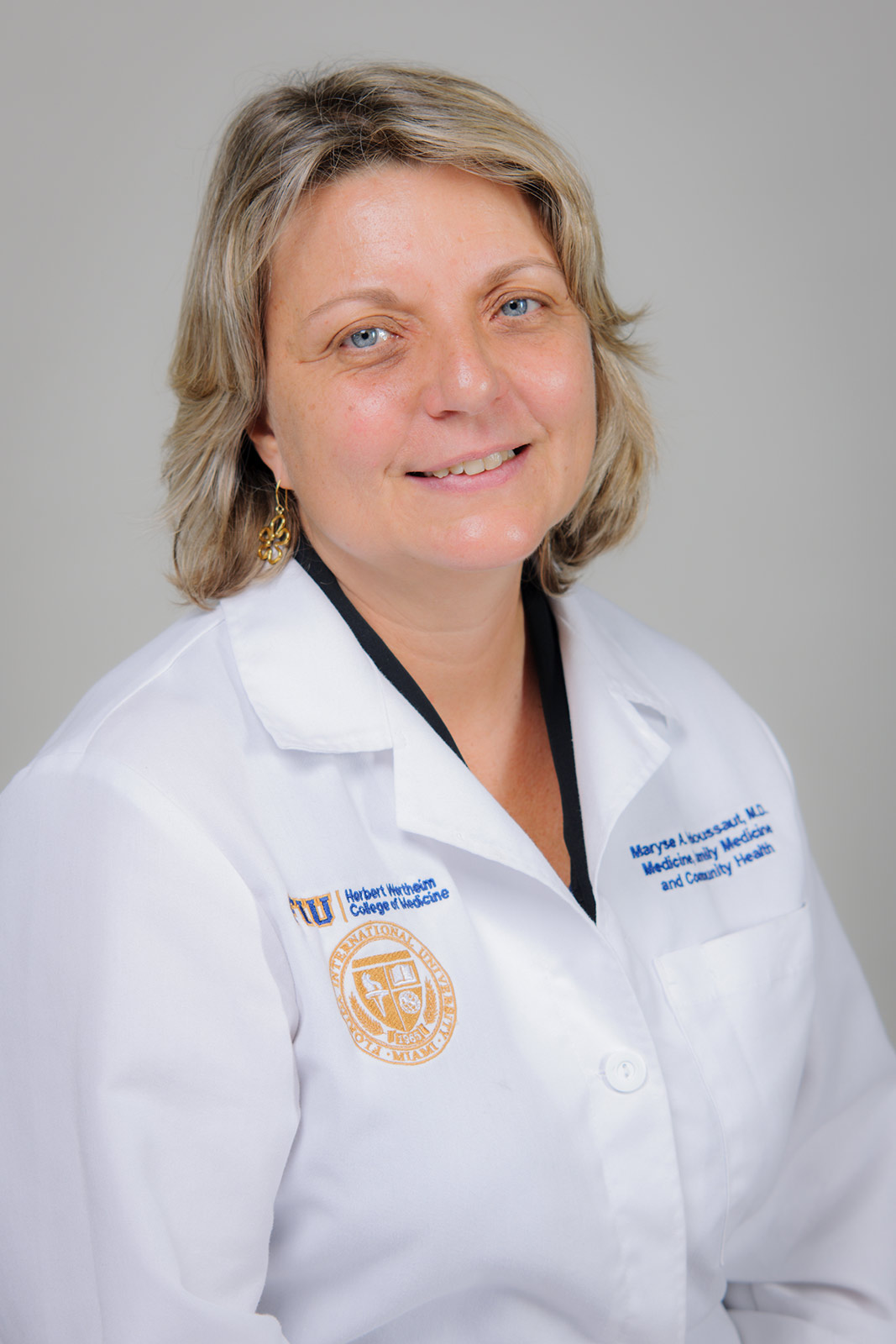 Maryse Anne Pedoussaut, MD
Associate Professor
Humanities, Health, and Society, Division of Family and Community Medicine Specialty: Family Medicine
---
Office: AHC2 554C
Phone: 305-348-7865
Email: mpedouss@fiu.edu
Certification: American Board of Family Medicine
Languages Spoken: English, French, Spanish
Maryse A. Pedoussaut, MD, teaches medical students at all levels, concentrating on clinical skills and emphasizing motivational interviewing. At FIU, she introduced mindfulness and stress reduction workshops.
As faculty in the Green Family Foundation Neighborhood Health Education Learning Program (NeighborhoodHELP), Pedoussaut conducts household visits with medical, nursing, physician assistant, and social work students. She leads the group health care visits for household members who are prediabetic and diabetic. 
Pedoussaut is an avid supporter of medical students in their community service activities. She serves as the faculty advisor of two student organizations, the Medical Students Working to Improve Society and Health (MedSWISH) and the American Medical Student Association (AMSA).
Education
Family Medicine Residency, University of Miami School of Medicine-Jackson Memorial Medical Center, Miami, FL
Post-Graduate Degree in Pharmacokinetics, Pharmaceutic University of Toulouse, Toulouse, France
Post-Graduate Degree in Medical Statistics Applied to Clinical Research, P&M Curie University, Paris, France       
MD, Paul Sabatier University of Medicine, Toulouse, France
Areas of Interest and Research
Health Care for Underserved Populations – Social Determinants of Health
Motivational Interviewing
Prediabetes and Diabetes Group Visits
Complementary Alternative Medicine: Body-Mind-Spirit Medicine (Mindfulness/Meditation), Functional Medicine, Homeopathy, Acupuncture, and Ayurvedic Medicine)
Lifestyle Medicine
Obesity Medicine
STEM (Science Technology Engineering, and Math)
Awards
2020 Art of Medicine Award from the Florida Academy of Family Physicians
2017 Leonard Tow Humanism in Medicine Award
Selected Publications
Pedoussaut M, Delzell J, Minor S. Pelvic Relaxation. In: Domino, Frank J., Robert A. Baldor, Jeremy Golding, and Jill A. Grimes. The 5-Minute Clinical Consult 2018. 24th edition. Philadelphia, PA: Lippincott Williams & Wilkins
Martinez IL, Ilangovan K, Whisenant EB, Pedoussaut M, Lage OG. Breast health disparities: a primer for medical students.MedEdPORTAL Publications. 2016;12:10471.
Brogan Hartlieb K, Engle B, Obeso V, Pedoussaut MA, Merlo LJ, Brown DR. Advanced patient-centered communication for health behavior change: motivational interviewing workshops for medical learners. MedEdPORTAL Publications. 2016;12:10455. http://dx.doi.org/10.15766/mep_2374-8265.10455
Pedoussaut M, Delzell J, Minor S. Pelvic Relaxation. In: Domino, Frank J., Robert A. Baldor, Jeremy Golding, and Jill A. Grimes. The 5-Minute Clinical Consult 2015. 23rd Philadelphia, PA: Lippincott Williams & Wilkins; 2014