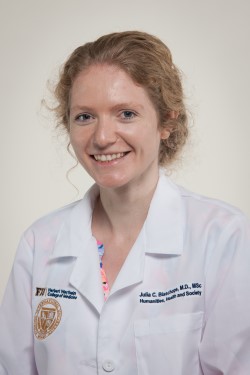 Bisschops, Julia C, MD, MSc
Julia C. Bisschops, MD, MSc, leads the Linda Fenner 3D Mobile Mammography Center, a HWCOM initiative in breast cancer in Miami-Dade County. As lead physician, she oversees the delivery of screening mammograms and breast health navigation for uninsured/underserved women throughout our community.
Dr. Bisschops teaches medical students at all levels and is a faculty advisor for the Medical Students Working to Improve Society and Health (MedSWISH) organization. In collaboration with the University of Michigan, she is the PI in a research project sponsored by American Medical Association's Accelerating Change in Medical Education to evaluate the effectiveness of the History & Physical (H&P) 360 tool. 
Education
M.D.,  St. George's University School of Medicine, Grenada, West Indies
Family Medicine Residency, Memorial Hospital, South Bend, Indiana
M.Sc., Biomedical Sciences and Environmental Health from Utrecht University, The Netherlands
Select Publications:
Dorcius DP*, Levitt EB*, McCauley A, Levine J, Carleton L, Martinez-Harvell G, Pedoussaut M, Bisschops J, Wells A, Anderson FW. Performance of a student-run, community outreach program at reaching at-risk populations in Miami-Dade County. Florida Medical Student Research Journal. 2019; 4(1): 20-26
Bisschops, Julia (2018). Doctor in the Family or Family Doctor? Narrative Inquiry in Bioethics 8 (1):E7-E10.
Dixon, J. Bryan. Muscular Injuries in the Posterior Leg. New York: Springer. 2016. Anatomy of the Leg: Chapter 1: Bisschops, Julia C., MD MSc (et al.)
Susan W. P. Wijnhoven; Willie J. G. M. Peijnenburg; Carla A. Herberts; Werner I. Hagens; Agnes G. Oomen; Evelyn H. W. Heugens; Boris Roszek; Julia Bisschops; Ilse Gosens; Dik Van De Meent; Susan Dekkers; Wim H. De Jong; Maaike van Zijverden; Adriënne J. A. M. Sips; Robert E. Geertsma Nano-silver – a review of available data and knowledge gaps in human and environmental risk assessment. Nanotoxicology, Volume 3 Issue 2 2009. Pages 109 –138
Active Grants
Using the AMA H&P 360 to Augment History-Taking Skills and Chronic Disease Management in a Community Setting, 
Agency: American Medical Association
Role: PI