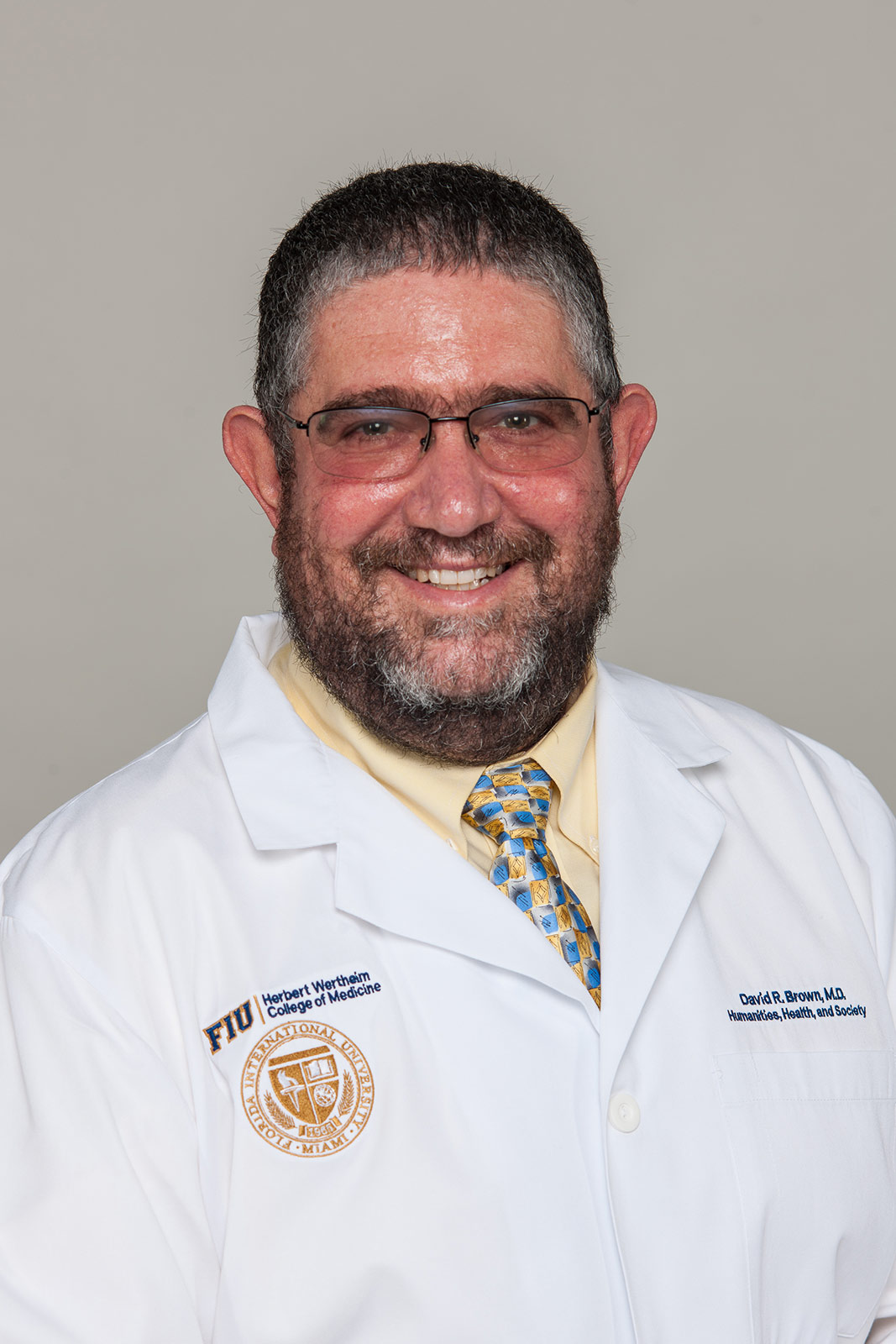 David R. Brown, M.D.
Professor, Chief of the Division of Family and Community Medicine, Vice Chair
Humanities, Health, and Society
---
Office: AHC2 593
Phone: 305-348-1476
Email: drbrown@fiu.edu
Specialty: Family Medicine
Certification: American Board of Family Medicine
Languages Spoken: English, Spanish
David R. Brown, M.D., leads the award-winning Green Family Foundation Neighborhood Health Education Learning Program (NeighborhoodHELP). A Fellow of the American Academy of Family Physicians, Brown established the first new graduate medical education program at Herbert Wertheim College of Medicine, West Kendall Baptist Hospital - FIU Family Medicine Residency. He is nationally and internationally recognized for his work addressing social determinants of health, interprofessional collaboration, and entrustment.
Education and Training
Fellowship in Participatory Research, University of Miami Miller School of Medicine
Residency in Family Medicine, Natividad Medical Center, University of California at San Francisco
M.D., Boston University School of Medicine
B.S. in Biology, Massachusetts Institute of Technology
B.S. in Humanities and Science, Massachusetts Institute of Technology
Areas of Interest
Brown has been a medical educator for over 25 years with an emphasis on primary care, integrating social and behavioral determinants into care, self-management support, and collaborative care models. His research applies qualitative and mixed methods to the study of health disparities, social determinants of health, cultural competence, competency-based education, and entrustment, and population health. His current work includes projects related to the development of data systems for assessment and care management of Social Determinants of Health (SDOH); COVID-19 testing and vaccination in the community that is part of the NIH RADxUP initiative; and obtaining user input into the design of apps to help manage diabetes  in collaboration with the National Science Foundation's (NSF) Precise Advanced Technologies and Health Systems for Underserved Populations (PATHS-UP) Engineering Research Centers (ERCs).
Select Publications
Brown DR, Moeller J, Grbic D, Biskobing D, Crowe R, Cutrer B, Green M, Obeso V, Wagner D, Warren J, Yingling S, and Andriole D. Entrustment Decision-Making in the Core EPAs: Results of a Multi-Institutional Study. Med. 2021 Jul 13. doi: 10.1097/ACM.0000000000004242.
Garba NA, Anderson FW, Schneider GW, Bisschops JC, Bhoite P, Lage OA, Sackstein R, Brown DR. Caring for Vulnerable Communities in Miami Dade County during the COVID-19 Pandemic. Journal of Health Care for the Poor and Underserved. 2021;32(2):598–606. doi: 10.1353/hpu.2021.0088.
Engle B, Hartlieb K, Obeso VT, Pedoussaut MA, Hospital MM, Lupi CS, Esposito KC, Brown DR. From the Classroom to Entrustment - The Development of Motivational Interviewing Skills as an Entrustable Professional Activity. MedEdPublish 2019; 8(3):4. 
Greer PJ, Brown DR, Brewster LG, Lage OG, Esposito KF, Whisenant EB, Anderson FG, Castellanos NK, Stefano TA, Rock JA. Socially Accountable Medical Education: An Innovative Approach at Florida International University Herbert Wertheim College of Medicine. Med. 2018 Jan;93(1):60-65. doi: https://doi.org/10.1097/ACM.0000000000001811.
Brown DR, Gillespie CC, and Warren JB. EPA 9 - Collaborate as a Member of an Interprofessional Team: A Short Communication from the AAMC Core EPAs for Entering Residency Pilot Schools. Medical Science Educator 2016; 26(3): 457–461. https://doi.org/10.1007/s40670-016-0273-4.