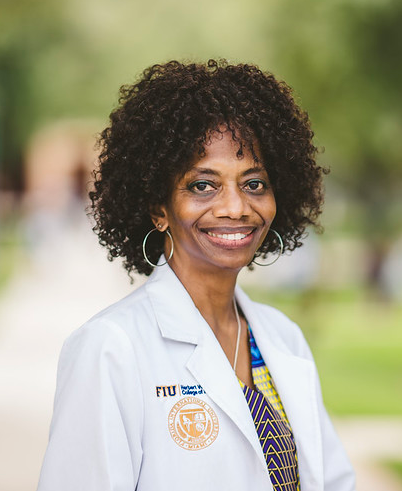 Cheryl L. Holder, MD
Associate Dean for Diversity, Equity, Inclusivity, and Community Initiatives; Associate Professor
Humanities, Health, and Society
---
Office: AHC2 553
Phone: 305-348-0698
Email: clholder@fiu.edu
Specialty: Internal Medicine, HIV
Languages Spoken: English and Spanish
Cheryl L. Holder, MD, has dedicated her career to caring for underserved populations and promoting diversity in the health professions through pipeline programs. Holder is a founding faculty member of the Herbert Wertheim College of Medicine.
As the Associate Dean for Diversity, Equity, Inclusivity, and Community Initiatives, Holder integrates diversity, inclusivity, and social justice in all HWCOM programs and operations. She also teaches medical, nursing, social work, and physician assistant students about working in underserved communities through the Green Family Foundation NeighborhoodHELP program.
Holder began her career in 1987 as a National Health Service Corp Scholar working with medically underserved communities in South Florida. From 1990 to 2009, she served as medical director for Jackson Health System's North Dade Health Center, where she developed an HIV care and treatment program and directed the first school-based health center in Miami-Dade County.
Education
Fellowship, Community Clinical Skills Scholar, Department of Family Medicine, University of Miami Miller School of Medicine, Miami, Florida
Internal Medicine Residency, Harlem Hospital, New York, New York
MD, The George Washington University School of Medicine, Washington, D.C.
Certification
American Board of Internal Medicine
Areas of Interest
Diversity and Inclusion
Pipeline programs
HIV/AIDS
Climate Change, Health and Equity
Health Promotion and Education
Selected Publications 
Runowicz, C. D., Rodriguez, B. J., Roller, B. A., Stevens, M., Jones, A. L., Holder, C. L., & Weiler, T. A. (2021). Academic Health Center Best Practices: Case Studies: Connecting Pipelines to Pathways for Health Equity. Association of Academic Health Centers. https://www.aahcdc.org/Publications-Resources/Series/Connecting-Pipelines-to-Pathways-for-Health-Equity-Case-Studies
Nwokocha, M, Beaney, T, Holder, C, Thaxter, K, Nesbeth, Whylie, N, Leitch, J, Ferguson, T, Hosang, M, Riley, V, Soyibo, A.  May Measurement Month 2019: An analysis of blood pressure screening results from Jamaica. European Heart Journal Supplements, Volume 23, Issue Supplement B, May 2021, Pages B82–B85, https://doi.org/10.1093/eurheartj/suab036
Weismann, M. F., & Holder, C. L. (2021). Ruthless Utilitarianism? COVID-19 State Triage Protocols May Subject Patients to Racial Discrimination and Providers to Legal Liability. The American Journal of Law and Medicine .47 (2021): 21-53. ©
Holder, C. L., Perez-Gilbe, H. R., Fajardo, F. J., Cyrus Cameron, E. A., & Garcia, S. (2019). Disparities of HIV risk and PrEP use among transgender women of color in South Florida. Journal of National Medical Association, 111(6), 625–632. https://www.sciencedirect.com/science/article/abs/pii/S0027968418302992?via%3Dihub

Thomas G, Oni K, Holder C, Minor S. The Importance of Reach Out and Read in Family Medicine Training. STFM Messenger. July 28, 2016.
Holder, C. L. (2020). The link between climate change, health and poverty.  TEDMED Talks, Online https://www.tedmed.com/talks/show?id=772448
Awards
Spirit of Excellence Award, Dade County Medical Association, 2011
Community Advocate Award, National Medical Association, 2011
Jacqueline M. Davis, BSN Award for Collaboration and Support, National Black Nurses Association, 2010
Success South Florida's  50 Most Powerful Black Professionals, 2008
Miami-Dade Area Health Education Center, Cheryl Holder Scholarship for Medical Students, 2008
Success South Florida 25 Most Influential and Prominent Black Women, 2007
Robert Wood Johnson Community Leadership Program $25,000 Sabbatical Award, 2005
South Florida AIDS Network Community Activism and Leadership Award World AIDS Day, 2005
Shelbourne House and Fernwood Apartments Award Plaque – Recognition of 10 years of Outstanding Service to the Board of Directors, 2003
Women of Distinction – Women's History Month Certificate of Appreciation, The Miami-Dade County Office of the Mayor and Board of County Commissioners