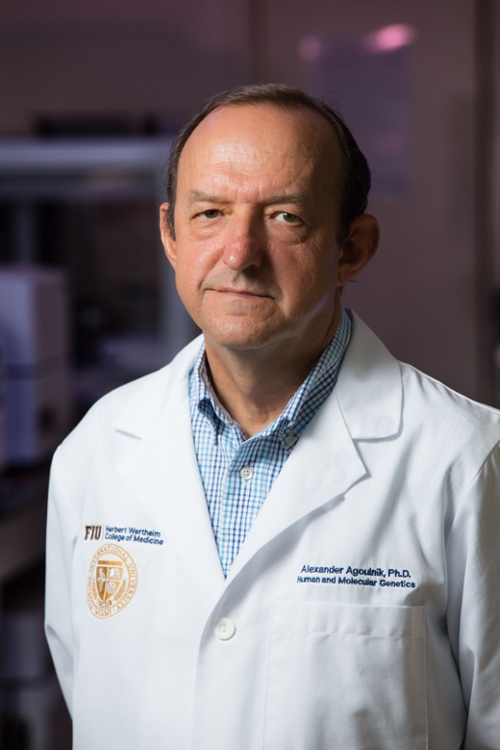 Alexander Agoulnik, Ph.D.
Interim Chair for the Department of Human and Molecular Genetics, Director, Graduate Program, Professor
---
Office: AHC1 419B
Phone: 305-348-1483
Email: aagoulni@fiu.edu
Alexander Agoulnik, Ph.D. is a Founding Director of the Ph.D. Program in Biomedical Sciences at HWCOM. He has trained numerous post-doctoral and medical fellows, residents, and students. Agoulnik's work has focused on using various cell-based, genetic, and transgenic technology to uncover the functions of various genes in normal development and in diseases. Agoulnik has published more than 120 research papers and book chapters. Research in his laboratory is supported by grants from NIH, research foundations, and industry.
Prior to becoming a tenured Professor at FIU HWCOM, Agoulnik was a tenured associate professor in the Department of Obstetrics and Gynecology at the Baylor College of Medicine in Houston, Texas. He joined the faculties of the University of Tennessee, Memphis in 1992 and Baylor College of Medicine in 1995.
Education
Postdoctoral training, Max Planck Institute for Biology, Tübingen, Germany
Ph.D., Russian Academy of Science at the Institute of Cytology and Genetics, Novosibirsk, Russia
Research Interests
Function of relaxin peptides and their GPCRs is the center of the research activities in Dr. Agoulnik laboratory. Using transgenic mouse models, cell biology approaches, genomics and proteomic techniques we study the effects of different hormonal stimuli in ontogenesis and function of various organs. The special emphasis of our research is the identification and characterization of small molecule modulators of relaxins' GPCR. Currently the following projects are underway:
"Small molecule antagonists of relaxin receptor" (NCI, 1U01CA177711, PI: AI Agoulnik). We have shown that the inhibition of relaxin hormone signaling suppresses prostate cancer progression. In collaboration with NIH/NCATS researchers we will perform a high throughput screening of a large library of small molecules to isolate chemical compounds that disrupt relaxin signaling and can be potentially used as the anti-cancer drugs.

"Relaxin receptor agonists for treatment of liver fibrosis"(NIDDK, 1R01DK110167, PI: AI Agoulnik). The goal of this project is to study the effects of relaxin receptor agonists as therapeutic agents in liver fibrosis. This study is a collaboration with scientists from Wake Forest Institute for Regenerative Medicine and from NCATS.

"Small molecule agonists of insulin-like3 receptor for treatment of osteoporosis" (NIAMS, 1R01AR070093, PI: AI Agoulnik). The goal of this project is to identify small molecule agonists of Insulin-like3 hormone receptor for treatment of osteoporosis and reproductive abnormalities.

"Small molecule relaxin receptor agonists in treatment of uterine fibroids" (Bayer Pharma Aktiengesellschaft, Grants4Targets 2016-08-1711, PI: AI Agoulnik). The goal of the proposal to study the effects of relaxin signaling on development of uterine leiomyomas.
Several other projects related to understanding mechanisms of hormonal stimulation and therapeutic testing of small molecule compounds are in progress.
Selected publications
View Agoulnik's full bibliography
Kaftanovskaya EM, Soula M, Myhr C, Ho BA, Moore SN, Yoo C, Cervantes B, How J, Marugan J, Agoulnik IU, Agoulnik AI. Human Relaxin Family Peptide Receptor 1 (RXFP1) is Activated by Relaxin and Small Molecule Agonist ML290 in Transgenic Mice. Minor Revisions, Journal of Endocrine Society. 2017, Endocr. Soc. (2017) 1 (6): 712-725. doi: 10.1210/js.2017-00112.

Kocan M, Sarwar M, Siwek C, Ang SA, Xiao J, Marugan JJ, Hossain MA, Samuel CA, Hutchinson D, Agoulnik AI, Bathgate RAD, Summers RJ. ML290, a small molecule agonist, is an allosteric biased ligand at RXFP1 expressed in human recombinant and primary cells. Scientific Reports. 2017, Jun 7;7(1):2968. doi: 10.1038/s41598-017-02916-5.

Agoulnik AI, Agoulnik IU, Hu X, Marugan JJ. Synthetic non-peptide low molecular weight agonists of the relaxin receptor 1, Br J Pharmacol. 2016 Oct 23. doi: 10.1111/bph.13656. PMID: 27771940.

Ivell R, Agoulnik AI, Anand-Ivell R. Relaxin-like peptides in male reproduction - a human perspective, Br J Pharmacol. 2016, doi: 10.1111/bph.13689, PMID: 27933606.

Hu X, Myhr C, Huang Z, Xiao J, Barnaeva E, Ho BA, Agoulnik IU, Ferrer M, Marugan JJ, Southall N, Agoulnik AI. Structural insights into the activation of human relaxin family peptide receptor 1 by small molecule agonists. Biochemistry, 2016 Mar 29;55(12):1772-83. doi: 10.1021/acs.biochem.5b01195. PMID:26866459.

Ferguson L, Kaftanovskaya EM, Manresa C, Barbara AM, Poppiti RJ, Tan Y, Agoulnik AI. Constitutive Notch signaling causes abnormal development of the oviducts, abnormal angiogenesis, and cyst formation in mouse female reproductive tract. Biology of Reproduction, 2016 Mar;94(3):67. doi: 10.1095/biolreprod.115.134569. PMID: 26843448.

Agoulnik IU, Agoulnik AI. Long-lasting consequences of testosterone exposure (News and Views). Endocrinology, 2015, Oct;156(10):3488-9. doi: 10.1210/en.2015-1719. PMID:26380936.

Kaftanovskaya EM, Huang Z, Lopez C, Conrad K, Agoulnik AI. Conditional Deletion of the Relaxin Receptor Gene in Cells of Smooth Muscle Lineage Affects Lower Reproductive Tract in Pregnant Mice. Biology of Reproduction, 2015 Apr;92(4):91. doi: 10.1095/biolreprod.114.127209. PMID:25715795.

Huang Z, Myhr C, Bathgate RAD, Ho B, Bueno A, Hu X, Xiao J, Southall N, Barnaeva E, Agoulnik IU, Marugan J, Ferrer M, Agoulnik AI. Activation of Relaxin Family Receptor 1 from different mammalian species by relaxin peptide and small molecule agonist ML290. Endocrinol. 2015, doi: 10.3389/fendo.2015.00128. PMID:26347712; PMCID: PMC4538381

Huang Z, Rivas B, Agoulnik AI. NOTCH1 Gain of Function in Germ Cells Causes Failure of Spermatogenesis in Male Mice. PLOS One. 2013.July 30, 1371/journal.pone.0071213

Ferguson L, How J, Agoulnik AI. The fate of spermatogonial stem cells in the cryptorchid testes of RXFP2 deficient mice. PLOS One. 2013. Oct 3;8(10):e77351. doi: 10.1371/journal.pone.0077351. PMID:24098584

Rivas B, Huang Z, Agoulnik AI. Normal Fertility in Male Mice with Deletion of β-Catenin Gene in Germ Cells. Genesis. 2014 Apr;52(4):328-32. doi: 10.1002/dvg.22742. Epub 2014 Jan 31. PMID:24443144.

Kaftanovskaya EM, Lopez C, Ferguson L, Myhr C, Agoulnik AI. Genetic Ablation of Androgen Receptor Signaling in Fetal Leydig Cell Linage Affects Leydig Cell Functions in Adult Testis. FASEB J. 2015 Jun;29(6):2327-37. doi: 10.1096/fj.14-263632. PMID:25713029.

Xiao J, Huang Z, Chen CZ, Agoulnik IU, Southall N, Hu X, Jones RE, Ferrer M, Zheng W, Agoulnik AI, Marugan JJ. 3. Identification and optimization of small-molecule agonists of the human relaxin hormone receptor RXFP1. Nat Commun. 2013 Jun 14;4:1953

Ferguson L, Agoulnik AI. Testicular cancer and cryptorchidism. Frontiers Endocrinology. 2013. 4:32.

Kaftanovskaya EM, Neukirchner G, Huff V, Agoulnik AI. Left-sided cryptorchidism in mice with Wilms Tumour 1 gene deletion in gubernaculum testis. J Pathol. 2013. May;230(1):39-47.

Kaftanovskaya EM, Huang Z, Barbara AM, De Gendt K, Verhoeven G, Gorlov IP, Agoulnik AI. Cryptorchidism in mice with an ablation of androgen receptor in gubernaculum testis. Mol. Endocrinol. 2012. 26(4):598-607

Larson G, Karlsson E, Perri A, Webster MT, Simon Y. W. Ho, Peters J, Stah PW, Piper PJ, Lingaas F, Fredholm M, Comstock KE, Modiano JF, Schelling C, Agoulnik AI, Leegwater P, Dobney K, Vigne J-D, Vilà C, Andersson L, Lindblad-Toh K. A new genetic, archeological, and biogeographic perspective on dog domestication, PNAS, 2012. 2012 Jun 5;109(23):8878-83.

Feng S, Agoulnik AI. Expression of LDL-A module of relaxin receptor in prostate cancer cells inhibits tumorigenesis. International Journal of Oncology, 2011 Dec;39(6):1559-65.

Li Z, Feng S, Lopez V, Elhammady G, Anderson ML, Kaftanovskaya EM, Agoulnik AI. Uterine cysts in Female Mice Deficient for Caveolin-1 and Insulin-like3 Receptor RXFP2. Endocrinology, 2011, 152(6):2474-82.

Kaftanovskaya EM, Feng S, Huang Z, Tan Y, Barbara AM, Kaur S, Truong A, Gorlov IP, Agoulnik AI. Suppression of Insulin-like3 receptor reveals the role of β-catenin and Notch signaling in gubernaculum development. Mol Endocrinol. 2011 Jan;25(1):170-83.

Feng S, Agoulnik, IU, Truong A, Li Z, Creighton CJ, Kaftanovskaya E, Pereira R, Han HD, Lopez-Berestein G, Klonisch T, Ittmann MM, Sood AK, Agoulnik AI. Suppression of Relaxin Receptor RXFP1 Decreases Prostate Cancer Growth and Metastasis. Endocrine-Related Cancer, 2010 Oct 29;17(4):1021-33.

Agoulnik AI. Relaxin and related peptides in male reproduction. Adv Exp Med Biol.;612:49-64  (2007).