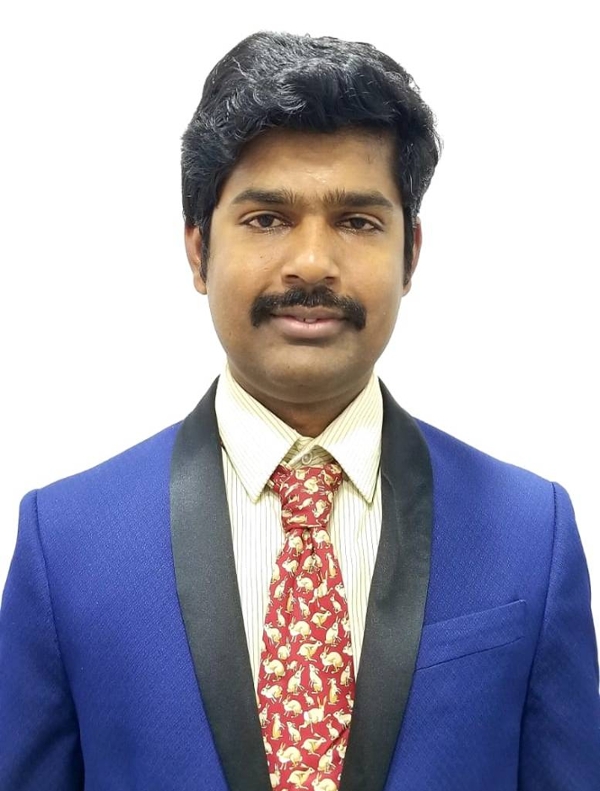 Sarkarai Nadar, Ph.D.
Instructor
Cellular Biology & Pharmacology
---
Office: AHC1 427
Phone: 305-348-1477
Email: vsarkara@fiu.edu
Sarkarai Nadar joined HWCOM in 2012. His research aims to understand the mechanism of arsenic resistance and detoxification using biophysical methods and X-ray crystallography. He crystallized and solved the three-dimensional structure of ArsI, C-As lyase, a carbon arsenic bond cleaving enzyme from the thermophilic bacterium Thermomonospora curvata and Ars, Arsinothricin N-acetyltransferase from Pseudomonas putida KT2440. The focus of Nadar's Ph.D. research was to design the DNA oligonucleotide sequences that form a four-way junction, characterize them using various biophysical methods, and find three-dimensional structures using X-ray crystallography.
Education
Ph.D., Crystallography and Biophysics, University of Madras, India
M.Sc, Physics, Alagappa University, India
BSc, Physics, Madurai Kamaraj University, India
Areas of interest/specialization
Protein structures and the structure-function relationship of enzymes involved in arsenic biotransformation
Anti-cancer drugs for Trible Negative Breast Cancer (TNBC) using computational methods and consecutive biophysical and biochemical assays
Selected Publications  
Chen J, Sarkarai Nadar V, and Rosen BP. (2020). Aquaglyceroporin AqpS from Sinorhizobium meliloti conducts both trivalent and pentavalent methylarsenicals. Chemosphere. 2020, doi.org/10.1016/j.chemosphere.2020.129379. Impact factor: 5.77.  
Nadar VS, Chen J, Dheeman DS, Galván AE, Yoshinaga-Sakurai K, Kandavelu P, Sankaran B, Kuramata M, Ishikawa S, Rosen BP, Yoshinaga M. Arsinothricin, an arsenic-containing non-proteinogenic amino acid analog of glutamate, is a broad-spectrum antibiotic. Commun Biol. 2019;2:131. doi: 10.1038/s42003-019-0365-y. eCollection 2019. PubMed PMID: 30993215; PubMed Central PMCID: PMC6465285. Impact factor 4.165. 
Chen J, Nadar VS, Rosen BP. A novel MAs(III)-selective ArsR transcriptional repressor. Mol Microbiol. 2017 Nov;106(3):469-478. doi: 10.1111/mmi.13826. Epub 2017 Sep 13. PubMed PMID: 28861914; PubMed Central PMCID: PMC5653410. Impact factor 3.418. 
Pawitwar SS, Nadar VS, Kandegedara A, Stemmler TL, Rosen BP, Yoshinaga M. Biochemical Characterization of ArsI: A Novel C-As Lyase for Degradation of Environmental Organoarsenicals. Environ Sci Technol. 2017 Oct 3;51(19):11115-11125. doi: 10.1021/acs.est.7b03180. Epub 2017 Sep 22. PubMed PMID: 28936873; PubMed Central PMCID: PMC5870903. Impact factor 7.864. 
Nadar VS, Yoshinaga M, Pawitwar SS, Kandavelu P, Sankaran B, Rosen BP. Structure of the ArsI C-As Lyase: Insights into the Mechanism of Degradation of Organoarsenical Herbicides and Growth Promoters. J Mol Biol. 2016 Jun 5;428(11):2462-2473. doi: 10.1016/j.jmb.2016.04.022. Epub 2016 Apr 20. PubMed PMID: 27107642; PubMed Central PMCID: PMC4989922. Impact factor 4.760. 
View all of Nadar's publications
Active Grants 
Project: A potential novel arsenic-containing anti-cancer drug for triple-negative breast cancer (TNBC). 
Sponsor: FIU-RCMI Pilot Program 
Period: July 1, 2020 to June 30, 2021 
Total Funding: $50,000