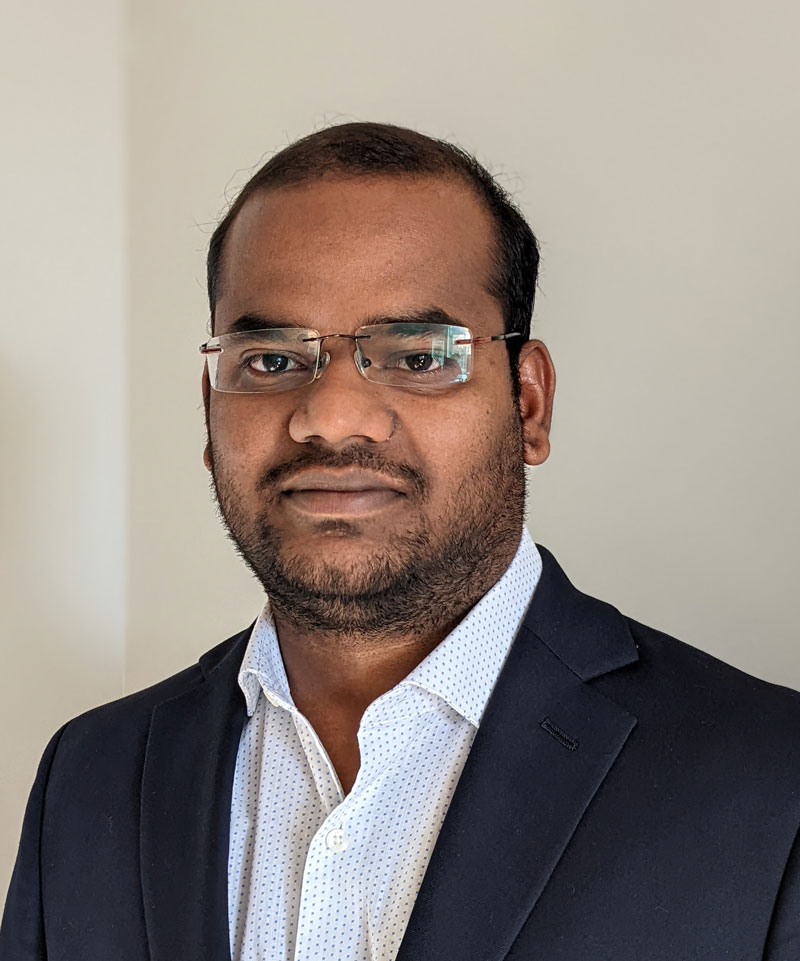 Thiruselvam Viswanathan, Ph.D.
Instructor
Cellular Biology and Pharmacology
---
Office: AHC1 427
Phone: 305-348-1477
Email: tviswana@fiu.edu
Thiruselvam Viswanathan, Ph.D., is an instructor in Distinguished University Professor Barry Rosen's lab. His research focuses on the structural and functional studies of metalloenzymes relevant to human health using a structural biology approach. During his postdoc in the Rosen lab, Viswanathan crystallized and solved the structure of AntR -An Sb (III) responsive transcriptional repressor.
Before joining FIU, Viswanathan worked as a cancer prevention research postdoctoral training fellow at the University of Texas Health Science Center in San Antonio, Texas. There he solved the structure of nsp16/10 from SARS-CoV-2. He also studied proteins involved in pediatric cancer towards drug discovery and development.
His Ph.D. work focused on structural, biophysical, and biochemical approaches of RNA binding gene regulatory and Iron storage proteins. While working at RIKEN, SPring8 Center, Japan, his research was focused on nucleosome complex.
Education
Ph.D., Chemistry, Crystallography & Biophysics, University of Madras, India
M.S., Chemistry, Bharathidasan University, India
B.S., Chemistry, Bharathidasan University, India
Research areas
Structural Biology
Drug Discovery
Protein Biochemistry
Selected publications 
A metal ion orients mRNA to ensure accurate 2'-O ribosyl methylation of the first nucleotide of the SARS-CoV-2 genome. Thiruselvam Viswanathan, Anurag Misra, SiuHong Chan, Shan Qi, Nan Dai, Shailee Arya, Luis Martinez-Sobrido, Yogesh K. Gupta. Nature Commun. 2021. https://www.nature.com/articles/s41467-021-23594-y
Functional and structural characterization of AntR, an Sb(III) responsive transcriptional repressor. Thiruselvam Viswanathan, Jian Chen, Minghan Wu, Lijin An, Palani Kandavelu, Banumathi Sankaran, Manohar Radhakrishnan, Mingshun Li and Barry P. Rosen. Molecular Microbiology. 2021. https://onlinelibrary.wiley.com/doi/full/10.1111/mmi.14721
Structural basis of RNA cap modification by SARS-CoV-2. Thiruselvam Viswanathan, Shailee Arya, Siu-Hong Chan, Shan Qi, Nan Dai, Anurag Misra, Jun-Gyu Park, Fatai Oladunni, Dmytro Kovalskyy, Robert A. Hromas, Luis Martinez-Sobrido & Yogesh K. Gupta. Nature Commun. 2020. https://www.nature.com/articles/s41467-020-17496-8