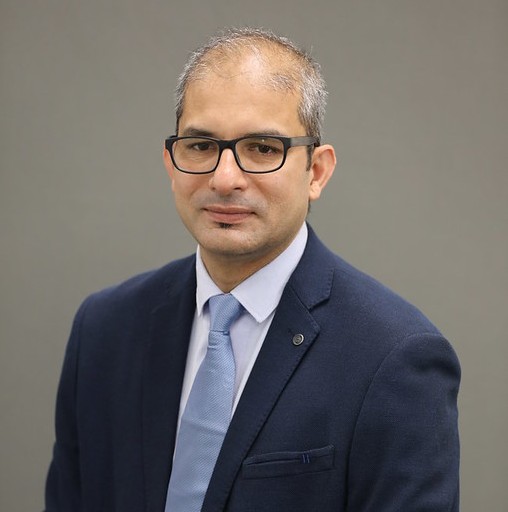 Dipendra Raj Pandeya, Ph.D., FAACC
Associate Professor
Human and Molecular Genetics
---
Office: AHC1 418B
Phone: 305-348-9135
Email: dpandeya@fiu.edu
Dipendra Pandeya, Ph.D. teaches Genetics in the medical curriculum. He is the course director for the GMS 6220 course "Molecular Genetics and Cellular Biology."
Pandeya has been actively involved in medical education since 2006 and was named an Academy Fellow of the American Association for Clinical Chemistry (FAACC). Prior to joining HWCOM, Pandeya served as an Associate Professor & Course Director of Genetics & Development at the Medical University of the Americas (MUA), Saint Kitts & Nevis.
Pandeya has presented at national and international conferences. He has published 59 research papers, and his work has been cited in more than 1300 indexed journals. He is currently on the Editorial Board of the ACCLM and MJSBH journals.
Education
Ph.D., Chonbuk National University, Jeonju, South Korea
M.Sc, Kathmandu University, Dhulikhel, Nepal
B.Sc, Chaudhary Charan Singh University, Meerut, India
Research
Pandeya's current research interest is in medical education.
Gut Microbiota
Innovative Strategies in Medical Education
Biochemical Analysis for diagnosis and treatment
Hepatitis B Viral Genome
Nanoparticles and their application in various clinical purposes
Selected publications
Nora Shero, Dipendra Raj 

Pandeya

. Impact of Crohn's disease during pregnancy on children with attention deficit hyperactivity disorder: A review, Annals of Medicine and Surgery 75 (2022) 103369 
Divya Lakshmi Yerramsetty*, Dipendra R. 

Pandeya

. Fecal Microbiota Transplant as Curative Therapy for Recurrent Clostridioides difficile Infection. MJSR, 2021. 
Dipendra Raj 

Pandeya

*, Ajay Rajbhandari, Manoj Nepal, Ezeldine K. Abdalhabib, Laxmi Upadhyay, Mohammed H. Saiem Al Dahr. Comparative study of Biochemical Profile in Nepalese Cancer Patients and Control groups attending at Tertiary Care Hospital.APJCP. 2018; 19(2): 491–495. 
Bhatta B, Thapa R, Shahi S, Bhatta Y, 

Pandeya

 DR, Poudel BH. A Pilot Study on Screening of BRCA1 Mutations (185delAG, 1294del40) in Nepalese Breast Cancer Patients. Asian Pac J Cancer Prev. 2016;17(4):1829-32. 

Yang Yu

#

, Dipendra Raj 

Pandeya

#

, Meng-Lu Liu, Ming-Jie Liu, Seong-Tshool Hong. Expression and Purification of a Functional Human Hepatitis B Virus Polymerase. World Journal of Gastroenterology. 2010; 16(45):5752-5758.