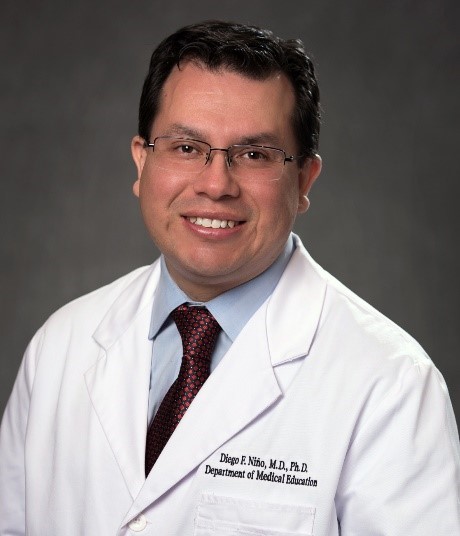 Diego F. Niño, M.D., Ph.D.
Associate Professor
Cellular Biology & Pharmacology
---
Office: GL 495F
Phone: 305-348-1488
Email: dnino@fiu.edu
Diego F. Niño, M.D., Ph.D., joined HWCOM in 2021 as the course director of the Integrated Functions of the Human Body component of the medical curriculum and is involved in physiology education of medical students. Prior to coming to FIU, Dr. Niño was a faculty member at Johns Hopkins University, School of Medicine and Texas Tech University Health Sciences Center – El Paso.
Niño's research in pediatric surgery has led to the filing of a patent application and has been published in several high-impact medical and scientific journals such as Science Translational Medicine, Nature Reviews Gastroenterology, and the Journal of Clinical Investigation. His work has been recognized and awarded by several professional societies and funded by the National Institutes of Health.
Education
M.D., Medicine, Universidad Nacional de Colombia
Ph.D., University of California San Diego
Areas of interest
Niño is interested in advancing medical education through the implementation of active learning strategies such as team-based learning, case-based learning, problem-based learning, team-teaching, and flipped classroom pedagogies. Dr. Niño has created interactive educational tools to enhance students' learning and application of basic science knowledge.
Research area
Pediatric surgery
Medical Education

Development, implementation and assessment of a customized online pre-matriculation curriculum to support at-risk learners in medical education.
Implementation of asynchronous multimedia learning strategies in medical education case-based learning.

Translational Research

Pathogenesis of necrotizing enterocolitis induced brain injury.
Selected publications
Niño DF, Sodhi CP, Hackam DJ. Necrotizing Enterocolitis: Mechanisms and Management. Invited review. Nature Reviews Gastroenterology & Hepatology. 13(10): 590–600, 2016. PMID: 27534694
Niño DF, Sodhi CP, Egan CE, Zhou Q, Lin J, Lu P, Yamaguchi Y, Jia H, Martin LY, Good M, Fulton WB, Prindle T Jr, Ozolek JA and Hacham DJ. Retinoic Acid Improves Incidence and Severity of Necrotizing Enterocolitis by Lymphocyte Balance Restitution and Repopulation of Lgr5+ Intestinal Stem Cells. 47(1): 22-32, 2017. PMID: 27488085. Publication featured on the journal cover.
Niño DF, Zhou Q, Yamaguchi Y, Martin LY, Wang S, Fulton WB, Jia H, Lu P, Prindle Jr T, Zhang F, Crawford J, Hou Z, Mori S, Chen LL, Fatemi A, Pletnikov M, Kannan RM, Kannan S, Sodhi CP and Hackam DJ. Cognitive impairments induced by necrotizing enterocolitis can be prevented by inhibiting microglial activation in mouse brain. Science Translational Medicine. 2018 Dec 12;10(471). pii: eaan0237. doi: 1126/scitranslmed.aan0237. PMID: 30541786. Publication featured on the journal cover.
Zhou Q, Niño DF

, Yamaguchi Y, Wang S, Fulton WB, Jia H, Lu P, Prindle Jr T, Pamies D, Morris M, Chen LL, Sodhi CP and Hackam DJ. Necrotizing enterocolitis induces T- lymphocyte mediated injury to the developing brain.

Science Translational Medicine.

2021 Jan 6;13(575): eaay6621. doi: 10.1126/scitranslmed.aay6621. PMID: 33408187.