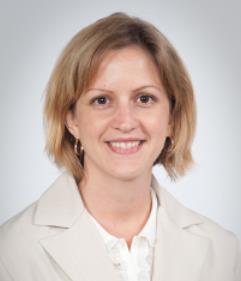 Jenny Fortun, Ph.D.
Assistant Dean for Foundational Sciences Curriculum; and Associate Professor
Cellular Biology & Pharmacology
---
Office: AHC2 478
Phone: 305-348-1487
Email: jfortun@fiu.edu
Jenny Fortun, Ph.D., has been involved in curriculum design and implementation, as well as the teaching of various foundational sciences including biochemistry, physiology, immunology, and neuroscience.  
Education 
Postdoctoral fellowship, Miami Project to Cure Paralysis, Leonard M. Miller School of Medicine, Miami, FL 
Ph.D., Biomedical Sciences, Neuroscience, College of Medicine, University of Florida, Gainesville, FL 
B.S., Biochemistry, University of Havana, Cuba 
Awards
Aesculapius award 

Alumni Graduate Fellowship, UF College of Medicine 

The Bryan W. Robinson Neurological Foundation Grant-in-Aid Achievement award  

FORE-SCI Education & Training/Outreach NIH grant 
Areas of interest/specialization  
Fortun is involved in various areas of medical education. She is interested in the development of teaching strategies that promote critical thinking skills and highlight the importance of foundational sciences for clinical reasoning. In parallel, she is involved in the development of assessment methods to evaluate the application of foundational knowledge to diagnostic reasoning and the interpretation of clinical information.   
Selected publications  
Fortun J, 

Tempest HG.  

A case for written examinations in undergraduate medical education: experiences with modified essay examinations. 

Assessment & Evaluation in Higher Education

 

(2020) 

DOI: 

10.1080/02602938.2020.1714543

Ioannou D

, 

Fortun J

, 

Tempest HG

. Meiotic nondisjunction and sperm aneuploidy in humans

 

Reproduction 

(2018)

 157 R15-31

 

Fortun J, Morales AC, Tempest HG (2016) Introduction and evaluation of case-based learning in the first foundational course of an undergraduate medical curriculum. 

Journal of Biological Education, 51:3, 295-304.

 

Tempest HG, Gillis M, Weiler T, Fortun J. 

Design of a Platform to Discuss Ethical Considerations of Preimplantation Genetic Diagnosis: a Case for Integration of Ethics in Foundational Science Medical Curriculum Med. Sci. Educ (2016).

 

Fortun J, Toonkel R, Berrocal Y. Case-Based Discussion: Hypertension. MedEdPORTAL Publications; 2014. Available from: 

https://www.mededportal.org/doi/10.15766/mep_2374-8265.9994,

 

http://dx.doi.org/ 10.15766/ mep_2374-8265.9994

.