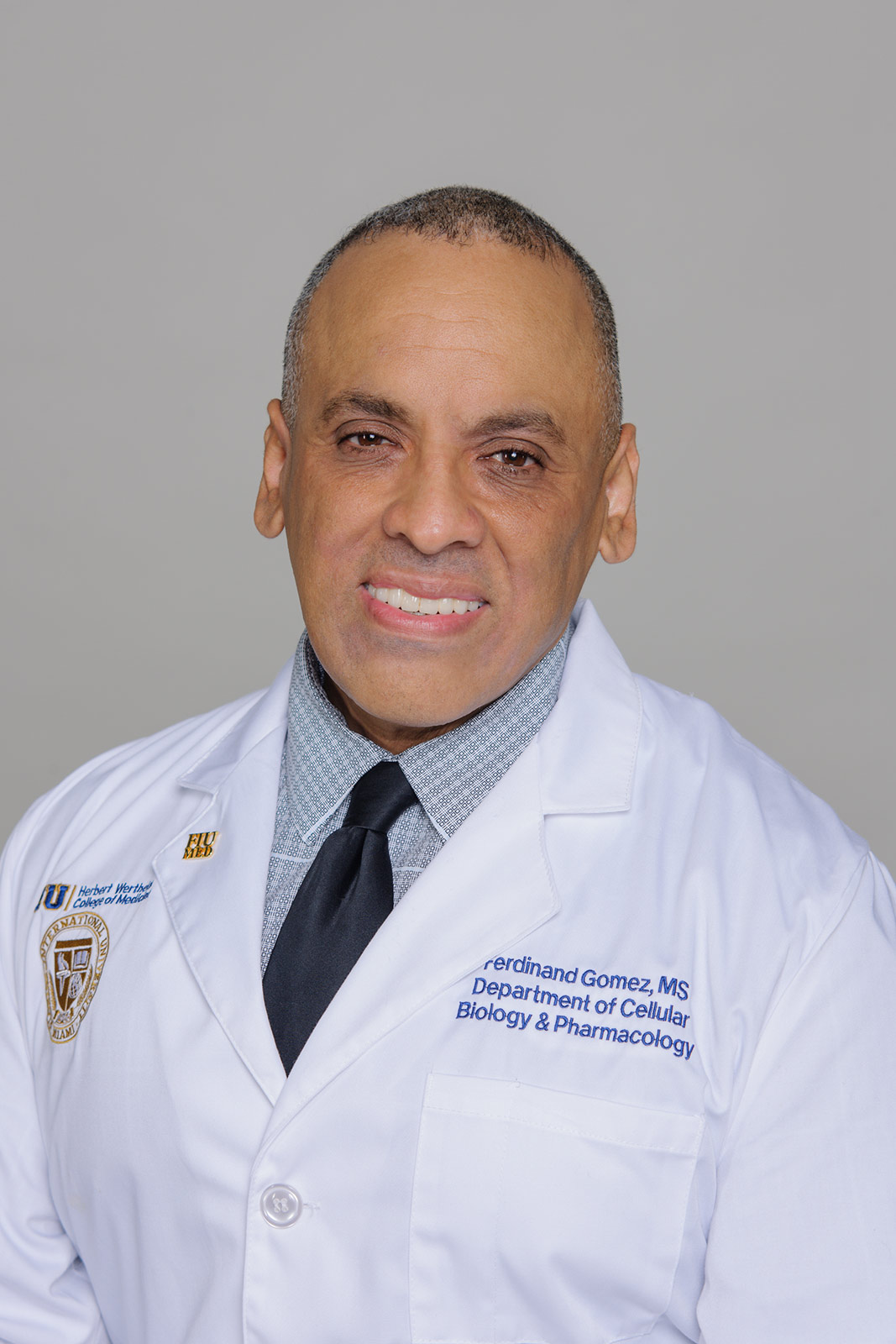 Ferdinand Gomez, M.S.
Director for the Human Anatomy Laboratory; and Instructor
Cellular Biology & Pharmacology
---
Office: AHC2 155A
Phone: 305-348-6176
Email: gomezf@fiu.edu
Ferdinand Gomez is responsible for the administration of the teaching laboratory facilities, anatomical instructional lab curricula and assessment, along with the instruction of anatomy, histology, and organ systems development to HWCOM students. 
Prior to joining HWCOM, his faculty appointment was in the Department of Biological Sciences (FIU College of Arts and Sciences and Education) and served as coordinator and instructor of the Human Anatomy and Foundations of Human Physiology courses for students embarking on various professional health sciences programs of study. 
Education 
M.S., Science Education (Biology Track), FIU 
B.S., Biological Sciences, FIU 
Awards
Excellence in Teaching Award for E-Learning, HWCOM Research Symposium and Faculty/Student Awards Ceremony, 2018

 

FIU Faculty Senate Excellence in Teaching Award, 2013

 
Areas of interest/specialization 
Gomez's interests include the development of the E-learning aspects of anatomical sciences education via the creation and implementation of several virtual assessments, along with the production of various demonstrative videos that are vital instructional tools that serve as pre-lab primers and post-lab tutorials/reviews; all with the intent of enhancing the students' learning experiences and outcomes. 
Selected publications
Ehrhardt JD, Gomez F. Embryology, Pancreas (2020) 

PubMed.gov

 

https://www.ncbi.nlm.nih.gov/books/NBK545243/ 
Baskaya MK, Coscarella E, Gomez F, and Morcos JJ. (2004). Surgical and Angiographic Anatomy of the Posterior Communicating and Anterior Choroidal Arteries. 

Neuroanatomy 

(3), 38-42.