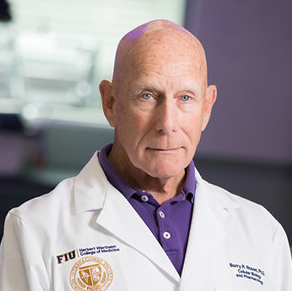 Barry Philip Rosen, Ph.D.
Distinguished University Professor
Cellular Biology & Pharmacology
---
Office: AHC1 419D
Phone: 305-348-0657
Email: brosen@fiu.edu
Barry P. Rosen, Ph.D., was Associate Dean from 2009-2016. For 22 years he was Chair and Distinguished Professor of Biochemistry and Molecular Biology at Wayne State University School of Medicine. He has more than 350 publications and numerous awards, including Basil O'Connor Award from the March of Dimes, Maryland Distinguished Young Scientist Award, Josiah Macy, Jr. Faculty Scholar Award and FIU Top Scholar Award. Rosen has been continuously funded by NIH and NSF since 1972. He held a prestigious NIH MERIT Award, renewed as an R01 and most recently as a MIRA Award until 2025, putting it within the top 100 longest continuously funded NIH grants. He has been on many grant panels and editorial boards. He was President of the Association of Medical and Graduate Departments of Biochemistry and is a fellow of the American Academy for Microbiology (ASM) and the American Association for the Advancement of Science (AAAS). 
Education
Public Health Service NIH Fellow, Cornell University, 1969-1971 
Ph.D., Biochemistry, University of Connecticut, 1969 
M.S., Biochemistry, University of Connecticut, 1968 
B.S., Biology, Trinity College, Hartford, CT 1965 
Areas of interest/specialization
For four decades Rosen has investigated the mechanisms of transport and detoxification of transition metals, heavy metals and metalloids in bacteria, yeast, protozoans, mammals and plants. He identified the pathways of arsenic uptake, efflux, biotransformation and regulation in organisms from E. coli to humans. He identified most of the known arsenic detoxification genes and characterized their gene products at the biochemical and structural level. He solved the crystal structure of the ArsA As(III)-translocating ATPase, the ArsR repressor orthologue CadC, the ArsC and LmAcr2 arsenate reductases, the ArsH NADPH-FMN oxidoreductase, the ArsD As(III) metallochaperone, the ArsM As(III)-SAM methyltransferases from Cyanidioschyzon merolae and Chlamydomonas reinhardtii and most recently the ArsI C-As lyase. He identified and named the ArsR family of metalloregulatory proteins. He made the seminal discovery that aquaglyceroporin channels, from E. coli GlpF to human AQP9, are the transporters that nearly every cell uses to take up As(III). He is currently elucidating the enzymes and transporters of the arsenic biomethylation and organoarsenical redox cycles. 
Selected publications
Yoshinaga-Sakurai K, Shinde R, Rodriguez M, 

Rosen BP

 and El-Hage N. Comparative cytotoxicity of inorganic arsenite and methylarsenite in human brain cells, ACS Chem Neurosci. 11, 743-751 (2020). PMID: 31991084.

 

Chen SC, Sun GX, Yan Y, Konstantinidis KT, Deng Y, Li X.M, Cui HL, 

Rosen BP. 

and Zhu, Y.G., Genetic expansion of arsenic resistance system as a consequence of the Great Oxidation Event. Proc. Natl. Acad. Sci. U.S.A.  117, 10414-10421 (2020). PMCID: PMC7229686. 

 

Garbinski LD, 

Rosen BP

 and Yoshinaga M. Organoarsenicals inhibit bacterial peptidoglycan biosynthesis by targeting the essential enzyme MurA. Chemosphere, Chemosphere 254, 126911 (2020). PMCID: PMC7509207. 

 

Chen J, and

 Rosen BP

. The 

Pseudomonas putida

 NfnB nitroreductase confers resistance to roxarsone. Sci. Total Environ. 748,141339 (2020). PMID: 32810805 

 

Chen J, Nadar VS, and 

Rosen BP

. Aquaglyceroporin AqpS from 

Sinorhizobium meliloti

 conducts both trivalent and pentavalent methylarsenicals. Chemosphere in press PMID: 33418223

 
For a full list of Rosen's publications visit his NCBI bibliography.
Active grants
Project: Mechanisms of arsenic biotransformations and transport
Role: Principal Investigator
Sponsor: National Institutes of Health under the Maximizing Investigators Research Award (MIRA)
Period: April 2020 - March 2025, Active
Total Funding: $2,192,244
Project: NIH MIRA R35 GM136211 S1, Equipment supplement for purchase of an HPLC-ICP-MS
Role: Principal Investigator
Sponsor: National Institutes of Health
Period: July 2020 – June 2025, Active
Total Funding: $111,000
Patents
US patent 7,524,229. Transgenic Saccharomyces cerivisiae and method for bioremediation.
US patent 9,976,169. Biosensors for organic and inorganic arsenic.
US patent pending, 2021 Arsinothricin and methods of treating infections using arsinothricin.
US patent issued 03/02/2021. Synthesis of the organoarsenical antibiotic arsinothricin and derivatives thereof.