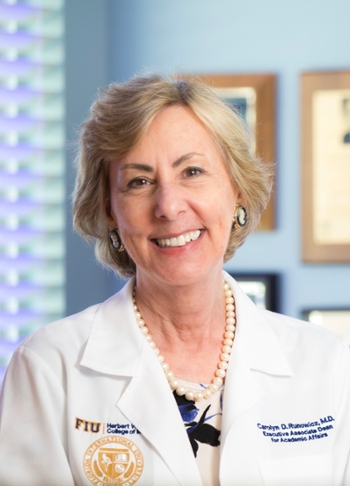 Carolyn D. Runowicz, M.D.
Professor Obstetrics and Gynecology
Obstetrics and Gynecology
---
Office: AHC2 668
Phone: 305-348-0570
Email: crunowic@fiu.edu
Carolyn D. Runowicz, M.D. is a nationally and internationally recognized leader in women's health and gynecologic cancer. She has initiated and led research focused on the conduct of clinical trials in gynecologic cancer and in cancer prevention. She has authored more than 200 scientific articles and 5 books and serves as a role model and mentor for faculty and students.
Dr. Runowicz is a reviewer for several medical journals and has served on editorial boards in recognition of her expertise in women's health and gynecologic cancers. She is on several scientific advisory boards and expert review panels, including the National Cancer Institute and the Ovarian Cancer Research Foundation.
View a complete list of Dr. Runowicz's published work.
Area of Interests
Gynecologic Oncology (cancer in women: breast, ovary, Fallopian tube, uterus, cervix, vagina, vulva); Women's Health
Awards
Distinguished Service Award by the Society of Gynecologic Oncology
University of Connecticut Distinguished Alumni Award
The American Medical Women's Association Local Legend Award
Cancer Care Physician of the Year Award
Leadership
First woman president of the Society of Gynecologic Oncologists (2000)
President of the American Cancer Society (2005)
Member of the National Cancer Advisory Board (NCAB), appointed by President George W. Bush.
Chair of the NCAB for 4 years (2006-2010)
Board of Directors of the American Society of Clinical Oncology as the first gynecologic oncologist (2011-2015)
2 terms as Vice President of the American Gynecological and Obstetrical Foundation Board
Dr. Runowicz has also served on numerous committees for the Society of Gynecologic Oncology, American College of Obstetricians and Gynecologists, American Cancer Society, the National Cancer Institute, the National Surgical Adjuvant Breast and Bowel Project, the American Society of Clinical Oncology and the American Gynecologic and Obstetrical Society.