Welcome to the Department of Psychiatry & Behavioral Health (DOPBH) at the Herbert Wertheim College of Medicine (HWCOM). Our team of faculty and staff is dedicated to our mission of excellence in education, patient care and research.
Our faculty participate in the education of a variety of learners. Faculty members are actively involved with our HWCOM medical students throughout all four years. We also educate Master's of Physician Assistant Studies Students as well as International Visiting Medical Students. In partnership with Citrus Health Network, our faculty train psychiatry residents to become the behavioral health care leaders of tomorrow.
In patient care, the DOPBH faculty psychiatrists and staff therapists provide quality care in various clinical settings. Our clinicians provide expert clinical care along with compassion and respect for the patients we serve in Miami-Dade and Broward counties. Florida International University is the 4th largest university by enrollment in the United States.  Our faculty provide psychiatric services at the Student Health Service on both major campuses. Our behavioral health team is providing services integrated with the primary care clinicians in our HWCOM's innovative community based program. Additionally, faculty provide clinical care, education and administrative leadership through a variety of affiliates.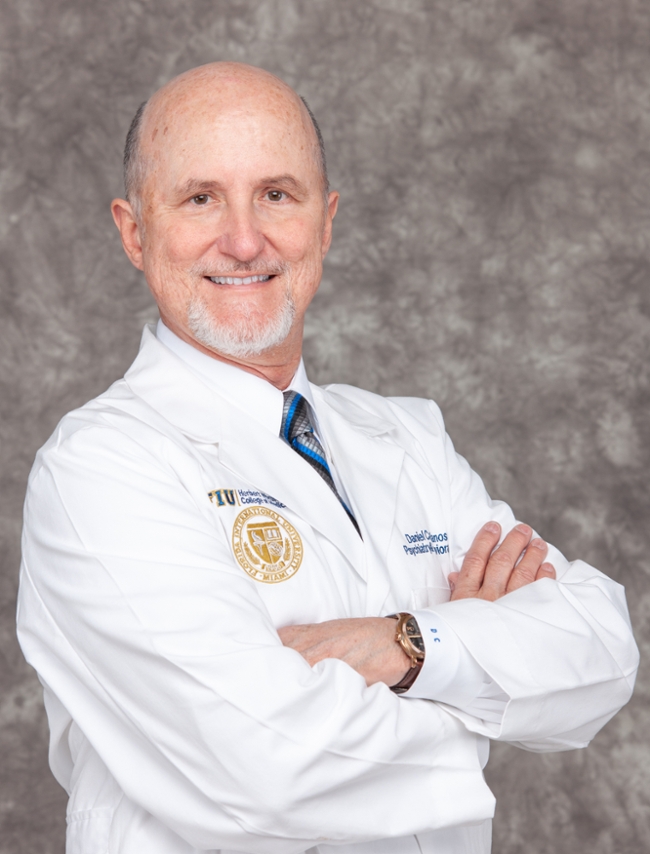 In research, the faculty and staff are exploring causes of and treatments for mental illness and involved in educational research. Our research programs focus on Attention-Deficit-Hyperactivity Disorder, serious mental illnesses and how to improve the delivery and assessment of novel educational activities.
Our website provides an overview of the DOPBH, its activities and affiliations. We are proud of what we have accomplished over the past nine years and excited about our future.  All of the members of the Department remain committed to our mission and values and seek excellence in everything we do.
Daniel "Dr C" Castellanos, MD
Assistant Dean for Graduate Medical Education
Founding Chair, Departmental of Psychiatry & Behavioral Health
Professor of Psychiatry & Behavioral Health and Pediatrics