Breadcrumbs
»  About Us
»  Office of Student Affairs
Office of Student Affairs
---
Contact Information:
Phone: 305-348-0644
Fax: 305-348-0650
Email: med.admissions@fiu.edu

Director of Financial Aid
Marissa Miles, MA

Director, Medical Student Counseling & Wellness Center
Heidi von Harscher, PhD, FICPP

Deans of the Office of Student Affairs
Sanford Markham, MD, FACOG, FACS
Robert Dollinger, MD
Robert Hernandez, MD
Eneida Roldan, MD, MPH, MBA
Barbra A. Roller, PhD

Director of Records and Registrar
Almi Rodriguez, MS

Associate Director of Admissions
Andria L. Garcia, MBA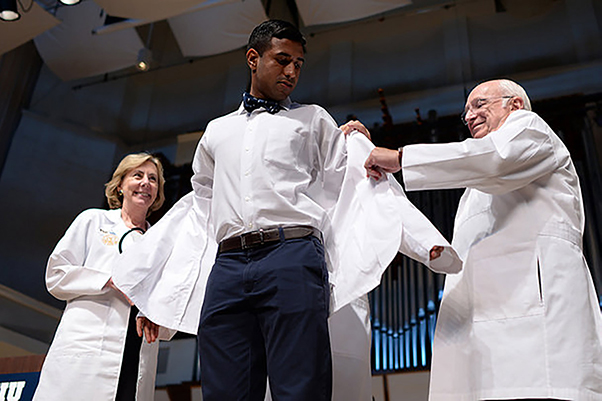 Mission
The Office of Student Affairs (OSA) at FIU Herbert Wertheim College of Medicine (HWCOM) strives to recruit, admit, educate, counsel, advise, and professionally transform a diverse group of students into culturally competent, empathic, and ethical physicians. The OSA works in concert with the academic mission of HWCOM by fostering medical students' intellectual, physical, emotional, spiritual, and social growth. The OSA promotes student-centered educational and leadership opportunities to enhance communication, critical thinking, ethical judgment, problem-solving, and professional skills. The OSA facilitates altruism, mentoring, volunteerism, and community service outreach while providing developmental programs and counseling services designed to promote optimal learning. In addition to academic support, the OSA strives to enhance students' personal awareness and wellness while preparing them to become outstanding medical professionals who provide patient-centered health care responsive to the medical, social, and cultural needs of the community we serve.
Vision
The Office of Student Affairs at Herbert Wertheim College of Medicine promotes quality and professional support services and fosters innovative, state-of-the art, and culturally competent medical student learning from admission to graduation.
Values
Integrity and honesty
Human dignity, compassion, and respect for all without discrimination or harassment based on race, color, religion, age, disability, gender, national origin, marital status, sexual orientation and/or veteran status
Provision of culturally competent and multidisciplinary services that complement the academic mission of the University
Professionalism that respects the rights, abilities, beliefs, and confidentiality of students and patients
Scholarship, wisdom, creativity, and innovation that foster best practices and "outside of the box" thinking
Quality and continual improvement based on student feedback
Responsible, responsive, fair, honorable, and ethical decisions by students and faculty/staff
Student-focused education
Advocacy for disease prevention
Lifelong learning and the scholarly advancement of the honorable profession of medicine
Organization and Activities
The Office of Student Affairs (OSA) provides programs and services for all medical students at FIU from the time of recruitment to the time of commencement and beyond. Activities of the OSA include: recruitment of students; the admissions process; mentorship of students; personal, academic, and financial counseling; and medical student communities providing educational and extracurricular activities, organizations, and student leadership opportunities. The Office of Student Affairs features experienced faculty and staff who are dedicated to the overall well-being of medical students. The OSA provides learning opportunities outside of the formal classroom and clinical settings that are designed to complement and enhance the overall educational experience.
Hours: 8:00 AM to 6:00 PM Monday through Friday except on university holidays.
On-call: The Deans and Directors in the OSA are available on a rotational basis for urgent student issues or situations at times when the office is normally closed. Most activities in the Office of Student Affairs function in an "open-door" manner. Students may visit the office for help and support from the faculty and staff without making appointments. Because the OSA is committed to medical student support and exercises confidentiality, it is strongly recommended that students make appointments in advance to ensure the availability of the specific professional and adequate time to discuss the issue to the student's satisfaction.
In cases of emergency after normal working hours, students are urged to contact the Office of Student Affairs via a 24-hour phone service (305.348.0696) for further instructions on where to receive emergency medical care and crisis intervention. A card with emergency contact numbers is issued to all HWCOM students; updates are provided when changes occur.